A worldwide shortage of timber is leading to record high prices, having a knock-on effect on many industries, and unfortunately will be felt particularly harshly by our industry very soon.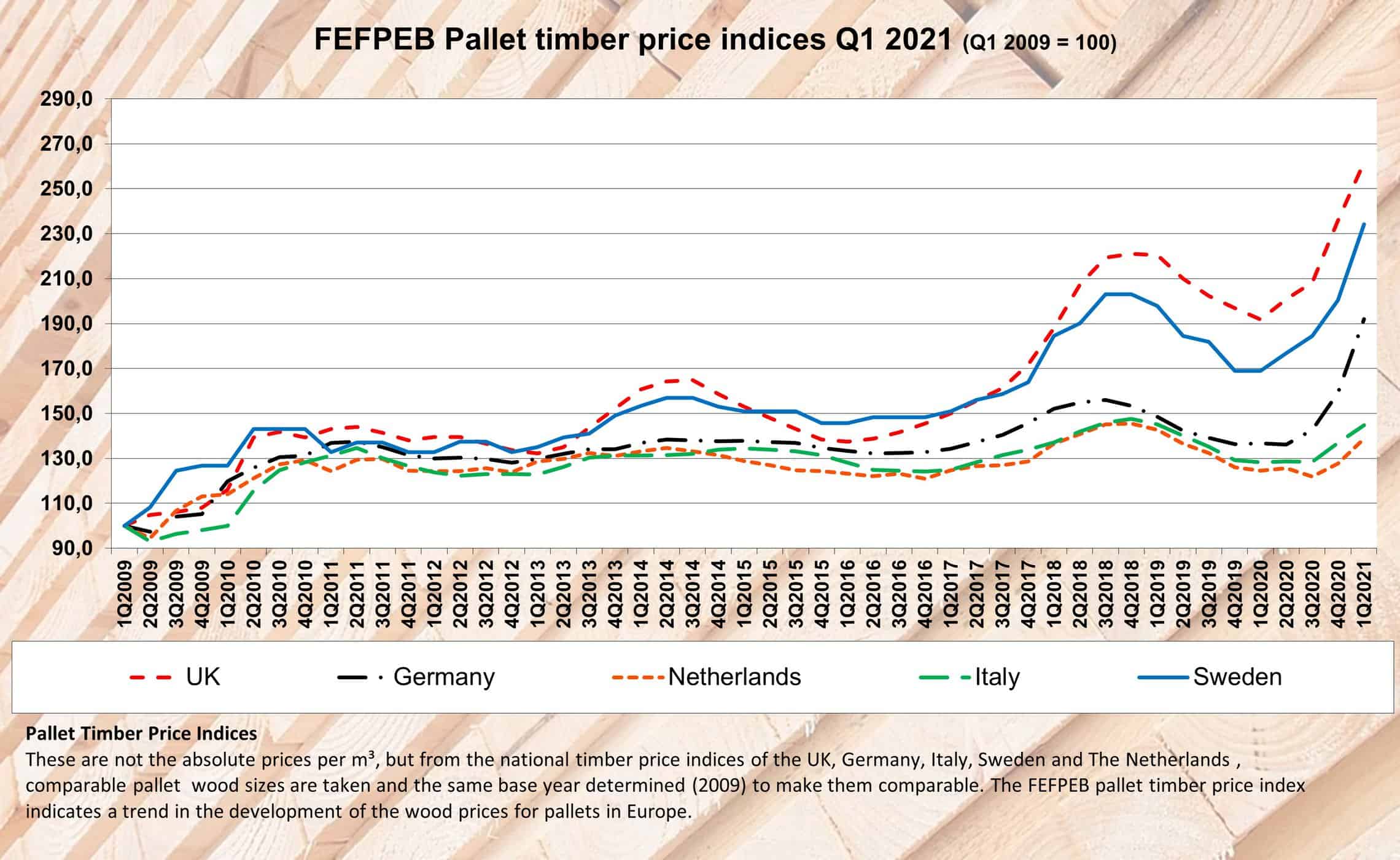 We are expecting an imminent 30% price increase for new processed timber which will have a significant effect on pallet prices, both new and second hand / repaired pallets.
What Is Going On With Timber Prices?
There are several factors at play which have come together to create the perfect storm for timber prices, especially for the UK market:
Poor Logging Conditions: European timber growers have seen difficult work conditions throughout 2020 and now into 2021 too. A wet summer and autumn in 2020, and a warmer than usual winter has made progress slow. Unfortunately this is a challenging situation which is expected to get worse with climate change.
Sawmills: Over the last year many sawmills have scalled down or stopped working altogether as initial demand dipped due to the pandemic. Also, pallet wood is not as lucrative as construction, and so more wood has been making iits way into the booming construction industry.
Competition: Chinese businesses in particular have been buying up European pallet stocks and they are willing to pay the inflated prices + shipping since their own timber supplies are virtually nonexistent.
Demand: The recovering economy combined with increased demand and increased warehouse storage of non-perishables means that significantly more pallets are 'in use' where they would have become available for reuse more quickly in the past.
Shipping and Steel: Timber isn't the only material that has seen a price hike lately; steel for nails has also skyrocketed, and transportation is becoming more costly too – both having a big impact on wooden pallets.
Pandemic: The Covid19 pandemic has clearly had a huge impact on all the above factors over the last 12 months in particular. Contributing to man-power shortages and increasing demand for shipping materials.
Brexit: To top it all off, Brexit. For the UK market, many of our exports now need to be IPSM15 compliant adding an additional cost to wooden pallets, import/export is more costly in general – whether that be timber or pallets, and red tape at the border has slowed pallet and shipping times, keeping more pallets 'in use' than before.
Demand Is The Biggest Factor
While all the factors listed above are all driving pallet prices higher, it is the demand rather than lack of timber, that is the real factor tipping the balance. In fact the UK did manage to import more timber in 2020 than in 2018 or 2019, however it is not enough to cope with demand. And the timber shortage issues come into play only when we factor in this increased demand.
Timber Trade Federation chief executive David Hopkins commented: "In our view the market position should be phrased as a demand rather than as a supply situation. Timber is still being imported and produced at high volumes. However, the surge in demand for construction materials this year means customers may not be able to purchase timber as readily off the shelves as they have been used to.
"We advise users of timber to work closely with suppliers on their purchasing strategies, and to take a forward-looking perspective on securing supplies. This approach will remain important, as recent reports have shown we can expect demand to continue to be high, particularly for structural and other softwood materials. We also know that traditionally sawmills in Europe normally enter a period of shut-down for repair, maintenance and holidays in June and July, and this will keep supply tight."
Price Increases Are On Record Lows
Yes, prices are way way up, but this comes on the back of relatively low prices. Throughout 2018 and 2019 timber was bought in abundance and stockpiled to prepare for potential Brexit disruption, and with each failed attempt at Brexit the prices dropped.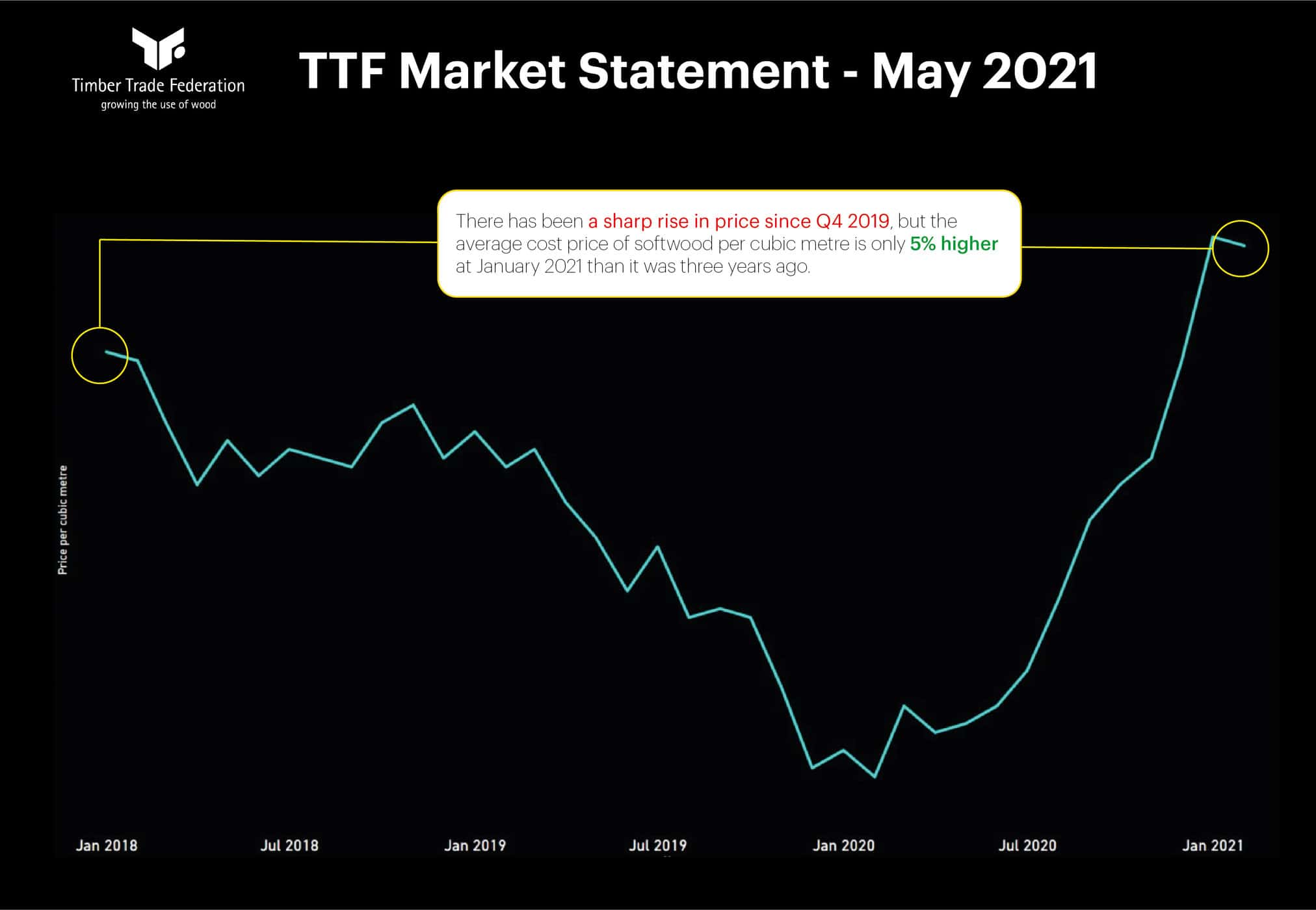 And then, of course, 2020 and the pandemic created a demand for this stockpile, so demand and prices have quickly risen ever since. The rate of increase is enough to disrupt any business, but the dip in prices certainly has played a part in the shock to the system. By the end of 2020 there was no unsold timber stock in Britain, which was completely unprecedented – add Brexit to that situation and here we are today.
Where Do We Go From Here?
We believe timber prices will settle again as the world recovers from the pandemic, but we also expect this settling will not happen imminently. We expect disruption to pricing to continue throughout 2021, and possibly into 2022 as the ban on Russian log exports comes into effect on 1st Jan 2022.
Stuart Hex, secretary general of TIMCON, said: "Global market dynamics are continuing to put extreme pressure on the availability of wood across the world, including strong demand from the US and China and much shorter supplies from key sources. This is highlighted by several indices, although the situation is developing rapidly.  
"We are seeing rising prices in almost all raw materials – which are accelerating in the timber sector – and this situation does not appear likely to improve in the immediate future. This has been compounded further in the UK with shorter supplies of pallet timber from Ireland and strong demand for fencing materials."
For now customers need to plan ahead and factor in higher prices and extended lead times. They need to keep in contact with us regarding their pallet requirements, return unused pallets into the market, and utilise our repair services. Unfortunately prices for all wooden pallets will continue to rise between now and July, please contact us to discuss your requirements so that we can try to keep your supply ticking over during this challenging time. We assure all our customers that we will do our best for them, as we always do, and all price rises will be as sensible as possible in the circumstances.