The trusty wooden pallet is a perfect material for so many DIY projects – it's incredibly versatile, relatively cheap and means you can put your own unique stamp on your creation – so usually we're all for it! But not everything can (or should) be made using pallets, so in this blog we're sharing some really weird pallet projects that probably aren't such a great idea… Don't try these at home, folks!
Bike/Skate Ramp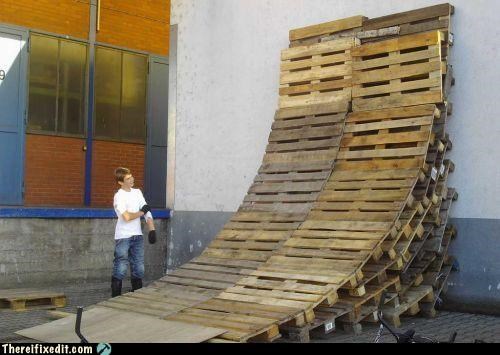 If you're a keen BMXer or skater, the thought of building yourself a makeshift ramp might sound like a pretty cool idea – but it probably isn't the safest. Sticking to a professionally made ramp sounds like the best (and safest) option here…  
Motorbike frame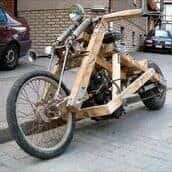 Although a very inventive and creative idea, we can't imagine that this motorbike would be very comfortable to drive – let alone the potential fire hazard!
Car spoiler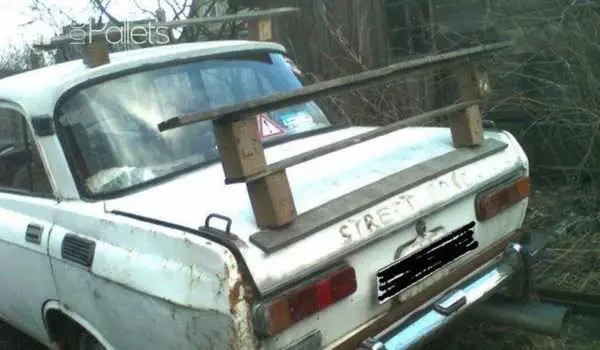 Why have one spoiler when you can have three?! Although we're not entirely sure this would have the desired effect… So if you really want to boost your vehicle's aerodynamics, there are probably better and more lightweight materials suited to the job.
Rocking chair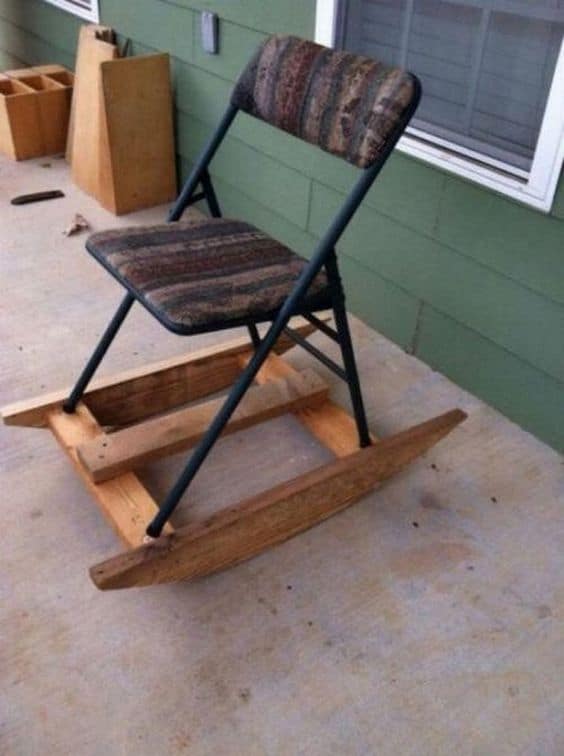 Although the idea is there (and it's a highly resourceful one at that!), we're not sure the execution is quite right. But if you like the idea, you'll be pleased to know that there are endless ways you can design your own pallet rocking chair (albeit one that's a little more conventional looking), or almost any other type of chair or bench for that matter; you'll see various examples of different pallet chairs across many of our previous blog posts, so be sure to take a look for inspiration.
Outdoor toilet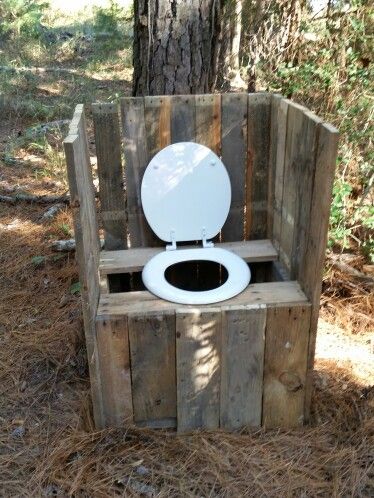 We've heard of pallet showers, but pallet toilets?! Yep, they're seemingly a thing too. Not sure it's the most sanitary choice – and we wonder how the plumbing works…?
Pallet project safety
We hope this light-hearted blog post provided you with a little bit of laughter and fun during this current wet and gloomy weather. If you'd like to continue the fun, take a look at some DIY project fails in our D I Why?! blog post. But all jokes aside, if you'd like some genuine inspiration for projects that ARE suitable for making out of wooden pallets, take a look at our blog. Here you'll find a variety of posts that showcase many different pallet project ideas – from outdoor cinemas, garden furniture and planting ideas to kids' play equipment, home storage and festive creations.
Once you've settled on your next pallet project, let us remind you about a few safety considerations. Don't be tempted to collect damaged or discarded pallets (they're discarded for a reason!); instead source your pallets from a supplier that knows the pallet's history and can therefore deem it safe for use. Universal Pallets has a whole range of pallets and pallet accessories that are fit for pallet projects. Visit our online shop to browse through our range or get in touch if you'd like some pallet project advice.