Some people just aren't cut out for DIY. And whilst we do post lots of amazing pallet projects, we know that the 'do it yourself' culture just isn't for everyone and that's okay (although it does make for highly entertaining viewing!).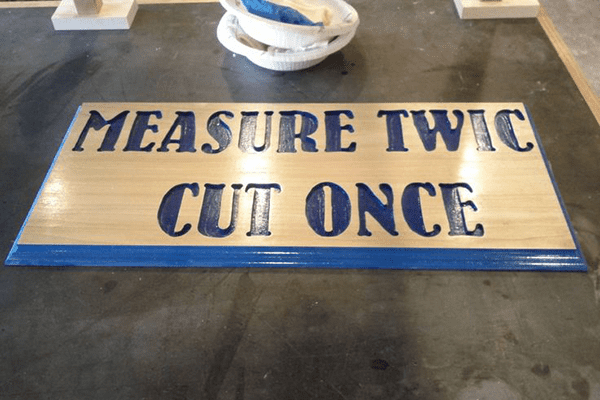 So, if you've got a case of the winter blues (let's face it, haven't we all) and you're in need of a little pick-me-up, have a look at some of these amusing pallet project fails.
Pallet Project Fails
Pallet shed… no…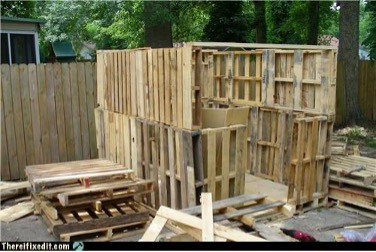 Whilst the idea was there, the execution wasn't quite right…
Designing your own shed from pallet wood is quite a popular trend right now and it can be very cost-effective, sustainable and gives you the opportunity to get creative. So how do you ensure your shed is a success and not a DIY disaster? Following a step-by-step tutorial or diagram is your best bet. You'll find a wide selection of really useful DIY shed plans here which you can use as a template. Our top tip? Don't forget the roof! With our great British weather, we'd say that bit is pretty much essential.
And whilst we're on the topic of outdoor pallet projects, you could go one step further and make an outdoor pallet bar or some pallet garden games to accompany your new shed!
Pallet table leg extensions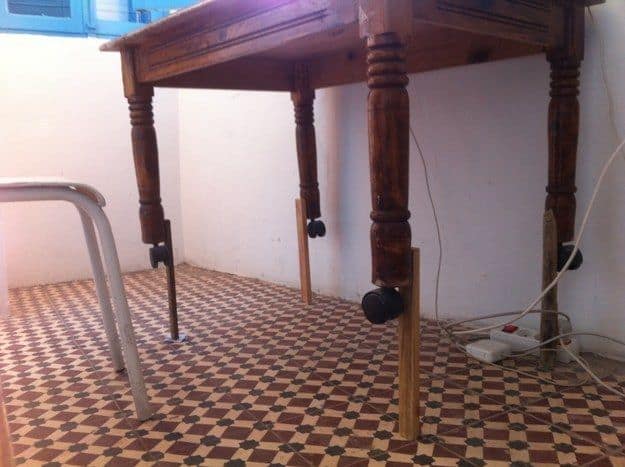 Don't try this one at home, folks! For all of the effort involved in cutting up the pallet and attaching pieces to the table legs, would it not make more sense to build a pallet table from scratch?! It would definitely be sturdier! Here's a brilliant video tutorial which shows you how you can create your own DIY pallet table or you could have a go at a coffee table instead. Best of all, you'll be able to build your table to your desired height so there'll be no need for leg extensions!
Pallet dog fence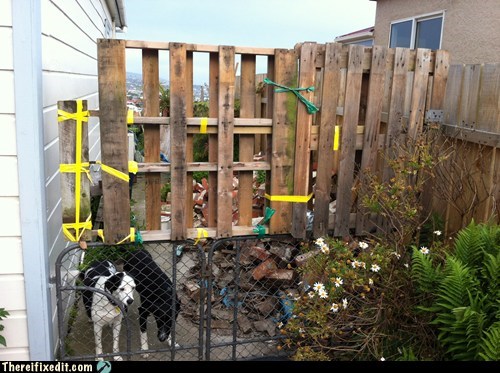 Although this *could* provide a temporary solution, we're not entirely sure what happens when you need to get in and out of the garden?! There's definitely an easier way to build a dog fence! The great thing about pallet fencing is it's extremely versatile and you can make it to suit your specific requirements. This article from Homedit gives some great inspiration and shows you how you can make a gate and turn the tops of the pallets into planters! With any leftover pallets, you could even build an outdoor dog bed or make a fun doggy playground.
All together now: Who let the dogs out?!
Pallet bedside table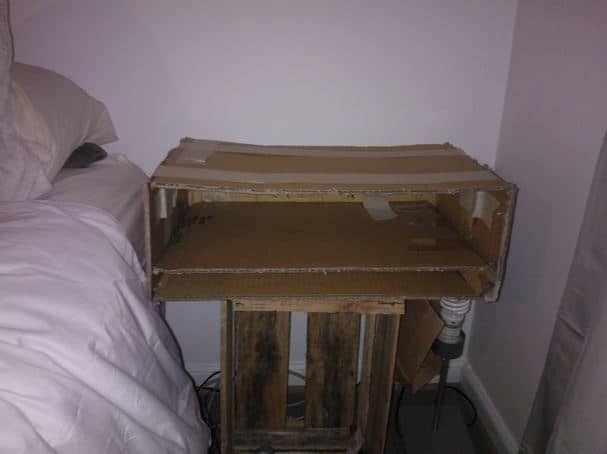 We're not sure the use of cardboard is the most practical solution here… it probably won't hold your morning cup of coffee very easily!
A quick Google search will give you so much inspiration for designing a sturdy pallet bedside table that will hold that all-important brew – with no cardboard in sight! You can design it to fit the size of your space, include drawers or open shelves, or make it into a quirky shape. Here are some of our favourites:
Pallet Decking – Don't Do It!
Counting down the days 'til summer when you can sit out on the decking with a good book and enjoy the sunshine? We're right there with you. Pallet decking is the latest craze, and while it might seem like a good idea, it's something we would never recommend. Why? Because pallet wood needs a huge amount of sanding down, can become very slippery when wet and, depending on the type you use, it won't take the weight of people walking on them – you don't want that sort of disaster on your hands!
Now we're not here to rain on your parade so if you're really set on pallet decking, here's how you can do it safely:
Use EURO stamped pallets to form your base as these are very strong and are set configurations so they're the same height.
Then use proper grooved/anti-slip decking boards on top.
This article gives you an idea on how you can create this.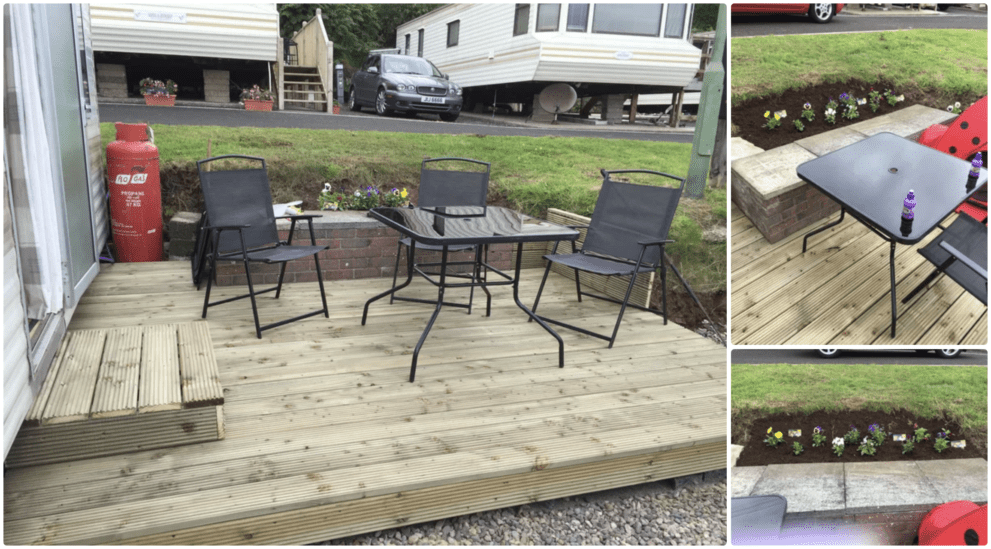 Get The Right Tools
Before you begin any DIY project, it's vital that you get the correct tools and source quality fittings from your DIY shop. Many tutorials will outline the tools and fittings you'll require for the project, so make sure you're prepared before you begin.
If you're a woodworking newbie, take a look at one of our previous blogs which outlines the essential tools you'll need for beginner pallet projects, as well as some handy tips. Did you know that we also sell loose pallet boards? So if you're a little nervous about dismantling full pallets, let us do that bit for you!
Avoid Splinters!
In order to avoid splinters, it's important that you finish your pallet project properly. This involves thoroughly sanding your project and then treating it with varnish, paint or wax. If you're not sure which treatment to use, we'll help you decide – see our blog post for suggestions.
Not All Pallets Are Created Equally
It might seem trivial but it's very important that you use safe pallets with a known history for your project. Discarded pallets are a big no-no. They're discarded for a reason and could contain hazardous substances. Source your pallets from a reputable company (such as ourselves!) where you can be confident that the pallets are deemed safe for use. Visit our online shop to see our full range of safe pallets you can use for your next project. If you're in need of identically sized pallets, we recommend you choose EURO pallets. If you're a little unsure about what you'll need, check out our pallet furniture FAQs or drop us a message and we'll help you get started.
Oh… and last but not least: don't get yourself into a sticky situation trying to collect your pallets (like this reckless driver!). Let us deliver them to you – safely!