The new year is the perfect time to de-clutter, re-organise and spruce up your home, but how can you achieve this without spending a fortune on new storage equipment? You've guessed it – the trusty wooden pallet! We've scoured the internet and found some of the most inventive and ingenious storage solutions, all beautifully crafted from wooden pallets, to help inspire the crafty woodworker within you.
One of the best things about building your own storage equipment (besides the enjoyment of it, obviously!) is that you can design it to fit your chosen space perfectly, utilising every nook and cranny. That's something you just don't get with shop-bought furnishings!
Vegetable storage rack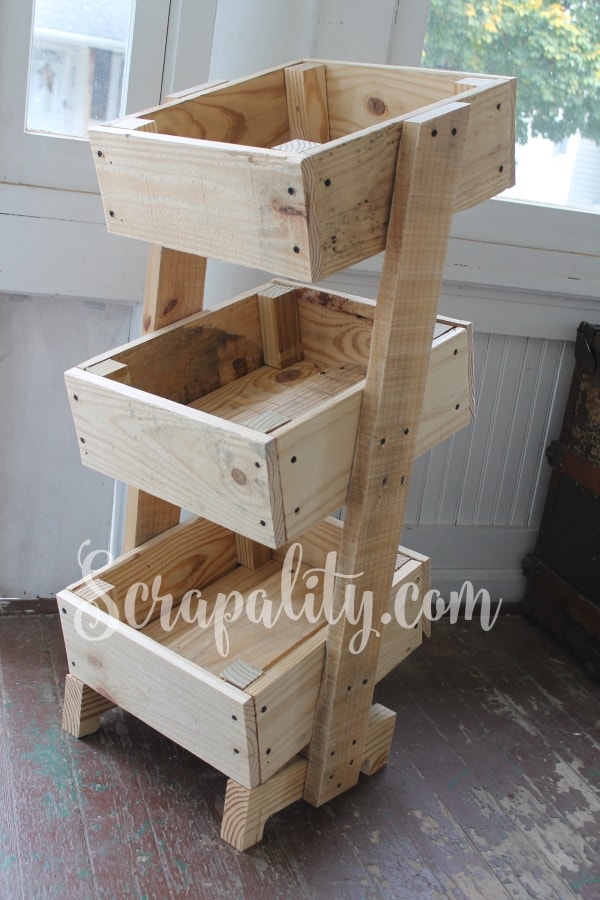 A free-standing unit, vegetable crates or individual larder-style drawers to fit inside a cupboard, there are so many options when it comes to vegetable storage designs. Planning and preparation will be key, but the results will be worth it! This YouTube tutorial gives a good overview of what you'll need to do to create a free-standing unit like the example shown above, but you can also make your project a little easier by purchasing loose pallet boards rather than taking apart the whole pallet yourself.
Finish the project off by decorating it in some bright colours, and use fancy lettering, stencils or kitchen labels to help you keep your vegetables organised. Blackboard paint is another great suggestion – it means you can wipe off and re-write your vegetable labels depending on which veggies are in season!
Pallet storage box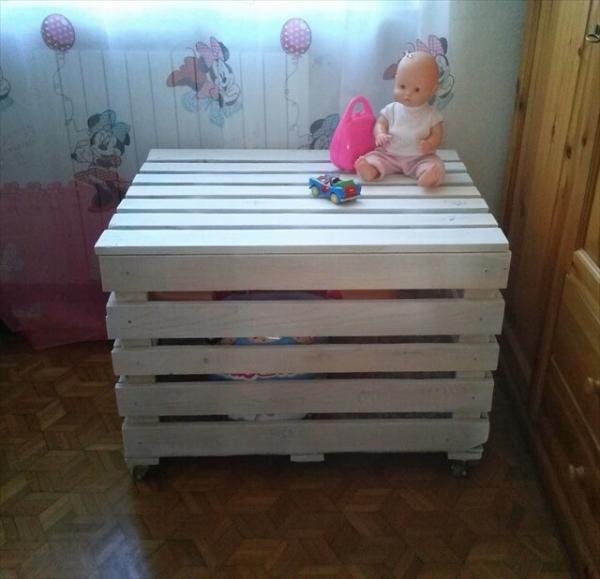 Is your home cluttered with leftover wrapping paper and gift bags after the Christmas chaos, or are you tripping over toys that won't fit in the kids' toy box? Then why not build yourself a pallet storage box! Design it to the exact specifications that you'd like: gaps or no gaps between the slats, wheels or no wheels, string lid or soft closed lid – you really can make it your own.
Although not built using pallet wood, The Project Lady gives a very good step-by-step overview of how you can create your own wooden storage box (along with the tools you'll need), so do check it out!
Pallet shelf organiser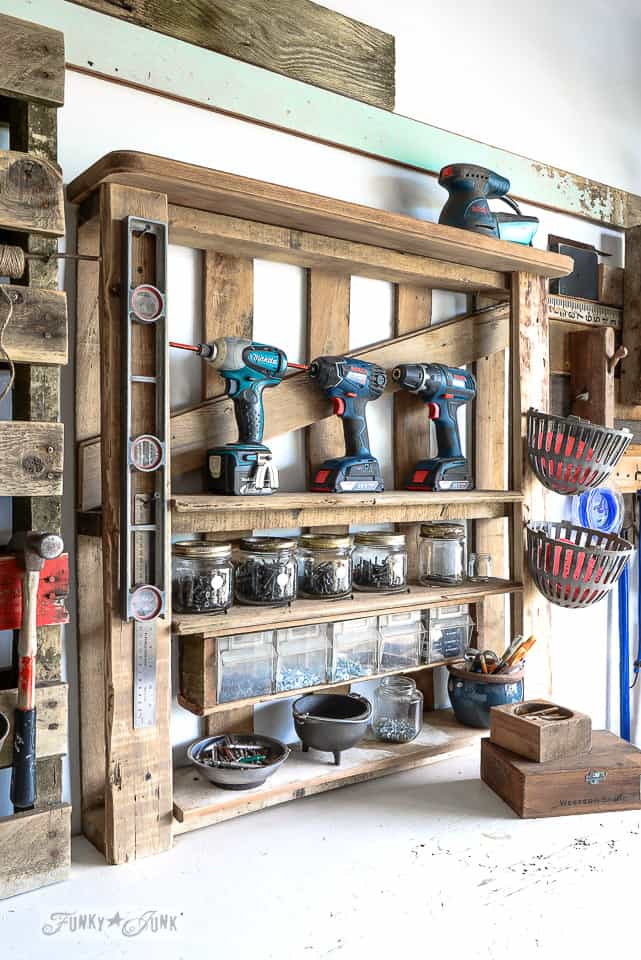 Wanting to tidy up your garage or shed space? This pallet shelf organiser is a great way to neatly store all of your DIY essentials – and it's fairly easy and cheap to make! These instructions from Funky Junk give you an overview of what you'll need and how you can build this pallet shelf, which you can then adapt to fit your own space.
In addition to storing your DIY tools, there are various other incredible garage/shed storage ideas made from pallets, such as garden tool storage, pallet planters and bike storage! There's sure to be a nifty pallet storage solution for most, if not all, of your garage items.
Laundry basket holder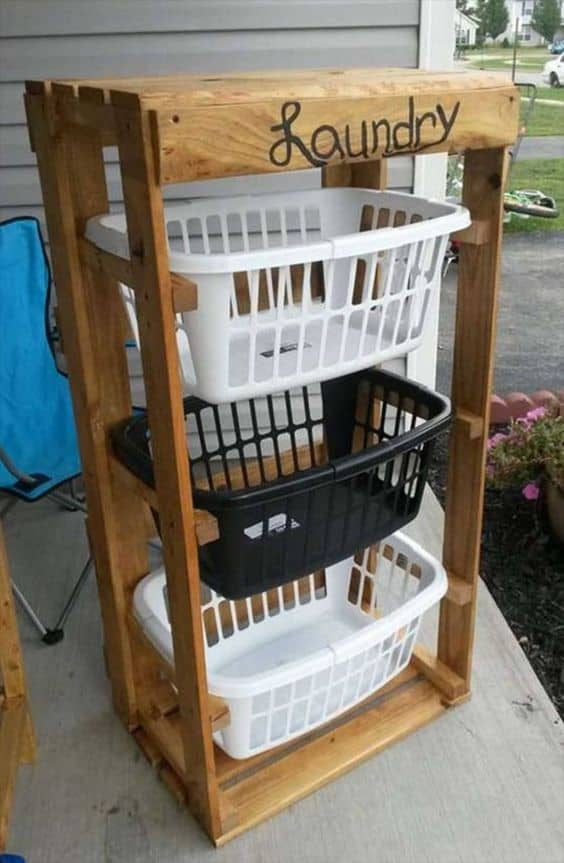 This laundry basket holder made from pallet wood is such a unique and creative idea! Again this is something you can tailor to your specific space and the size and number of laundry baskets that you have. To give you an idea of how to build something similar to the example above, take a look at this step-by-step pallet laundry basket YouTube video.
Pallet wardrobe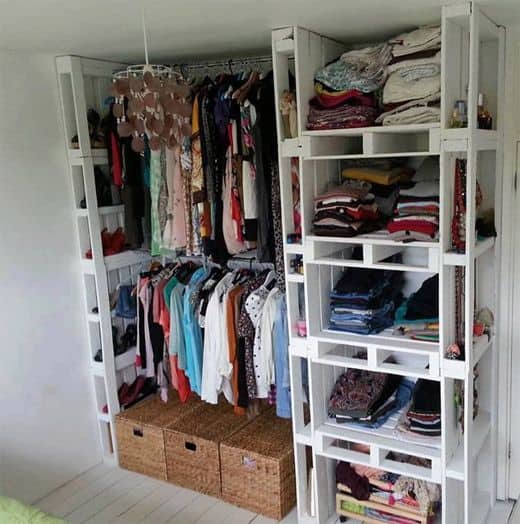 If you're running out of storage for your coats, clothing or shoes, why not try building your own pallet wardrobe or pallet shoe rack? There are so many ingenious ways that you can design something like this so that you can utilise every bit of space; it can be as big or as small and as complex or as simple as you'd like! If you prefer your clothing to be out of sight, you could always put up a curtain, door beads or a pallet sliding door!
Jewellery display cabinet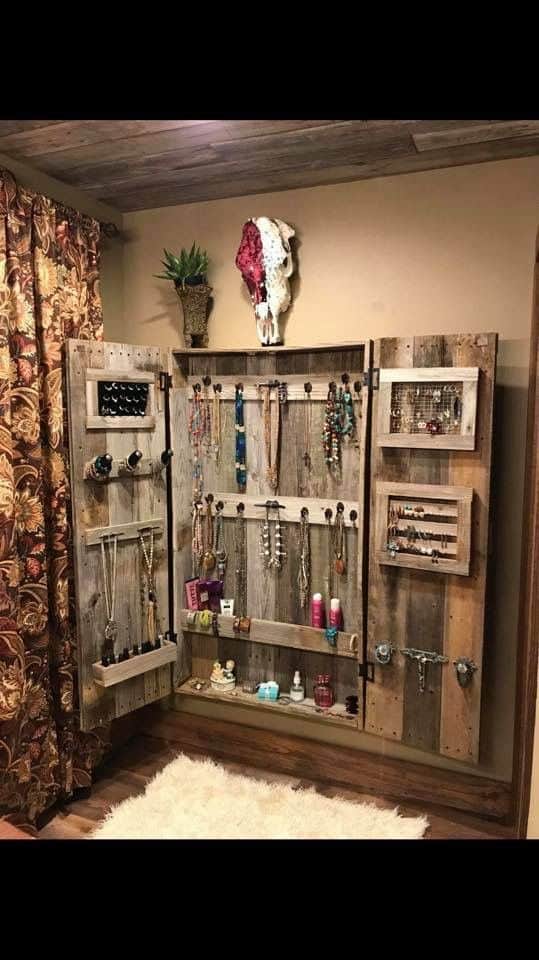 Never have to worry about tangled necklaces and missing earrings again! This display cabinet is a real statement piece and is a perfect way of neatly organising all of your jewellery items. If you'd prefer something smaller and a little bit easier than the example shown above, you could always keep the pallet intact (like this example) and then simply decorate with beautiful hooks, lighting or other pretty accessories.
Safety first!
When starting projects that are designed for use inside the home, it's even more important to ensure that the pallets you are using are safe. How do you know if they're safe? The best way is to source them from a reputable pallet supplier. Never use discarded pallets or pallets with an unknown history. You can find out more about this in our blog: Are Discarded Wooden Pallets Safe? You'll also want to make sure that your projects are thoroughly sanded to avoid the risk of splinters and sharp edges, and you may wish to finish them with a wax, paint or stain – take a look at our painting and staining tips.
Ready to begin your project? Get shopping for the perfect pallet now! Our online store has a huge variety of pallets and pallet accessories so you're sure to find exactly what you're looking for. If you have any queries or would like pallet advice from our team, do get in touch.
Let the pallet project planning begin!