Don't get us wrong, we love the rustic finish of your typical pallet project. But we also know that sometimes you're looking for a different effect to fit your own personal style. If so, you may have thought that pallet wood isn't going to work for you. However, in this blog we'd like to show you just how much you can change the look of pallet wood in your pallet projects; from contemporary to rustic, and polished to shabby chic.

Which Paints, Waxes, or Stains Can Be Used On Pallets?
Here's the great news, the list of products to finish your pallet project with is immense! There are all sorts of exciting products out there suitable for wood, such as:
Matt paints

Gloss paints

Chalkboard paints

Wood waxes

Woodstains

Polyurethanes

Varnishes

Shellacs

Polishes
Where Will Your Pallet Project Live?
It's important to think about each pallet project and select a suitable product for it's intended use. For example, an outdoor pallet furniture set will benefit from a paint specifically designed for outdoor use which won't chip or flake off with typical weathering. You can also get anti-mould paints which are a great idea if your pallet project will be left out in all conditions.
Indoors you have more options, but always consider how much use the surfaces will get, ie: a decorative piece like a shhelfor an artwork may suit one layer of paint + sanding for a vintage look, but a coffee table may be used more frequently and the same finish will require a varnish or a seal on top.
Prepping Your Pallet
We recommend prepping your pallet project for its finishing touches once it's all assembled, as the pallet project process can be a bit rough at times!
The first thing you want to decide on is what your ideal finish will be. You can leave pallets unsanded for a more rustic, weathered look which adds character, or sand them smooth if you prefer a more slick look. Smooth pallet wood is easier to paint, so be aware that if you keep your pallets rough and characterful; that's exactly what you'll get in the end!
And if you're looking for super smooth surfaces you might want to get some wood filler to use to close up any cracks, chips, or irregularities in the surface of the wood.
If you're sanding don't forget to clean down the surfaces with a damp washcloth and leave to dry completely before adding your chosen paint, wax or stain.
Top Tip: Start with rough sandpaper and move down to smoother, low grits as you go for a super smooth finish.
No two pallets are the same, and as such you're likely to see slightly different results on the surface of each piece. If this sounds good to you, that's great! If it doesn't we recommend you use a primer before applying your paint.
Painting Your Pallet Project
If paint is your chosen finish the choices don't end there! You could apply 1 layer and lightly sand for a weathered, shabby chic look. You could also paint single layers of bright colours and then sand to reveal a really lovely multi coloured weathered effect.
You could paint many layers for a more modern look. White and bright shades look particularly good on pallets. Remember to use a primer for this option!
You could prime and cover with a specialised paint, like chalkboard paint, metallic paint, or even magnetic paint!
Varnishing or Waxing Your Pallet Project
Varnishing, waxing and polishing are great options for those who love the natural wood grain look, but prefer a more finished feel. There are so many varnishes and stains available that will preserve or even enhance the look of the wood in your pallet project, likewise for wood waxes.
Coloured or clear varnishes usually finish up looking a little darker with they dry, so bear that in mind when you choose one. And certain lighter varnishes and stains can really help the natural variations in the wood colour pop – creating a beautiful natural effect.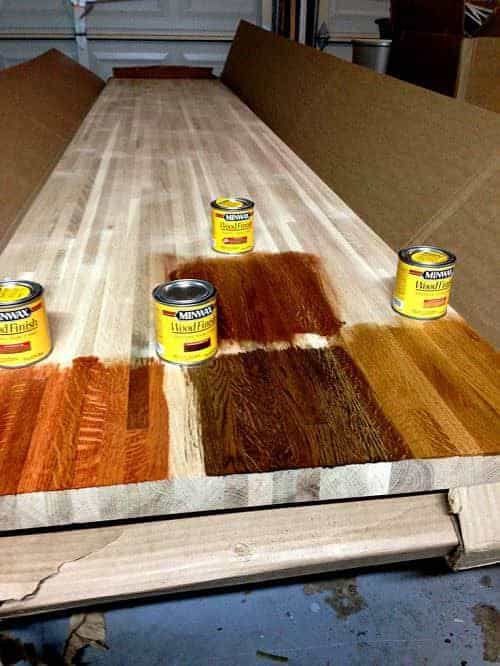 Top tip: Keep some pallet offcuts to test your finishes out first so you know what you're going to get!
Inspiration
Lean-in to the different variations in wood type and tone by choosing a variety of stains and paints – add a pop of colour for this great effect.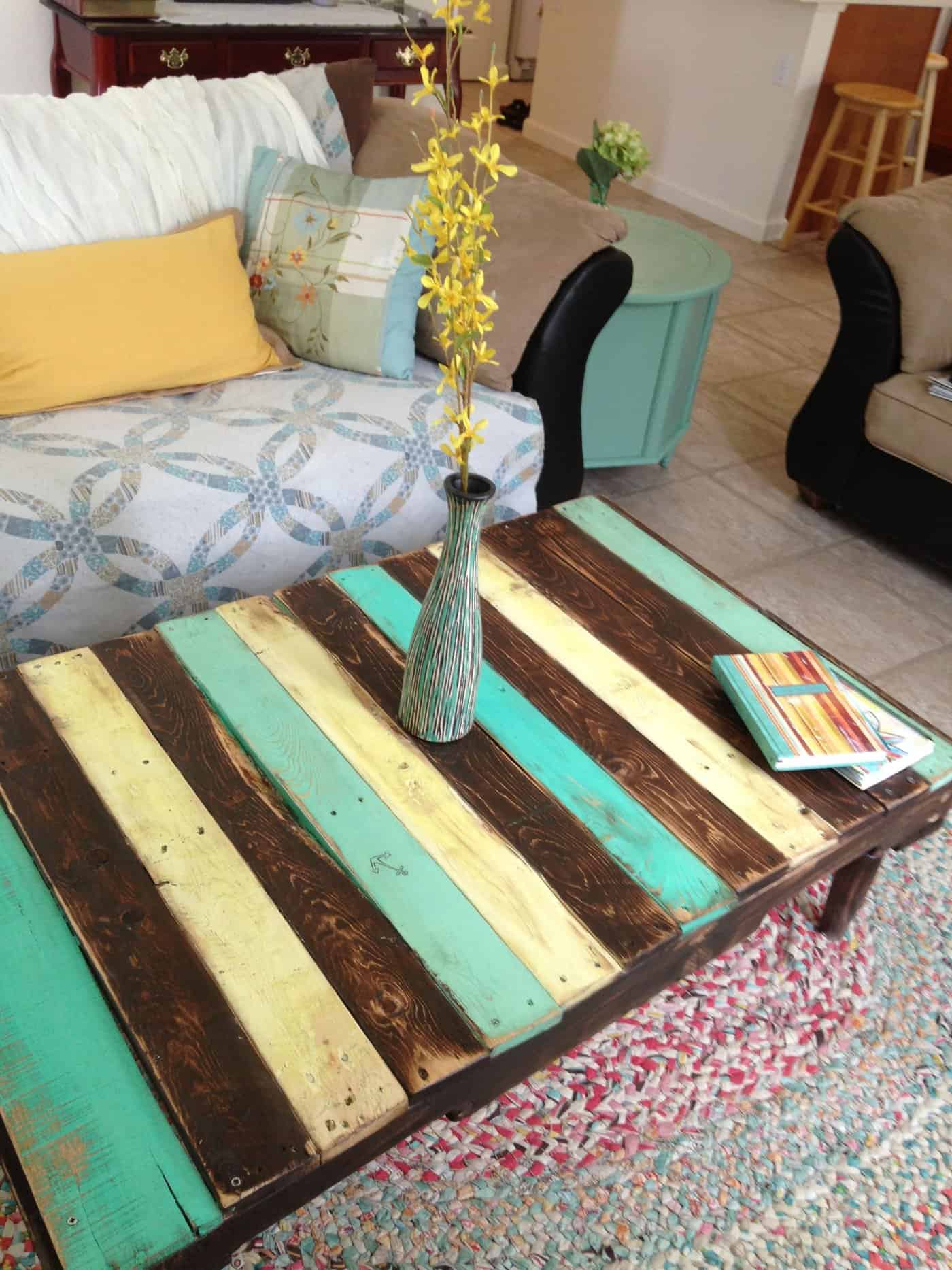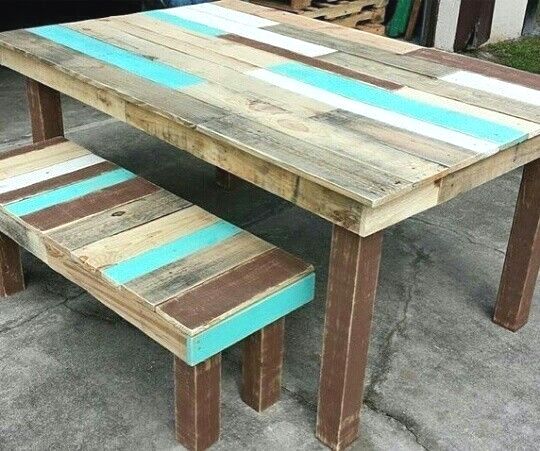 Try this burning and staining effect (carefully!!), we think it looks amazing!  http://www.instructables.com/How-to-Burn-Stain-Wood-Aka-Shou-Sugi-Ban/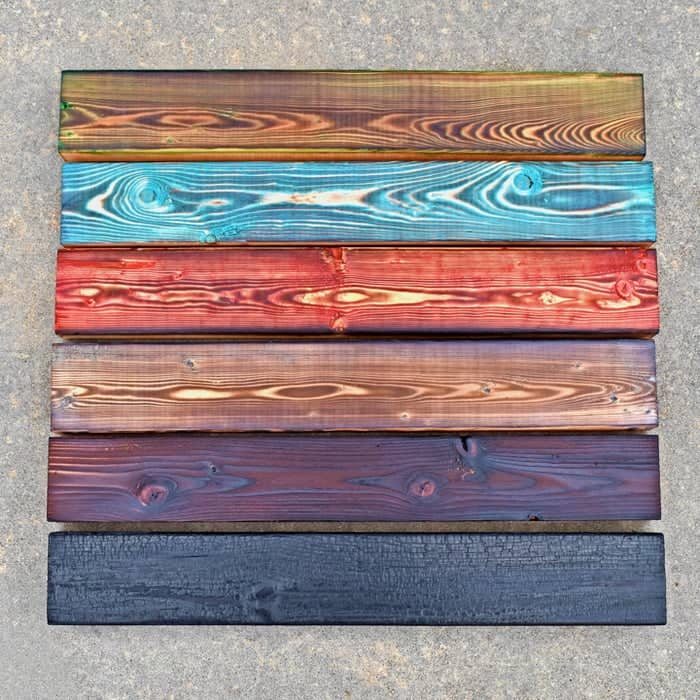 Waxing the this table top helps the wood resist wear from everyday use and also brings out beautiful textures in the grain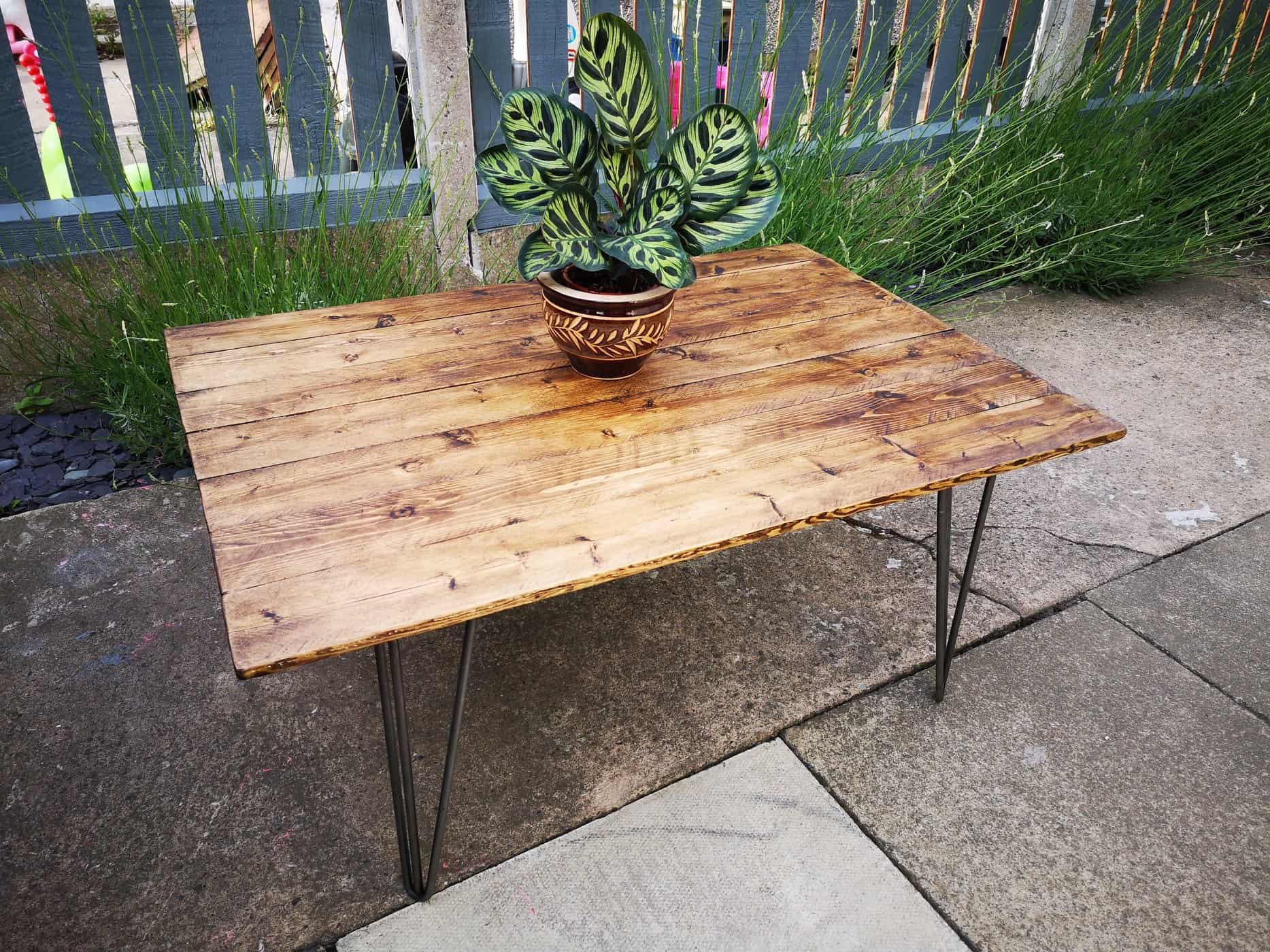 A beautifully varnished coffee table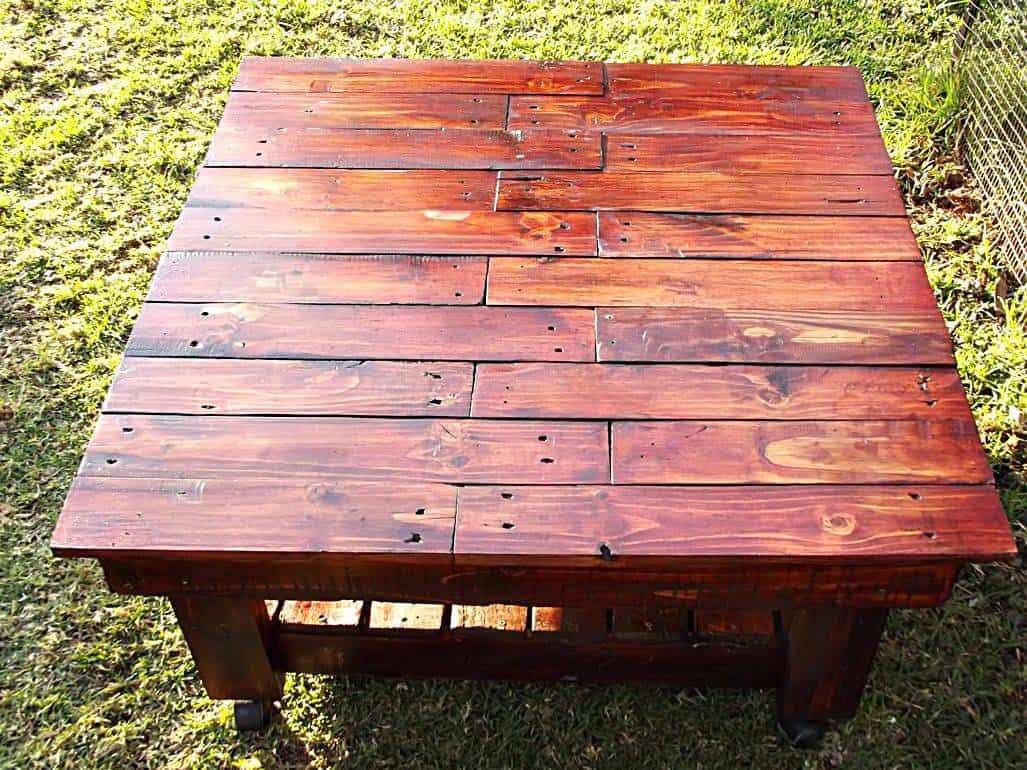 A stencil and stain/varnish can have a striking effect!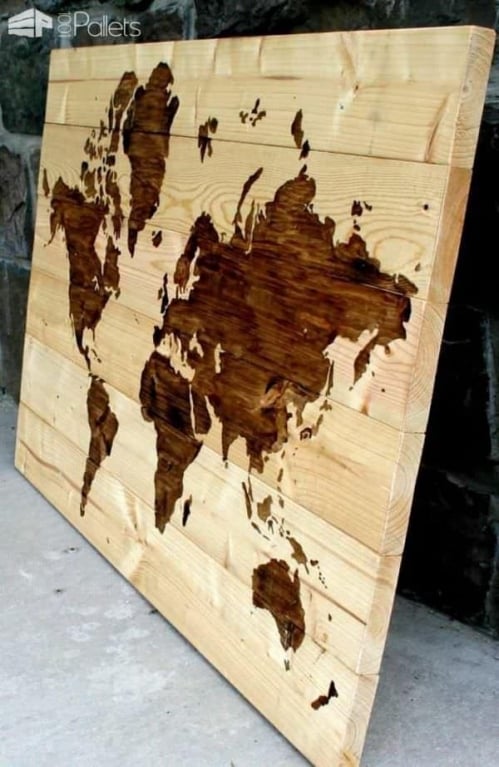 Combine paint and varnish!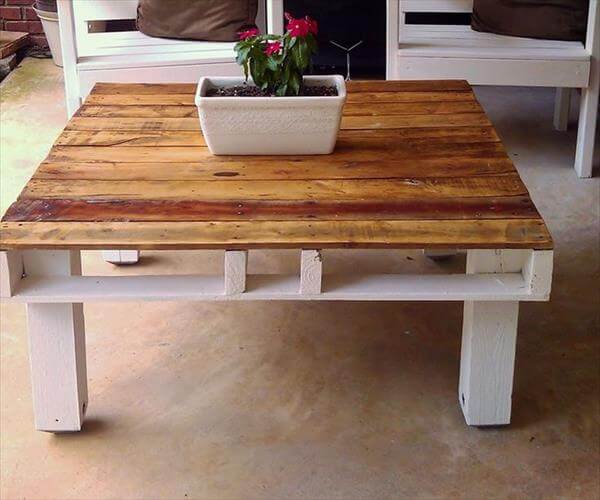 This white painted and tile-stamped pallet wall looks amazing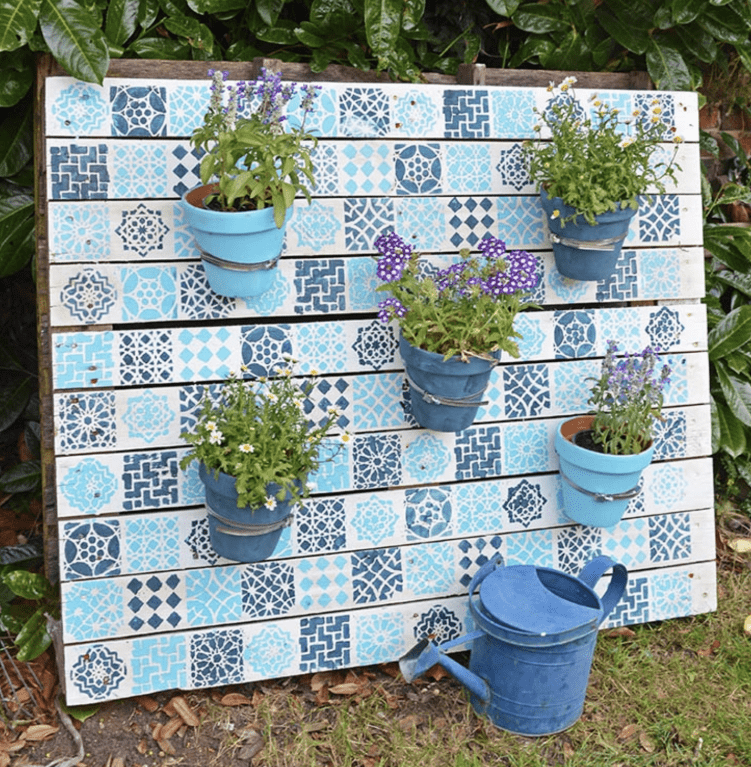 Image credit: http://www.pillarboxblue.com/painted-wood-pallet-garden/