Pallets are one of the most fundamental pieces of equipment for the majority of logistics businesses, helping not only with transportation but also with storage efficiency and product protection. Their functions are extensive and they come in all sizes, types and materials to suit different business's needs.
Each year Modern Materials Handling conducts a study that looks at how pallets are being used by these businesses, reviewing factors such as the pallet selection process, favourite pallet types and pallet usage levels and patterns to identify key trends within the industry.
This year marks Modern Materials Handling's 13th study: The Pallet Report 2023. Below we've provided a summary of the report's findings, focusing on the most popular pallet types and sizes in today's market.
Key findings from The Pallet Report 2023
Pallet types
Wooden pallets remain by far the most popular pallet type, with 94% of participating businesses stating that they use wooden pallets. However, the report also identified a rise in the popularity of other pallet types, with 38% of businesses now using plastic pallets (up from 31%) and 19% using wood composite pallets (up from 17%).
There could be many reasons why demand for plastic pallets is on the increase, with some companies stating that they are planning to increase their plastic pallet supply over the next few months for various reasons, such as:
compliance issues
better durability
a more sustainable option
greater control over pallets
customer requests
Graph title: What types of pallets do you use?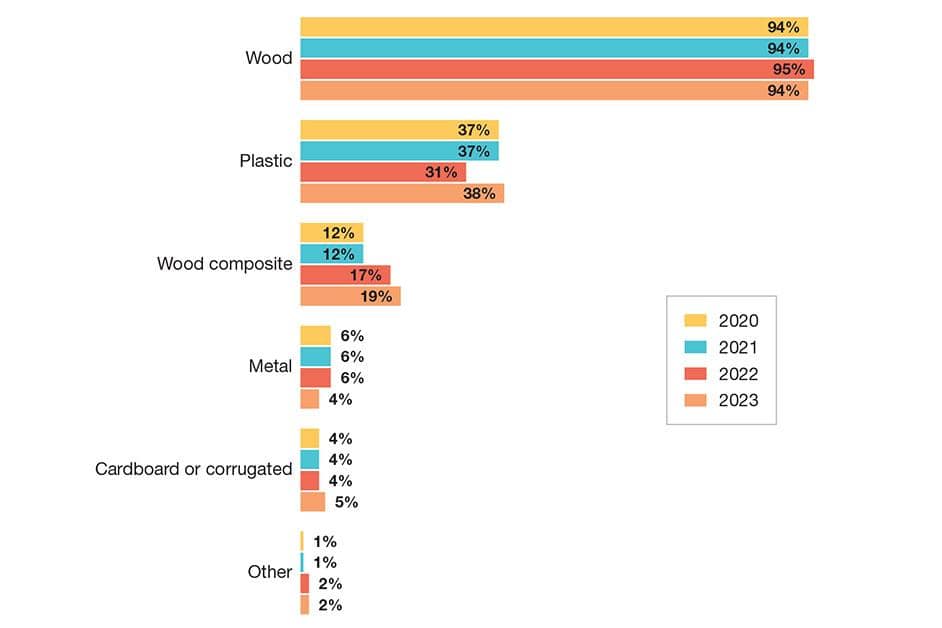 Image source: Peerless Research Group (PRG)
Pallet sizes
The report identified that businesses are shifting away from the standard 48×40-inch pallet commonly used in North America (where the study is likely to have been collated), with demand for 48×48-inch pallets increasing significantly. Demand for 36×36-inch pallets and half pallets are also on the rise, whereas demand for 42×42-inch pallets has decreased.
It's worth noting that in the UK we tend to use different pallet dimensions, with 1200x1000mm often seen as our 'Standard' and most commonly used size. Therefore it's uncertain whether this trend is applicable to the UK market, but it's entirely possible that UK customers are also shifting away from traditional pallet sizes in order to better suit their specific requirements.
Graph title: What are the pallet sizes you commonly use?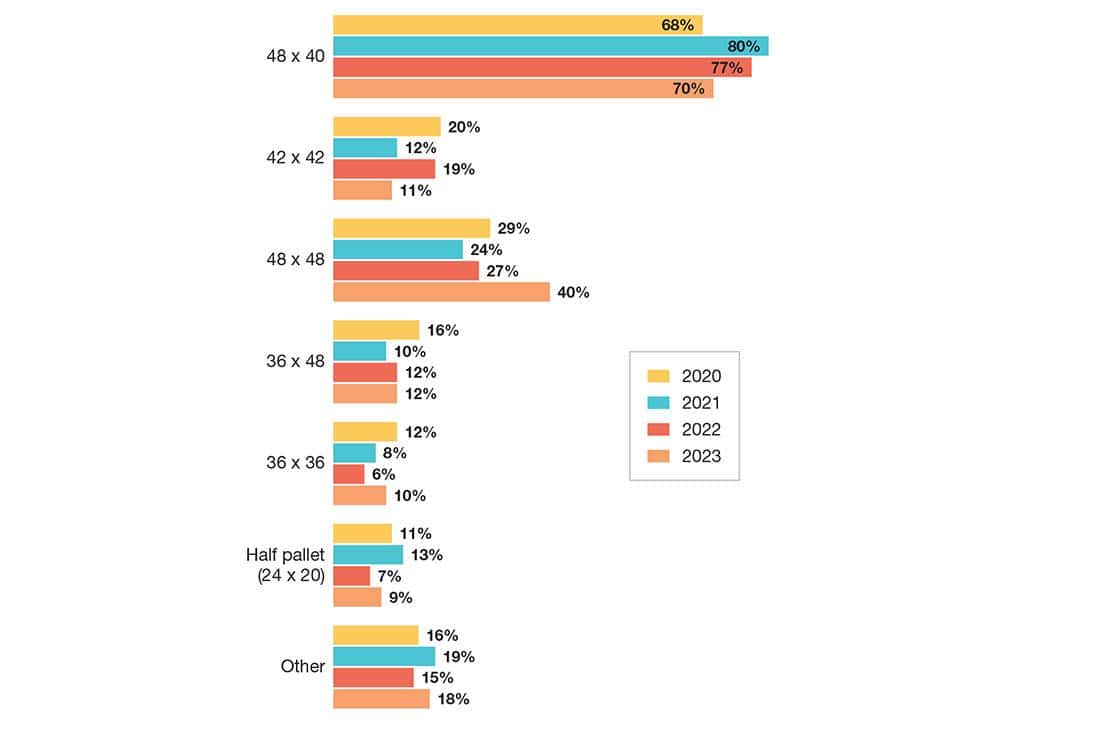 Image source: Peerless Research Group (PRG)
New vs. used pallets
There seems to be a mixture of preferences when it comes to purchasing new or used pallets: some companies prefer new, others prefer used whereas some prefer to use a combination of both. Modern Materials Handling's report found that 56% of businesses buy new wooden pallets and 71% of businesses buy used or core wooden pallets. Of those 71%, many respondents raised concerns that used pallet options are in short supply, are more expensive or that the quality isn't as good as new pallets.
Interestingly, the study identified that 44% of businesses are using more used pallets than last year (down from 51%), 38% are using roughly the same and 17% are using fewer. It also looks like pallet pooling is on the rise, increasing from 8 to 15%.
Graph title: Are the wood pallets you purchase new or used?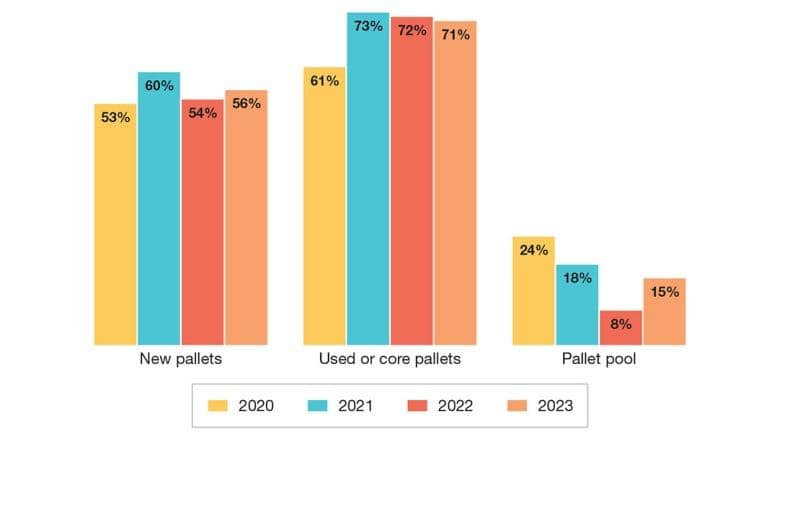 Image source: Peerless Research Group (PRG)
Graph title: What has been your experience obtaining used wood pallets?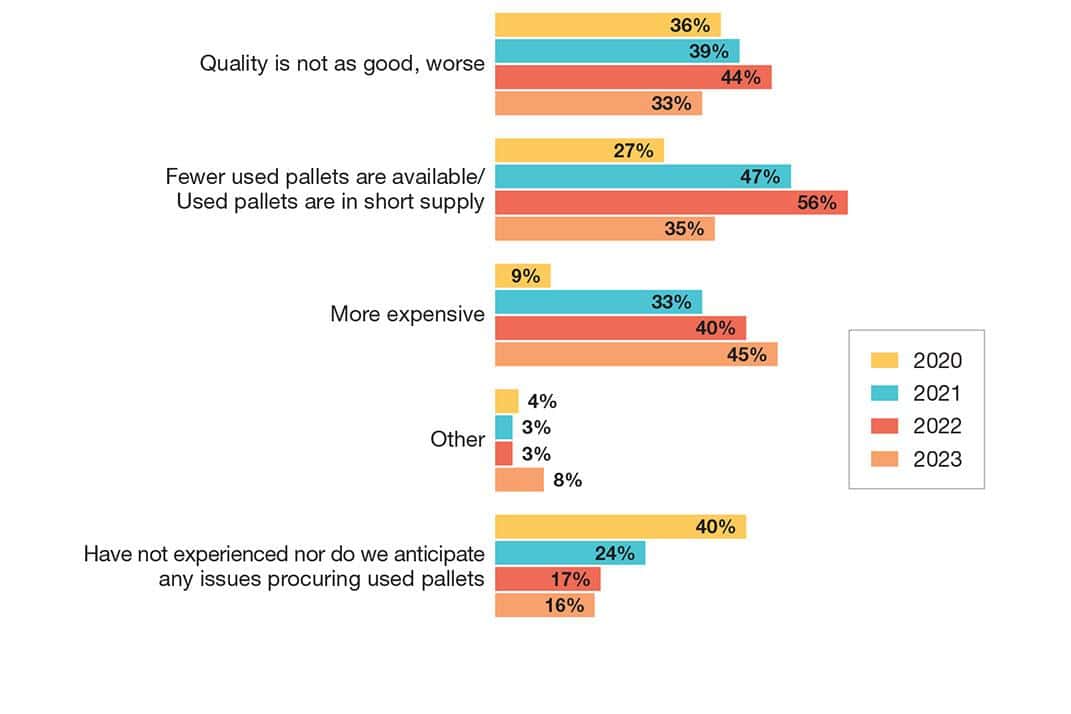 Image source: Peerless Research Group (PRG)
Pallet retrieval or hire service
According to the survey, 76% of businesses don't hire pallets or plan to hire or work with any sort of pallet retrieval company. 27% said they may use a retrieval or hire service within the next year but surprisingly 16% said they don't know what these systems are. We therefore believe it's essential to spread the word about these economical options for logistics businesses (please read our collection service information below).
Graph title: Does your company rent or plan to rent pallets, or use a retrieval/recovery provider?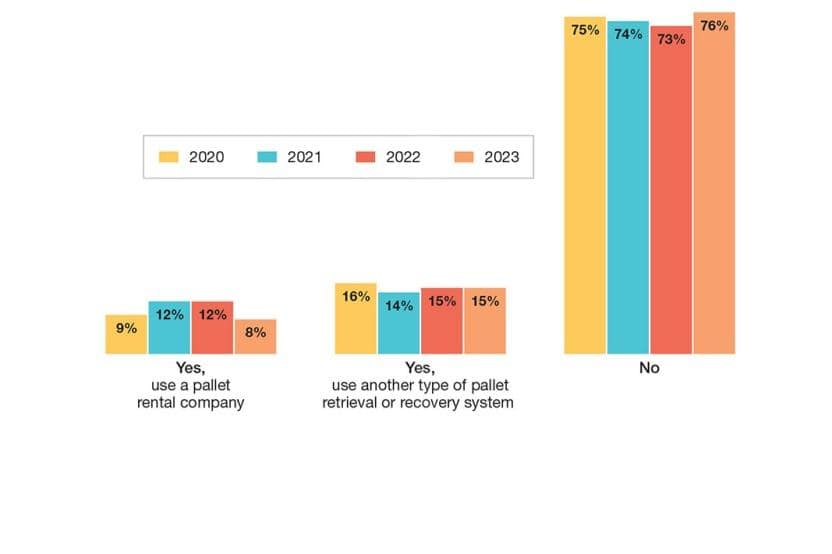 Image source: Peerless Research Group (PRG)
Graph title: Would you consider participating in a pallet retrieval, recovery system or a third-party pallet rental system in the next year?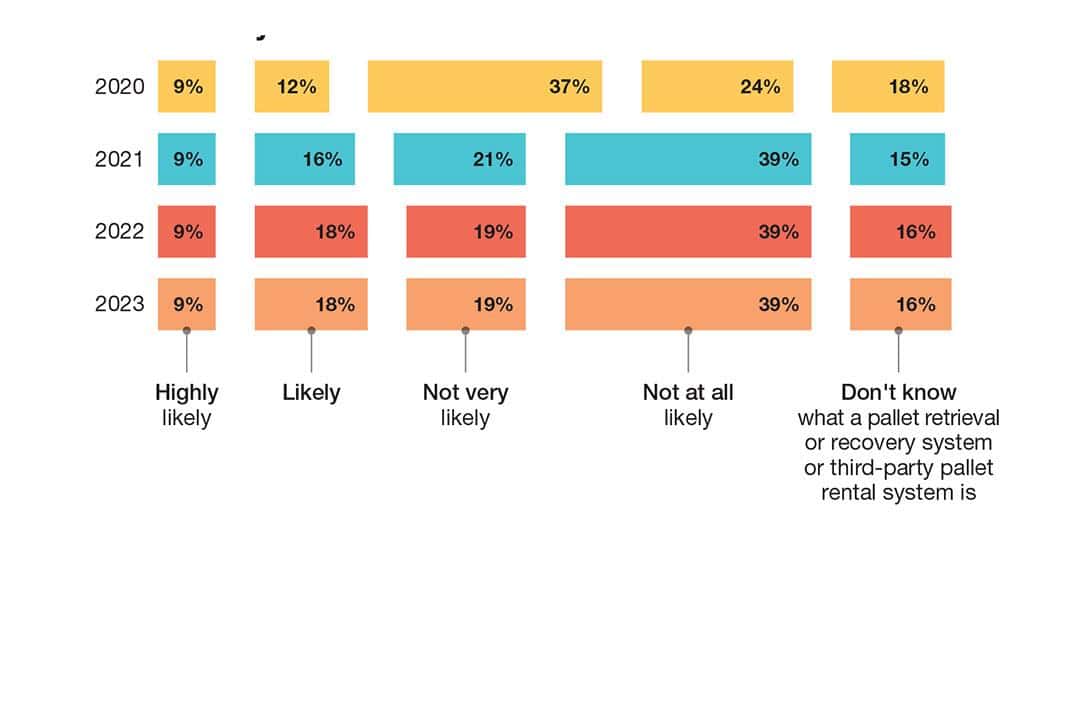 Image source: Peerless Research Group (PRG)
Universal Pallets is here for all your pallet needs
Whether you're looking for traditional size pallets or something a little bit unconventional, wooden or plastic pallets, new or refurbished pallets, we have a huge variety of pallets and pallet accessories in stock via our online shop. Here you can quickly and easily filter through our wide selection to find the perfect pallet for your business's needs, and with national next day delivery service, you'll never be left stranded for days without your much-needed pallet order again.
If you can't find what you're looking for via our online shop, give our friendly and knowledgeable team a call on 0161 223 4427 and we'll do our very best to source it for you. We also sell bespoke pallets and can make any size pallet to order – so if you're in need of something specific, get in touch and let us create it for you!
But wait, there's more… we don't just sell pallets – we collect them too! Our pallet collection service is a great way to get rid of your unwanted pallets. We'll collect them at a time and frequency to suit you and we'll either repair or recycle them. We'll even pay you for good quality pallets too – it's a win-win!
Universal Pallets is proud to offer such a wide range of services to meet all of your pallet needs. Browse our website for further information or give us a call to chat in more detail.