We all know that the use of plastic (and single-use plastic in particular) is accelerating the climate crisis and polluting our planet, with Plastic Oceans estimating that around 10 million tons of plastic are being dumped into oceans every year. But did you know that packaging accounts for over 40% of the total amount of plastic usage?
Therefore, it's more important than ever that we all do our bit to help make our industry less damaging to the planet, and swapping to sustainable shipping and packaging materials is a great way to do this! Not to mention it can also prove to be a rather cost-effective, efficient and time-saving choice.
We originally blogged about shrink wrap alternatives back in 2019, and so in this blog post we're showcasing a couple of other sustainable pallet wraps (or reusable packaging) that are now on the market.
Great Wrap
Cost: Great Wrap's compostable pallet wrap is now available to businesses at $96.80 for four rolls of the larger size and $88.50 for the smaller size, with more sizes aiming to be released soon. However, the product hasn't yet been launched globally meaning that international shipping costs are likely to be substantial and there is a minimum order in place, but bulk discounts are available so it's definitely worth getting in touch with the company to discuss this.
Positive: It works in the same way as traditional pallet wrap, but is much more sustainable! It's 100% compostable, made from food waste and compostable biopolymers, and it will break down in 180 days. It's also marine degradable.
Negative: The product is produced in Australia and hasn't yet been launched globally, so shipping costs and carbon usage are likely to be quite high.
For more infromation, check out their website.
NanoStretch™
Cost: NanoStretch™ is made using high technology polymers and up to 67 layer co-extrusion. This has the capability of making the film 40% thinner, without compromising on hold or strength. When used with a pre-stretch wrapping machine, the company claims that wrapping costs can be cut by half. Using this film can also help to save you money in plastics tax. Bulk discounts are available so be sure to get in touch with the company to get the best deal.
Positive: Not only does this innovative pallet wrap have the capability to significantly cut wrapping costs, it can also reduce your plastic waste by around 60% and is fully recyclable 100% LLDPE. It increases the load stability and is resistant against punctures.
Negative: You need a pre-stretch wrapping machine in order to fully benefit from the potential reduction in wrapping costs.
For more infromation including product specification sheets and pricing visit Maxpack's website.
Kite Packaging's sugar cane bio-film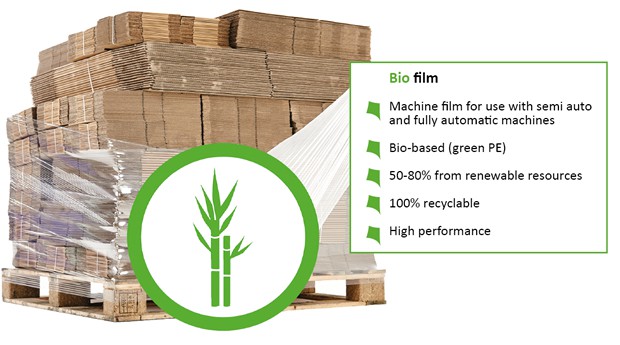 Cost: It's likely that the costs of this sugarcane bio-film will be higher than traditional shrink wrap, but it's a great eco-friendly alternative that's sure to help boost your company's sustainability efforts.
Positive: As you'll see from the infographic above, Kite Packaging's eco-friendly bio-film is completely recyclable without compromising on performance. It's made from between 50–80% renewable resources and is a great way to reduce your business's carbon footprint. It can be used with either semi-automatic or fully automatic machines.
Negative: Price could potentially be an issue here, although we couldn't find a price listed for this product on the company's website so you'll need to get in touch with them to find out. Also, if you don't have an automatic or semi-automatic machine then this might not be a suitable option for you.
Further information: This news article from Warehouse & Logistics News provides further details about this exciting product and its eco-friendly credentials, or get in touch with Kite Packaging to learn more.
P.C. Net™
Cost: This is another innovative product from Maxpack, who describes this pallet net as a cost-effective alternative that cuts out disposal costs. Unlike traditional pallet wrap, these nets are reusable and typically last between 3–5 years, meaning that they're likely to save you a lot of money in the long run! They're available in three sizes.
Positive: As we've mentioned above, these nets are reusable and can be recycled at the end of their life. They're sturdy and robust, are quicker to use than traditional pallet wrap and can secure loads of up to 2400kg – without the need to replace the packaging every time you need to move or take a product off the pallet!
Negative: Obviously you'll need a place to store them when not in use (although they're unlikely to take up much room), and the initial purchase costs are likely to be higher than traditional pallet wrap.
For more infromation about P.C. Net™ including product specification sheets and pricing visit Maxpack's website.
Ready to make the switch?
Switching to sustainable pallet wrap is a great way to make your company more environmentally friendly – not to mention a whole heap of other benefits depending on which product you choose! If you'd like further inspiration, be sure to check out our previous shrink wrap alternatives blog too.