There's something truly mesmerising about sitting around a fire, watching the flames dance and crackle as the evening sun draws to a close, so it's no wonder that firepits have grown in popularity over the last few years. They're a superb way to elevate your garden and extend your al fresco living space, providing a beautiful focal feature where you can sit around with friends and family, drinking a warm cup of hot chocolate, toasting marshmallows and sharing your day with one another.
So if you've been dreaming about designing your own firepit space, we're here to tell you that it's easier than you think! There are plenty of ways you can use wooden pallets to create a luxurious firepit feature. In this blog post, we're focusing specifically on sunken firepits – we've picked out a few examples that showcase the different varieties of firepits that could be built using wooden pallets. We hope they spark your creativity!
Square sunken firepit with seating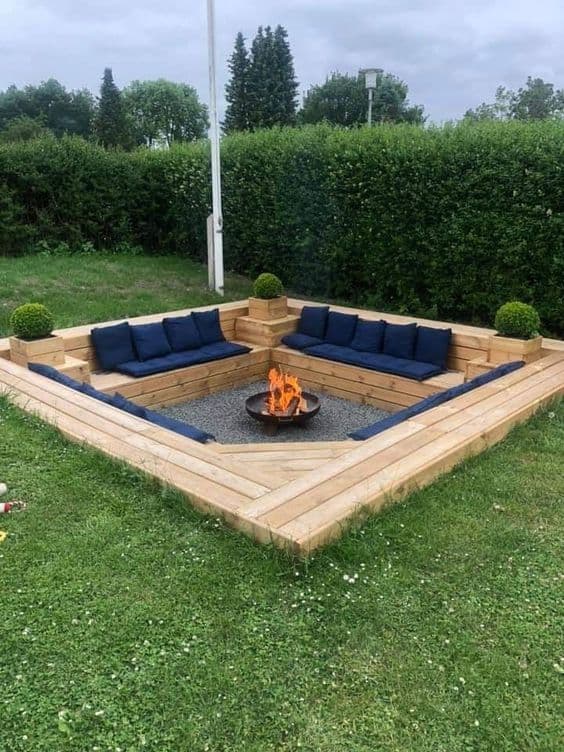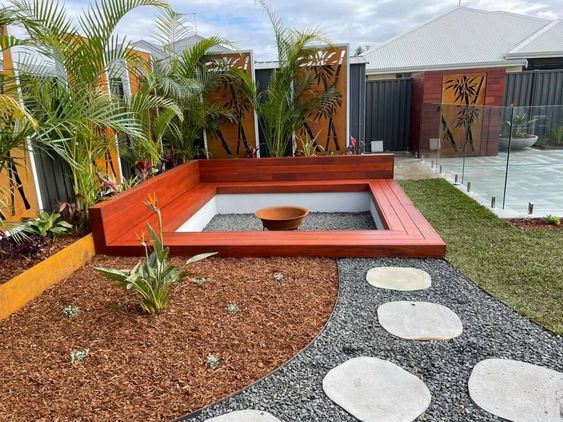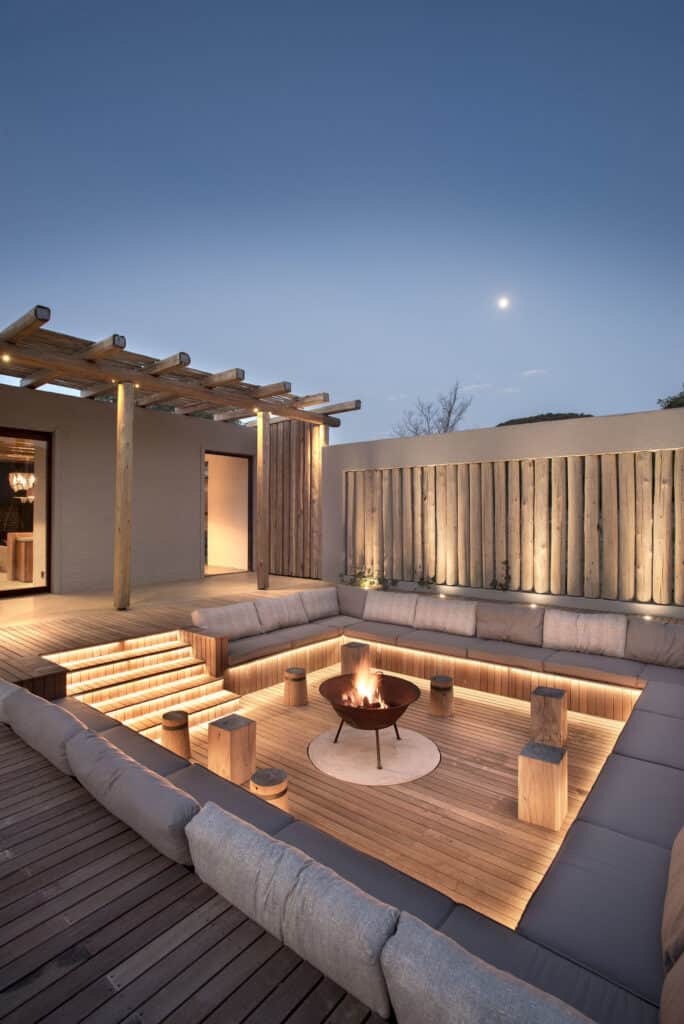 Transform your garden into a luxury oasis by building your own square sunken firepit, like those in the examples above. Paint the pallet wood in a colour of your choice to make it really stand out, or leave it as it is for a rustic effect. Furnish with sumptuous cushions, pretty planters and outdoor lighting to provide the ultimate setting for a summer's evening.
Circular sunken firepit with seating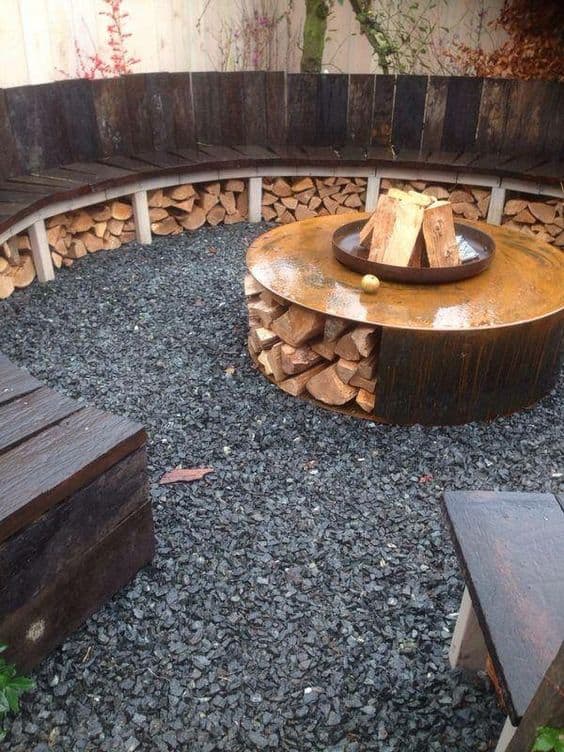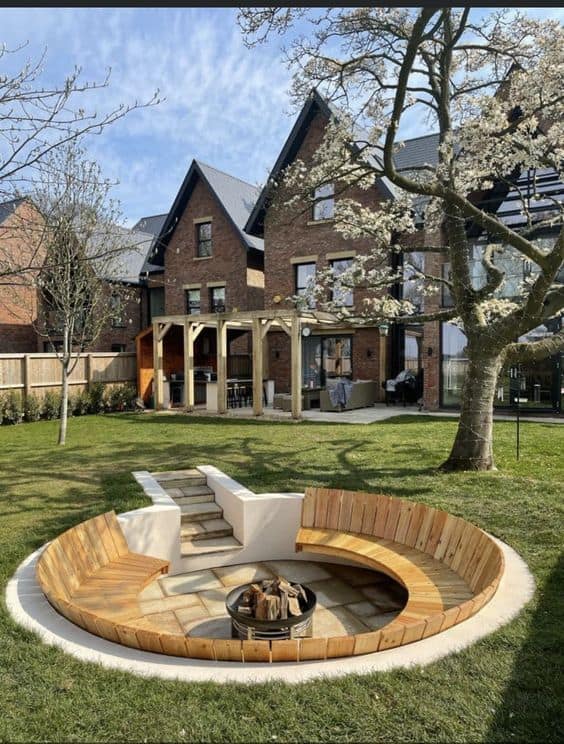 If you'd like to challenge your DIY skills a little further, why not have a go at making a circular sunken firepit instead? It's sure to bring the wow factor to any garden space! We especially like the under-seat log storage in the first example!
Simple campfire-style firepit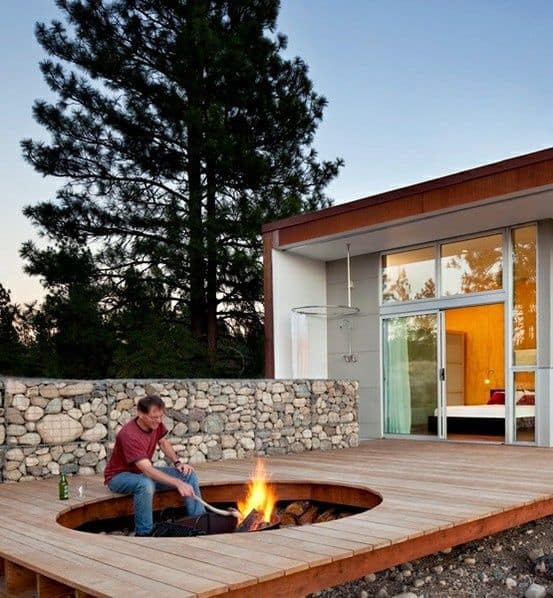 We love the simplistic and rustic nature of this sunken firepit – it really boasts a campfire-style vibe. So if you'd prefer your firepit to be a little more natural looking, this could be the option for you, and this particular example could easily be adapted to suit any size and shape of garden. 
Oh, and if you have some pallet wood leftover from your project, why not complete the look by building some funky pallet furniture to go with your beautiful new firepit?
Safety first!
Feeling inspired by these amazing firepit creations? Excellent! But before you begin designing your own masterpiece, let us run through a couple of safety points that you need to be aware of. Firstly, source your pallets from a reputable supplier. Remember that discarded pallets have often been thrown out for a reason, and they could be contaminated or unfit for purpose. Purchasing your pallet wood from a supplier ensures that the wood is safe for use. Feel free to browse through our online shop where you'll find a wide variety of pallets and pallet boards that are suitable for pallet projects.
Secondly, it's really important that you take extra precautions when working on these types of pallet projects. Pallet wood needs to be thoroughly sanded to avoid the risk of splinters; it can also become quite slippery when wet and might not take the weight of people walking on it. This needs to be considered when planning for your sunken firepit space. If people will need to walk over the boards to get to the seating area then there are ways you can do this in a safer manner. You can use EURO stamped pallets to form your base (these are very strong and are set configurations so they're the same height), and then use proper grooved/anti-slip decking boards on top.
So take care, folks, and have fun building your very own luxury firepit! We can't wait to see what you create.