We all know and appreciate that the trusty wooden pallet is incredibly versatile. It not only transports hundreds of millions of different goods around the world each and every year, but it can also be repurposed into a never-ending list of DIY projects – from stunning artwork and seating spaces to home cinemas and paddling pools! Pretty cool, huh?!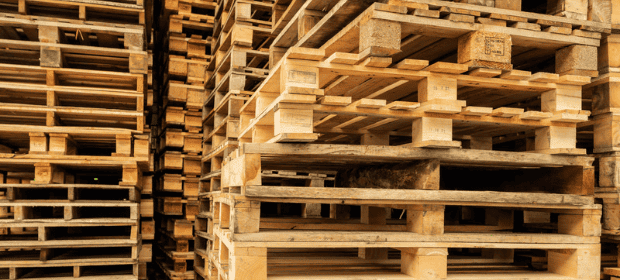 But wait, there's more! Did you know that the wooden pallet is just as impressively versatile when it comes to its end of life? A common misconception is that once wooden pallets have served their purpose they end up in landfill, but that definitely isn't (and shouldn't be!) the case.
Wood is one of the most sustainable and renewable materials available. It's durable, biodegradable, natural and non-hazardous, and so therefore it makes perfect sense that wooden pallets can be repaired, reused and recycled as much as possible to ensure they are used to maximum potential.
In this blog post, we'll discuss the ways in which wooden pallets can be recycled, the benefits of doing so, and how we at Universal Pallets can help you give your business's sustainability goals a boost by maximising your pallet recycling opportunities.
What do wooden pallets go on to be?
Because wooden pallets are so tough and durable, they can usually be reused multiple times until they are no longer deemed fit for purpose. When this occurs they can often be repaired and given a new lease of life, but if they're too far gone, they can then be recycled into a multitude of other products.
If a discarded pallet has any salvageable pieces, it may be stripped and used as parts to repair and restore another wooden pallet. Alternatively, it may be turned into wood chip or pulp to be used in various other products such as animal bedding, paper or compressed pallets, garden mulch and compost, or even biofuel! That's a pretty impressive life cycle for one little pallet… don't you think?
What are the benefits of recycling pallets?
Recycling your pallets obviously comes with a heap of environmental benefits. It's the most eco-friendly way to dispose of any unwanted pallets, and is a great way to make your business more sustainable and less wasteful, whilst also making it more appealing to customers.
In addition to these environmental benefits, recycling your wooden pallets can actually work out cheaper than sending them to landfill – it pays to be eco-conscious!
Join Universal Pallet's pallet collection service
If you'd like to implement a pallet recycling scheme but you're not sure where to start, chat to us about our pallet collection service. We'll help you dispose of your pallet waste responsibly with a carefully curated service that's tailored to suit your business's particular needs, and we'll even pay you for good quality pallets! Our service is easily set up in three simple steps – find out more about our pallet collection service via our downloadable brochure or give us a call on 0161 223 4427 to arrange a free, no-obligation site visit. We look forward to working together to better protect our planet.