Choosing the right type of wooden pallet is an important part of ensuring that your business's processes run as safely, efficiently, and economically as possible. But with so many sizes, grades, requirements and considerations, it can be difficult to know what type of wooden pallet is going to be best for the job.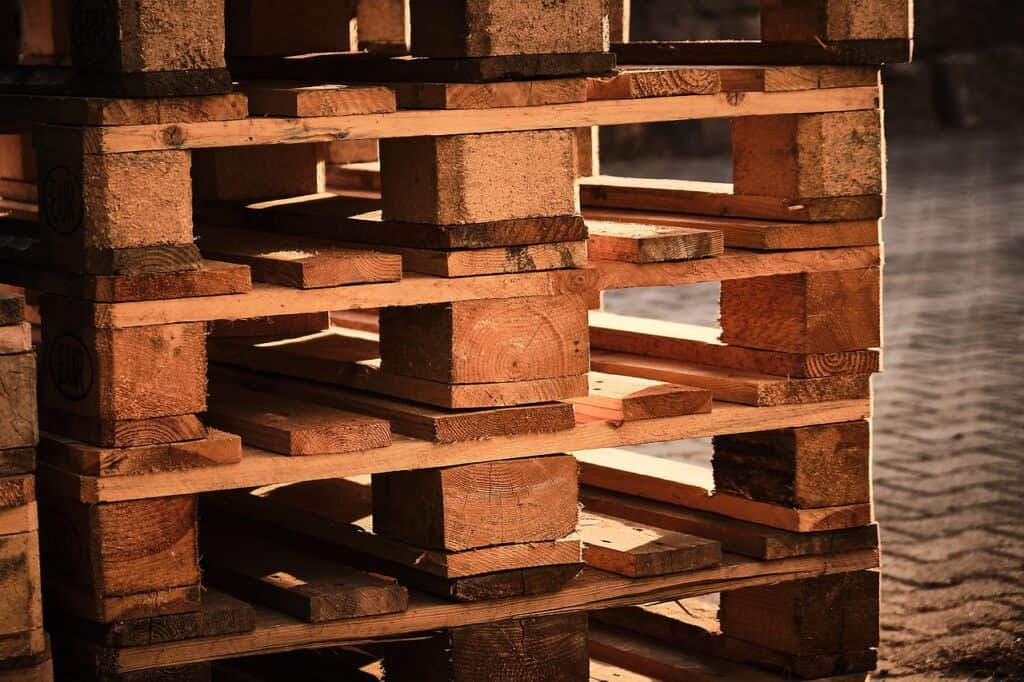 We've put together this quick and handy guide to choosing wooden pallets. In here you'll find lots of useful information about the key considerations you need to make when choosing your pallets, along with links to some of our downloadable PDF guides for further information.
4way or 2way pallets?
Broadly speaking, there are two main 'types' of wooden pallets: 4way entry and 2way entry. The former has free entry for a FLT forks on all 4 sides whereas a 2way entry has 2 solid sides and 2 open sides, meaning that the FLT forks can only access the pallet '2 ways'. Find out more about pallet types and other essential pallet terminology via our A-Z Pallet Terminology Guide.
What size pallet do you need?
It's obviously very important to find a pallet that is easy to navigate around your warehouse and is the appropriate size and has a suitable load capacity for its intended use. But with so many different sizes available, how do you know which one will be best suited to your needs? Our Ultimate Guide To Pallet Sizes PDF provides you with a visual overview of the wide range of pallet sizes available, varying from standard EURO pallets and half EURO pallets, to standard UK pallets, square pallets and CP pallets.
The most common pallets in the UK are the 1200 x 800mm EURO pallets and the 1200 x 1000mm UK pallets. Once you know which size you need, use our simple flowcharts to evaluate your exact pallet requirements, including load-bearing capacity:
These guides should help you choose the perfect fit. If you're still unsure which pallet size is right for you, get in touch.
Is your pallet likely to be importing or exporting goods?
If the answer is yes then you'll most likely need to adhere to ISPM15 regulations, which requires pallets to be heat-treated using approved procedures in order to reduce the risk of disease, pests and contaminants spreading to other countries. Our Quick Guide To ISPM15 covers everything you need to know, along with our Ultimate Guide To Pallet Markings, which covers the different treatment stamps that are required to be displayed on applicable pallet wood.
Whether you need your existing pallets heat-treating to ISPM15 regulations, or you are looking to purchase pallets that have already been heat-treated, we can help! Find out more via our heat treatment page.
New or used pallets?
Another question to ask yourself is whether you require new or used (recon) pallets. Each comes with its own set of advantages and disadvantages – new pallets will usually be more expensive to purchase, but this also gives you the opportunity to buy bespoke pallets made to your exact specifications which is a great advantage if you need something of a non-standard size. Used (recon) pallets, on the other hand, will be cheaper, but it's important to source them from a reputable supplier to guarantee that they've been properly refurbished and repaired, and are fit for purpose.
Do you require pallet collars?
If you usually use wooden boxes then pallet collars are a great alternative to consider. Not only do they protect the goods on the pallet, but their corner metal hinges mean that they can be collapsed when not in use – serving as a brilliant storage solution. Take a look at some examples currently available to purchase via our collars and pallet boards page.
How should you discard pallets that you no longer need?
Don't send them to a skip! Responsibly disposing of your pallets can actually work out cheaper than sending them off to landfill, plus it all contributes to improving your business's carbon footprint and sustainability goals. Recycling your pallets is easy with our pallet collection service. Our service is completely tailored to suit your business's needs – from the quantity to the frequency – and is set up in three simple steps! You can find out more and read some of our case studies via our pallet collection service brochure.
More information
If you have any queries about any of the information listed above, you'd like help sourcing the most suitable type of pallets or you'd like to enquire about our custom pallet sizes, please don't hesitate to get in touch with our friendly and knowledgeable team. Alternatively, you can choose your perfect pallets now via our online shop.