If you're wondering how you can give your garden a spruce for the summer without spending a fortune, we've got some great DIY projects for you to have a go at! Whether you're looking for practical decorations, you just want to add a splash of colour to your garden or you want to transform your space for the ultimate summer staycation, we've got you covered.
The garden pallet art projects you'll find below vary in difficulty, but many of them are quick and easy to create – a perfect summer holiday project to enjoy as a family! If you'd like other summer pallet project inspiration, don't forget to take a look at some of our other blogs: Summer In The Garden: Our Pick of Pallet Projects, Pallet Outdoor Cinemas, Pallet Garden Games and Transform Your Back Garden Into A Luxury Resort.
Pallet patio signs
Welcome your guests to your next garden party or BBQ by creating your very own patio sign. Personalise your sign however you see fit – perhaps with your names, a favourite quote or themed around your family's favourite places. It's a great project to get the whole family involved in! You could keep the project very simple by keeping the pallet whole, stack miss-matched or different-shaped slats together to create a rustic signpost-style look, or glue the same-sized slats together to create one board. If you're confident using a jigsaw, why not make your sign into a fun, unique shape?  
Decorated fence boards
Painting or decorating pallet slats is a fantastic way of adding a splash of colour to your outdoor space! They can simply be used for decoration purposes or you could put them to use as a windbreaker or fence. Again you could keep things very simple and keep the pallet whole or you could use single slats as individual decorations dotted around your garden.
The perfect summer holiday project, each family member could paint their own fence board to really give your garden space that personal touch.
Pallet weather board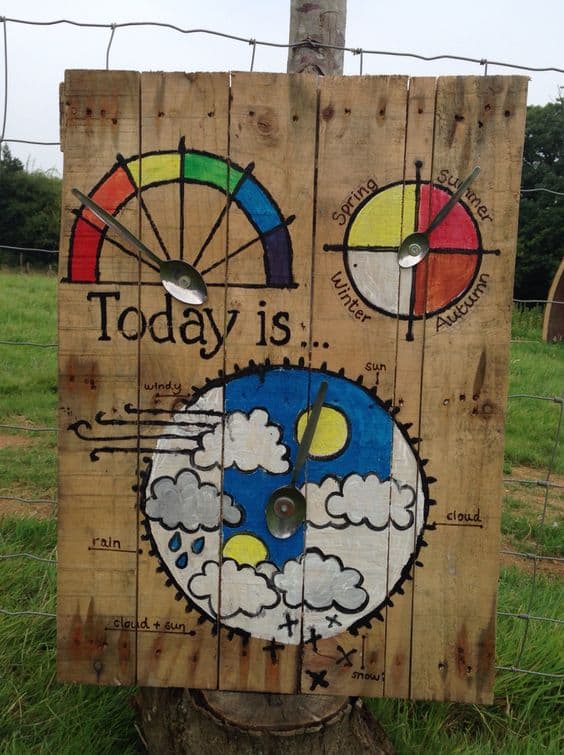 Fun, informative AND interactive! We just love this pallet weather board idea. It's simple yet eye-catching, and is a great project that the kids can enjoy each and every day! You could even attach an outside thermometer or weather-related stickers to your weather board to make it even more amazing.  
Flower-shaped pallet decorations
For those who are competent using a few tools, this flower-shaped decoration made from pallet slats is an excellent art project to have a go at. In order to make your flower, you'll need a jigsaw, flower template, nail gun and wood glue, along with other bits and pieces for decoration such as paints and attachment accessories. These flower decorations will look wonderful planted around any garden space!
If you'd like to put your carpentry skills to the test, why not have a go at some different shapes? Perhaps animals, wildlife or something that's specific and memorable to your family – the options are endless!
Pallet address sign
A great way to add your family's personality to your house name or number sign! These are simple and relatively cheap to make – all it takes is a few pallet slats glued together, some colourful paint and a little bit of inspiration and artistic flair! You could of course make a more intricate-shaped sign, if you wish to do so, but the best thing about making your own address sign is that you can tailor it to suit your outdoor space perfectly.  
Decorative outdoor pallet with fold-down bar
This one is sure to be the talk of any garden party! You can make the outside of your pallet project a beautiful piece of artwork, decorating it with colourful paints, lettering, bunting or fairy lights – you could even drill holes in your pallet wood and thread the lights through the holes to give a lovely starry vibe. Preparation is key here; you'll want to plan your pallet bar around the items you'd like to include in it. And after all that hard graft, you can treat yourself to your favourite tipple from your brand new fold-down bar. After all, it would be rude not to test it out… wouldn't it?
Safety first!
So you've got your beautiful design mapped out and your paintbrushes at the ready, but what about your pallets? Sourcing your pallets carefully is the most important job of all! Not all pallets are created equal – some may be treated with harsh chemicals whereas others may be damaged and not fit for purpose – so it's vital that you source your pallet wood from a reputable supplier. We stock a range of new and used pallet wood, which are safe for use for your pallet projects, and we even deliver throughout the UK. Browse through our shop to find our full range.
It's also important to ensure that children are fully supervised during any pallet project. Pallets have rough edges so should be thoroughly sanded and varnished to help reduce the risk of splinters or sharp edges. If you'd like any help sourcing pallets or you have any queries, get in touch and we'll help you find the perfect pallet for your project. And as always, please do share your wonderful creations with us on social media – we love receiving them!