You may well remember the blog we wrote a few years ago about the missed opportunity of pallet disposal in the construction industry, in which we explained that around half of all construction and demolition waste (90 million tonnes of it in total!) isn't being recycled. Sadly three years later, we're still facing similar issues.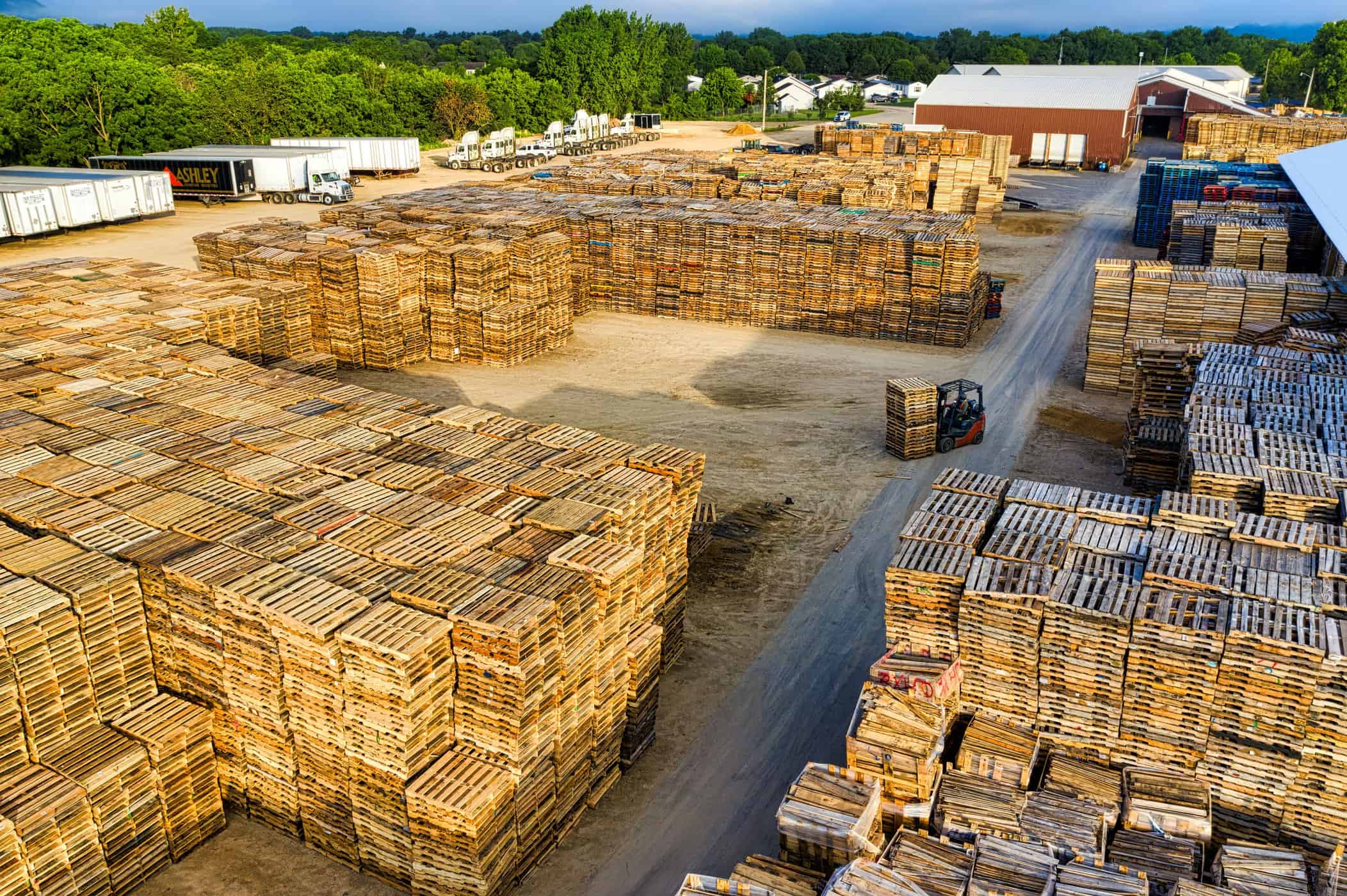 In this update, we're explaining why it's important that we put strong focus on improving this area of the construction industry and how this can be done efficiently and cost-effectively via a pallet collection service.
Recycling In The Construction Industry
There's no arguing that pallets are an incredibly useful and valuable asset to the entire construction industry, enabling all sorts of goods to be easily transported. But they often have a limited lifespan, so what happens once they've served their purpose? They're responsible for a hefty proportion of the construction industry's waste, with millions ending up in landfill every year.
Clearly construction companies are missing out on the financial and environmental benefits in recycling their pallets. In our 2019 blog, we stated that the average annual cost of disposing pallets by skip was £14,456 – a figure that will have no doubt rocketed amid the pandemic. Responsibly disposing of your pallets can cut these costs significantly whilst also boosting your business's credibility and footprint. It's a win-win situation.
Let's take a look at how this can be achieved…
Cheaper, Easier Pallet Disposal
As we've outlined above, responsibly disposing of your pallets can actually be easier and cheaper than sending them off in a skip – it really is worth doing right!
Pallet disposal programmes may seem like a relatively new invention, but Universal Pallets has been a leading expert in pallet disposal for many years. Our programme is completely tailored towards your site's needs, from how often you require collection to what sort of paperwork you require. We firmly believe that the more systematic and tailored your approach is, the more money you'll save, so that's why we offer so much flexibility in our service.
What's more, we're one of very few pallet companies who are CHAS accredited, we hold all of the necessary Environmental Agency exemptions and licences, and we have our own Waste Carrier's Licence. We're truly proud of the first-class service we offer.
Our official pallet disposal programme works in three simple steps:
1 – Understand Your Requirements
Before we visit your site, begin making a note of how many pallets you tend to dispose at a time, along with how frequently. This will help us work together to achieve the most efficient disposal plan for your specific site/s.
2 – Arrange A Site Visit
We'll then come and visit your site where we'll assess your disposal needs, advise on the most efficient ways of doing so and provide you with an accurate quote.
Whether you decide you need a weekly collection service, you'd like us to collect a trailer load at a time, or you just want to call us when you need us – it's your service and we run it the way you need it. If you have pallets of a certain quality or quantity, we may even pay to take them away!
3 – Set Up Your Official Pallet Disposal Programme
You're now ready to set up your pallet disposal programme – hurrah! It's as easy as that.
Find Out More
If you'd like to find out a little bit more, have a browse through our Pallet Collection Brochure where you can read some of our case studies. And when you're ready to begin the transition towards a new, more efficient and effective pallet disposal strategy, arrange a site visit with us. It's free and comes with no obligation at all, but we feel pretty confident in saying that you won't be disappointed. We look forward to working with you!