Missing and delayed cargo are some of the supply chain industry's trickiest issues. In fact, cargo theft is said to be costing the US up to $30 billion dollars a year, whilst the Transport Asset Protection Association (TAPA) documented over 15,000 supply chain losses in Europe, the Middle East and Africa in 2019-2020 alone.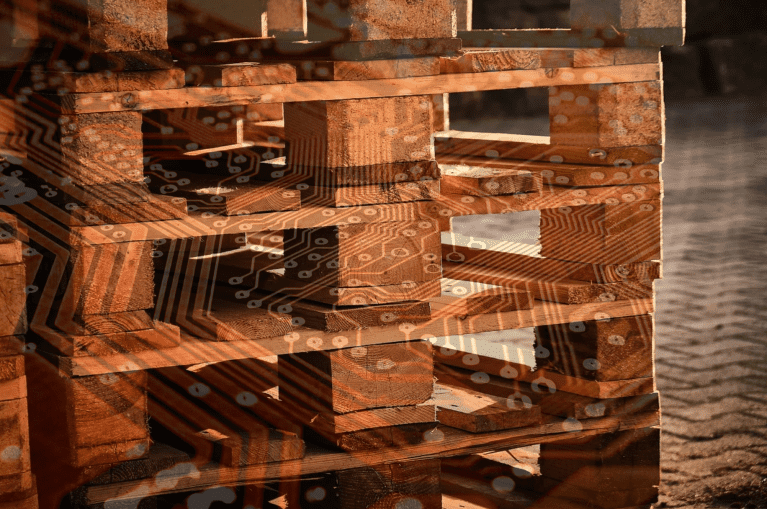 The pandemic and its widespread disruption has only exacerbated these issues, with 47% of manufacturing executives who participated in a survey by Foley & Lardner LLP now looking to improve their visibility and traceability in the supply chain. Clearly these issues are keeping many logistic managers awake at night.
Smart Pallets are set to revolutionise the supply chain industry in the next few decades. They enable companies to track and monitor every pallet, making the process highly efficient and more resilient to loss and damage.
What is a 'Smart Pallet'?
Broadly speaking, a Smart Pallet contains a device with a sensor that connects to the Internet of Things (IoT) to give you the ability to oversee a pallet's location, movement and environment. This ingenious little device detects and reports delays, mishandlings and changes in temperature (basically anything that deviates from the planned procedure), meaning that you have visibility across every stage of the transportation process.
The Pros & Cons of Smart Pallets
Let's take a look at some of the pros and cons of Smart Pallets:
Pros
Better visibility and traceability
Smart Pallets give you more control over what happens to your goods after they've left your premises. As we mentioned above, this increased visibility and traceability means that you can quickly and effectively identify if, when and where any issues arise.
A good example of this is if you have a recalled product. Using Smart Pallets means you're in a much better position to easily and swiftly locate the affected pallets, making the process much more efficient and cost-effective.
Reduced risk of loss and damage
Because Smart Pallets notify you of any mishandlings or delays, you'll be aware of any potential damages or losses and can seek to rectify the situation immediately. Having this insight means you'll also be able to identify patterns or frequent mishaps and put procedures in place to stop them reoccurring in the future.
Less repairs and replacements
A positive knock-on effect of a reduced risk of damages is that you're obviously less likely to need to carry out repairs or replace pallets and/or goods, saving you both time and money.
More control over transport conditions
Being able to monitor temperature changes, shocks or damages gives you the confidence that your products are being stored and shipped in optimal conditions.
Cons
The initial cost
Although the initial set-up cost for a Smart Pallet would be more than a traditional pallet, it could save you money in the long run by improving efficiency while reducing damage and waste.
Availability
At the moment the technology is still a little new for most people's systems to handle, so it could be a while before smart pallets go mainstream.
Do Smart Pallets Have To Be Plastic?
The short answer is no! It's true that many Smart Pallets are plastic, but there are more and more wooden Smart Pallet solutions coming into the market now too.
The debate around whether wooden or plastic pallets are best has been a bit of a controversial topic for many years. We are wooden pallet champions and are very passionate about their qualities but plastic pallets do have their advantages too. Take a look at our Plastic vs Wooden Pallets blog to help you decide which type of pallet would be better suited to your needs or check out why wooden pallets will always be our winners!
Basically, with wooden smart pallets you have a sensor embedded into one of the blocks, or strapped to a pallet part which is tucked away. So standard wooden pallets can be upgraded to smart pallets, and can also be repaired as you go too – whereas the plastic smart pallets will need to be scrapped and replaced if damaged.