Boo! Oops, didn't mean to scare you there… but with Halloween season looming, it's time to start thinking about this year's decorations. Instead of dashing to the shops, why not get a little creative this Halloween and make your own wicked yet wonderful masterpieces? There are so many inventive and ingenious creations you can make using household items. It's fun, easy on the pocket and the whole family can get stuck in!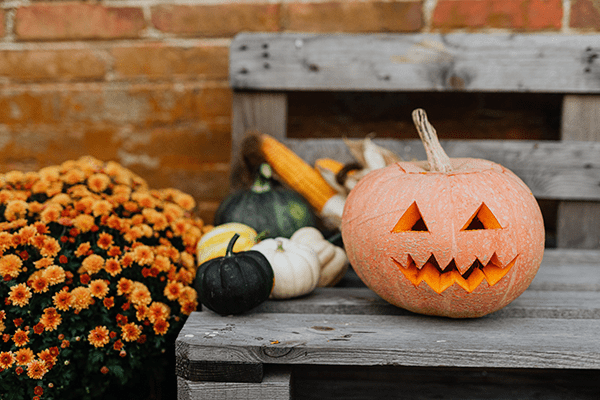 We've picked out some of our favourite Halloween wood pallet creations. These range from scarily simple (and great for getting the kids involved) to terrifyingly tricky for those who want to showcase their woodwork skills. Keep scrolling to see our top picks… if you dare…
Pallet Characters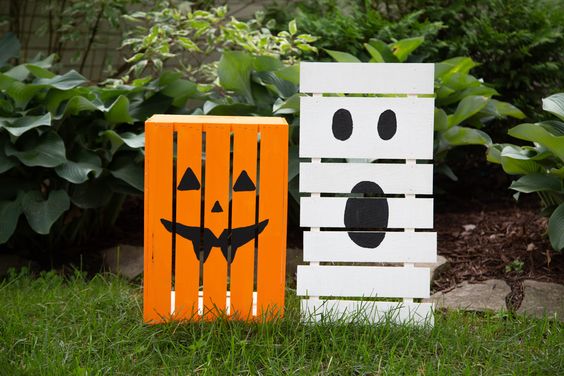 Image credit: Better Homes & Gardens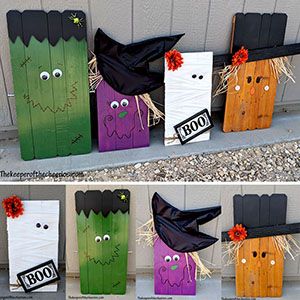 Image credit: The Keeper of the Cheerios, LLC
These nifty painted pallets are as easy as pumpkin pie and are great as a family-friendly project. You could keep the pallet whole, use a singular pallet board for each character or nail several pallet boards side-by-side to create a larger face. Then grab a paintbrush and let your little ones' inspiration strike. Bring their favourite Halloween characters to life or mix it up and paint some fun Halloween phrases.
Pallet Signposts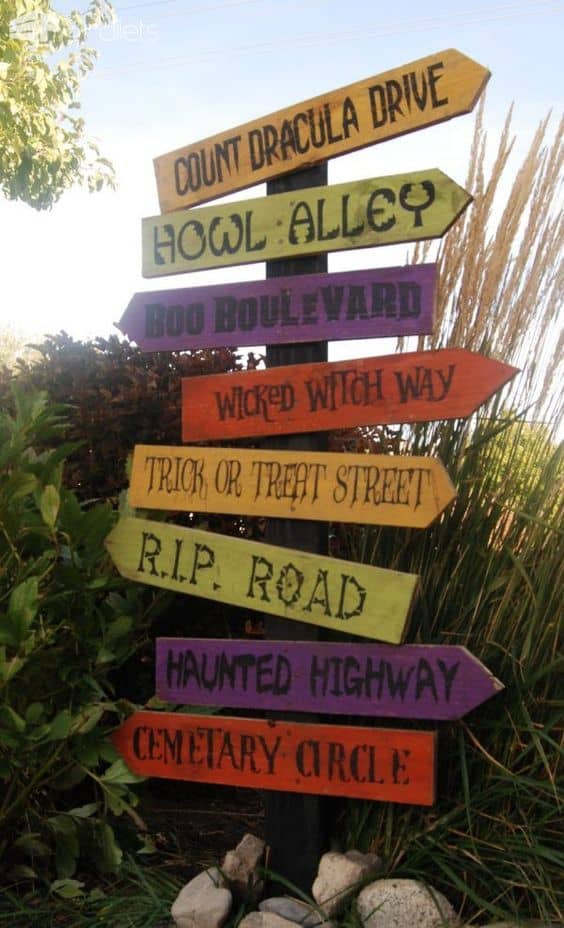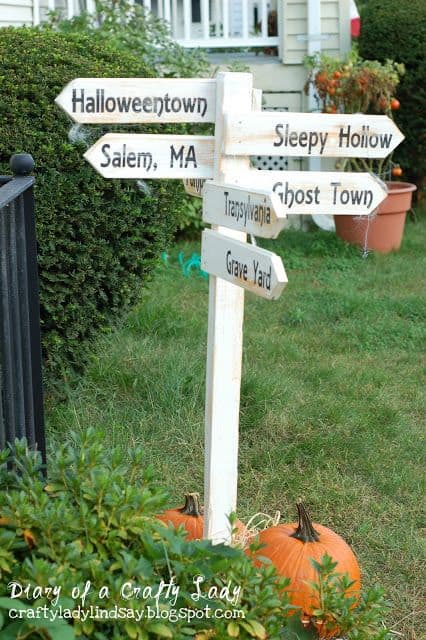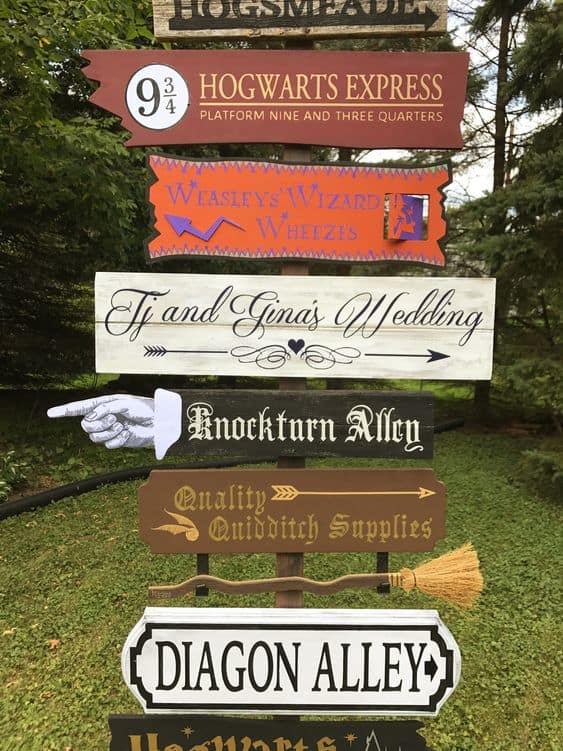 Image credit: 1001 Pallets, Image credit: Diary of a Crafty Lady, Image credit: Crafting Cheerfully
You can really go to town with this one! The options are endless here; design your signpost around themes that are special to you. Perhaps you might like to use spooky real-life place names or pick locations from your favourite scary films. Not sure how to get started? Take a look at this DIY guide on how to make custom signposts. Now, which way to Diagon Alley?
Pallet Lantern
Create these Halloween pallet lanterns and let them lead your trick-or-treaters to their doom. If you're making a few, use different stencils to cut out a selection of spooky faces and shapes for the ultimate eerie atmosphere. You could even try using some Halloween phrases as cut-out stencils too!
Pallet Coffin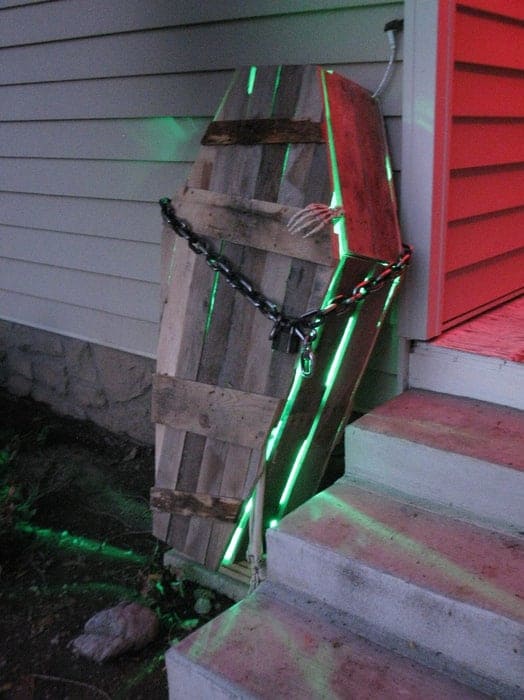 Image credit: Instructables
No Halloween event would be complete without a wood pallet coffin. Bring your creation to life by decorating it with fake blood, spiders' webs, chains, sinister lighting or a skeleton… you can make it as terrifying or as tame as you wish! If you have any spare wood left over, why not create some pallet tombstones to finish off the look?
Zombie Pit
This petrifying zombie pit is sure to bring the scare factor to any Halloween display. Not only can you decorate it with zombie heads or severed limbs, but you could also use lighting, creepy music or even a fog machine! If you don't have a flat surface to lay your pit, you could always try making an upright zombie pit instead. (Sinister music while you craft is optional!)
Monster In A Box
Up for a proper challenge? Then have a go at this incredible monster in a box. It's sure to give the neighbours a real fright! The box is made from wood pallets, and then mechanics and some spooky audio really complete this super scary prop. Taking apart the pallets can be a little tricky, so here's how you can take apart a pallet in under 5 minutes. We've also provided some monster in a box step-by-step instructions you can follow.
Safety First!
Before you begin the fun of creating your Halloween pallet project, it's important that you safely source your pallets from a reputable company. Discarded pallets should never be used as their history is unknown and they could be contaminated or hazardous. In addition, please ensure that you sand the pallets thoroughly, especially if children are involved, to minimise the risk of splinters and sharp edges, and always supervise children.
Source the perfect pallets for your project by visiting our online shop, or if you're a little unsure on what type of pallet you need, get in touch and our friendly team will be more than happy to advise you. And don't forget to share your Halloween pallet projects with us on social media. We can't wait to see your wicked creations!
Have a happy yet frightful Halloween. Stay safe and have fun!