It's no secret that we Brits love a good bonfire, but a national lockdown meant last year's Bonfire Night celebrations were pretty much a write off. So let's make this year's celebration one to remember (for all the right reasons)!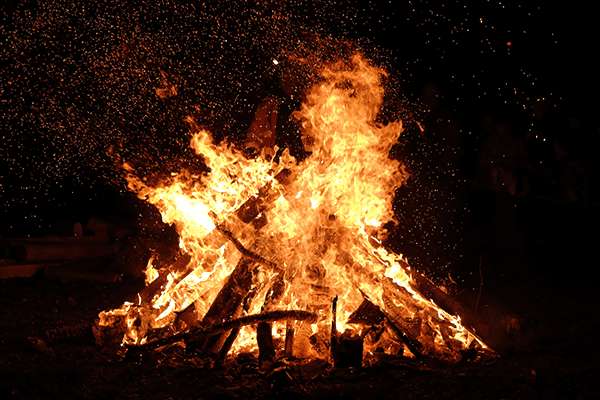 Bonfires pose a very serious risk because they can get out of hand very quickly. In fact, Bonfire Night is one of the busiest nights of the year for fire services so it's important to be safety conscious. We've put together some guidelines for building your pallet bonfire so that you can make the most of the festivities, safely.
1) Source your pallets responsibly
Although it can be tempting to use any scrap wood that you find lying around, this is potentially dangerous as it may have been treated with chemicals, therefore releasing toxins when burning. In particular, please make sure you never use MB stamped pallets.
The safest way to source your pallets responsibly is to purchase directly from a pallet supplier. Every year we sponsor our local public bonfire, Poynton Bonfire, and have been donating safe pallet wood to them for decades. However, due to high timber prices and limited availability, pallets are a precious commodity this year so please ask your supplier for end-of-life pallets that would otherwise be recycled. For this reason, you might also consider creating a smaller bonfire. We'll gladly help you source safe, end-of-life pallets so please do get in touch!
2) Build your bonfire in a clear space
It's important to build your bonfire in a clear, open space away from any trees, hedges, buildings, rubbish etc. It should be built on bare earth (so if on grass, you'll need to dig a shallow area) and should be surrounded by rocks or something similar to ensure that the fire doesn't spread beyond the designated area. You should build your bonfire during daylight hours so that you have better visibility to spot any potential hazards.
It's also worth noting that when lifting or manoeuvring pallets onto your bonfire, you'll need two people per pallet as they can be very heavy! To avoid injury, make sure you place pallets on the pile rather than throw them, and never climb on pallets.
Please keep children away whilst you're building your bonfire. Organised public bonfires tend to fence off their fires to stop children from getting too close, so you may wish to adopt this procedure for your bonfire too.
If you'd like a bit of further reading, A Guide to Building a Bonfire explains how to build a safe bonfire, and you can find detailed information about what to do before, during and after your bonfire here.
3) Wear protective clothing
Always wear protective clothing such as gloves, boots and high vis vests when handling the materials for your bonfire to minimise the risk of injury from splinters, nails etc.
4) Be mindful of wildlife
Unlit bonfires are very appealing to local wildlife, especially hedgehogs, as they look like cosy places to take shelter. This is why it's very important to be mindful of wildlife and take steps to protect them as much as possible. Here a few easy things you can do to minimise the risk:
Build your bonfire on the day of the event to give wildlife less opportunity to sneak in!
Before lighting the fire, check it for signs of wildlife. Using a torch is a great way to give you a really good look in. If you do find any, please move them to a safe place, gently and carefully using gloves.
Light the bonfire at one side. That way, if anything has managed to stay hidden, it should be able to escape out of the other side.
Find out more about how to protect wildlife on Bonfire Night. Hedgehog Street has also produced a handy poster about how to keep hedgehogs safe and what to do if you find one. Share it amongst your family and friends to help spread the word!
5) Take Covid precautions
To help keep everyone safe, you may wish to ask those building the bonfire to do a lateral flow test beforehand to ensure that you're relatively safe to work alongside each other. You can order free rapid lateral flow tests here.
6) Put your bonfire out correctly
At the end of the evening, it's vital that you put your fire out properly. The remains of a bonfire can stay hot for several days which can be a hazard to wildlife, pets and children. Therefore, please make sure you fully put your bonfire out using water once your event has ended.
Our final (and arguably the most important) Bonfire Night tip would be… don't forget the food! Chilli con carne, parkin, toffee apples, marshmallows… mmm, our tummies are rumbling! All jokes aside, we hope you have an amazing evening. Enjoy, protect our wildlife, and stay safe!