With a heatwave on the way and the kids on their summer holidays, we're channeling home staycation vibes and planning all the fun a back garden can handle! And while these outdoor pallet games will keep the kids entertained, they are great for grown ups too!
Giant Dominos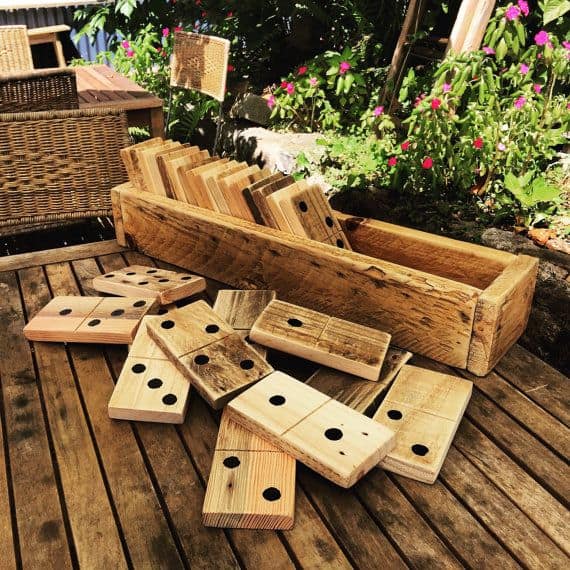 Giant garden dominos! Stack 'em up and knock 'em down, or play the game and take turns placing dominos end to end by matching the numbers.
Pallet dominos are a crowd-pleaser. Easy and fun to play, and these pallet dominos – properly cared for – will last decades!
We've found some amazing, thorough, instructions on how to not only cut these giant pallet dominos from pallet wood, but also details on the correct number, size, and markings for your set of garden dominos. Follow the sizing for the 'Extra Large' dominos!
You can even make a pallet box for your dominos to help keep them tidy, and you can varnish them to give them some moisture resistance.
Outdoor Chess or Draughts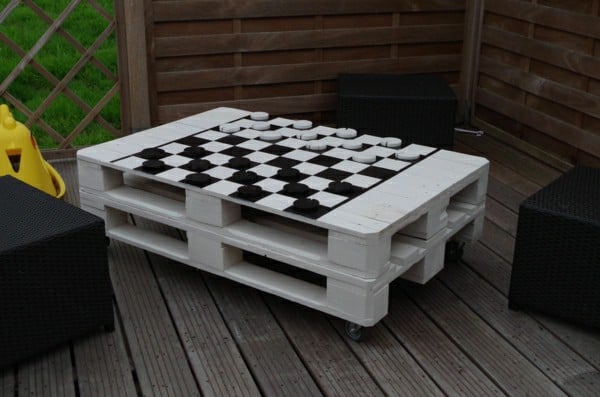 Making a pallet chess or draughts (checkers) board is almost as easy as making a basic pallet coffee table and painting the classic black and white pattern. 
You could even go further and make the playing pieces from pallet wood – draughts are pretty easy if you have a few basic tools to hand, but chess pieces are definitely for the serious woodworkers. If you're interested in sculpting a full set of chess pieces here's a great instructional video for you to follow.
Bowling Alley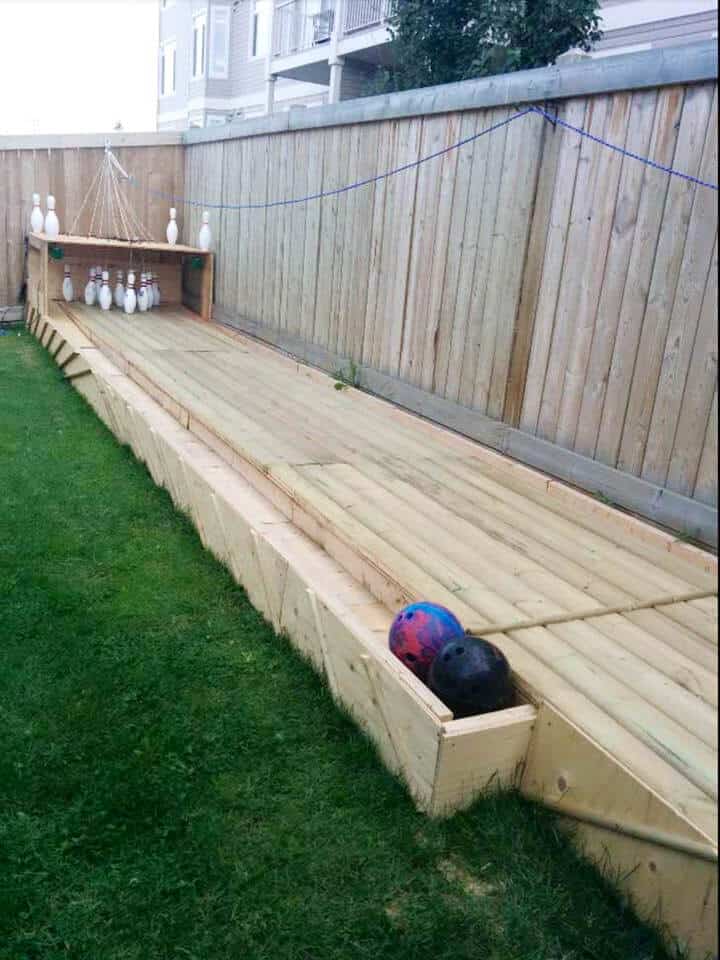 If you have a long garden, you could even make a pallet bowling alley! Now, is it going to be perfect – absolutely not. You're likely to bowl and the ball will almost definitely not go in the straight path you're hoping for. But that's the fun of back garden bowling! It's not about accuracy, point-scoring and winning, it's all about the fun!
Here are a few steps in the process of making this particular bowling alley, you'll also need to source some bowling pins and bowling balls.
Giant Kerplunk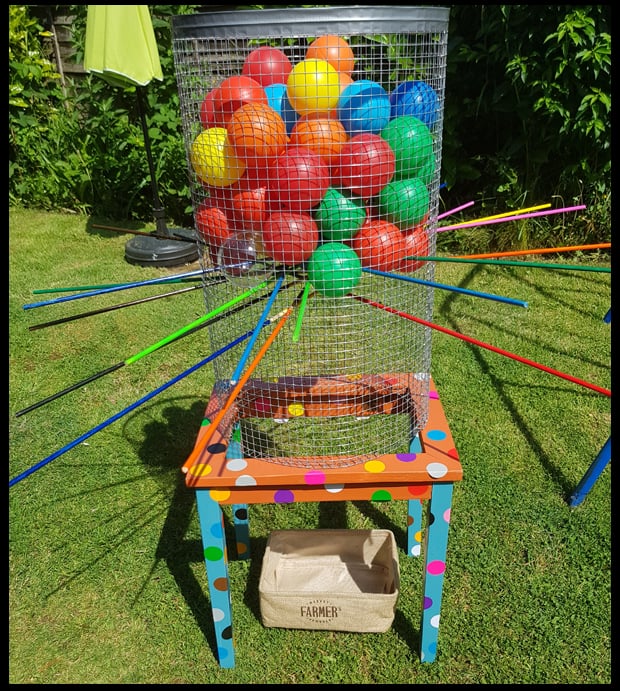 Who doesn't have fond childhood memories of playing kerplunk? Well now you can play giant kerplunk in your garden too!
Giant kerplunk is a surprisingly simple pallet project to put together. You'll need some pallet boards, chicken wire, wooden dowling and plastic balls. You can follow the basic instructions here.
Giant Jenga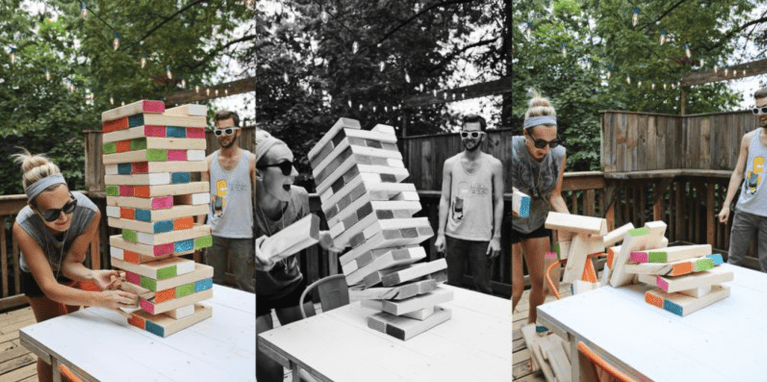 A classic back garden game for friends and family is giant jenga! Easy to play, and relatively easy to make for yourself! You can make a set out pal pallet wood, but be sure to sand them well so they are nice and smooth, otherwise you'll be making a very difficult version of Jenga!
Here are some instructions to follow.
Cornhole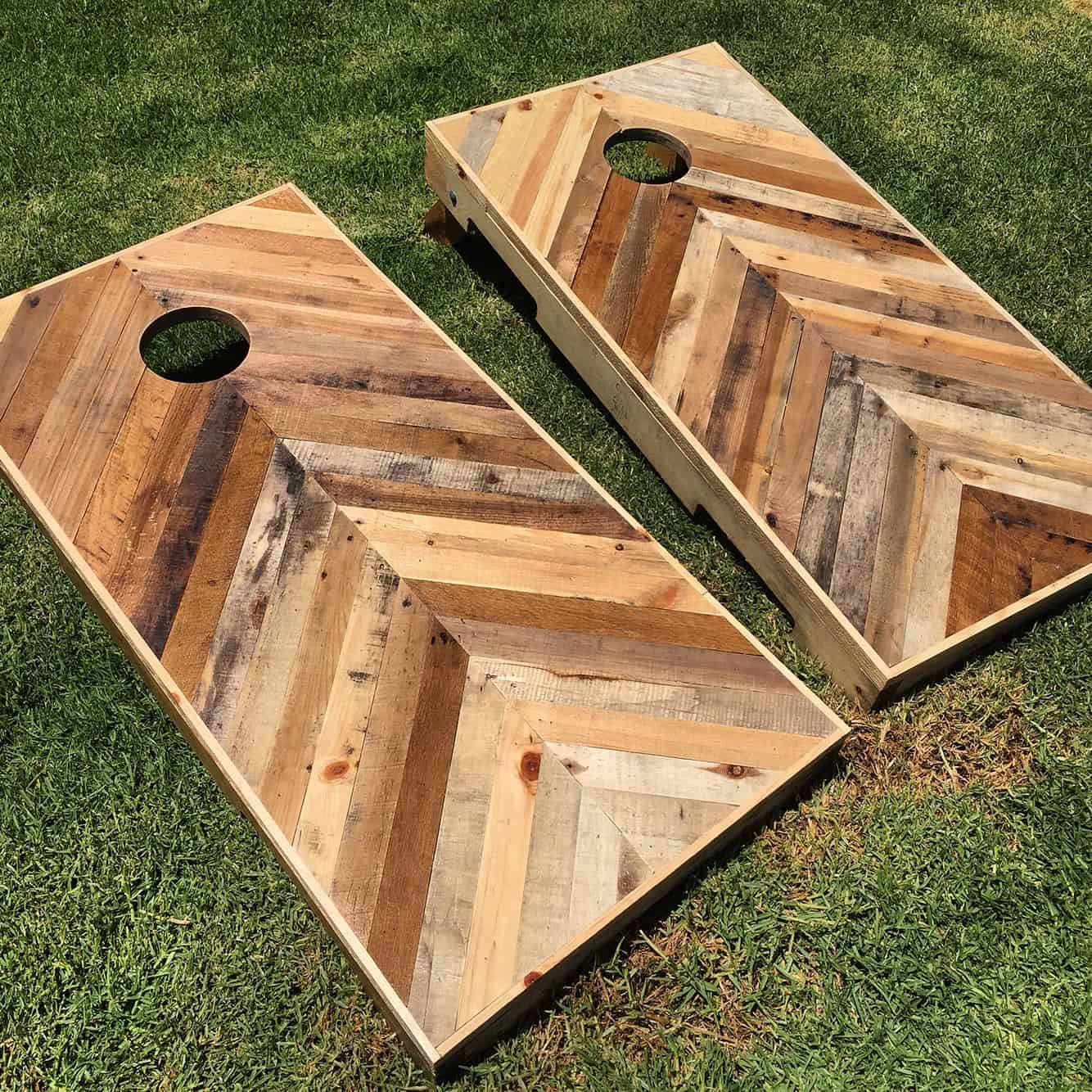 If you have some basic wood cuting tools, putting together a pallet cornhole game is pretty simple. Here's a great instructional video. You'll also need beanbags which can be bought online or made at home, and you might want to paint or varnish your cornhole boards too to add a bit of your own style. 
Pallety garden games are all about fun, so please make sure you have safe fun! Supervise children while playing pallet games, be sure to sand well and varnish your finished pallet projects to avoid splinters, and remember – discarded pallets are discarded for a reason. Please use pallets that come with a history so you can ensure they're safe to enjoy for family, friends and pets. For more information on choosing a safe pallet for your project, please read this blog.
We sell pallets (new and old/rustic) on our website, these pallets are safe for pallet projects, and if you need matching pallets or would like our assistance in selecting the right type for your project we're always here to help.