The latest addition to the Universal Pallets online shop is the presswood pallet! These amazing pallets are becoming hugely popular right now, let's look at why that is.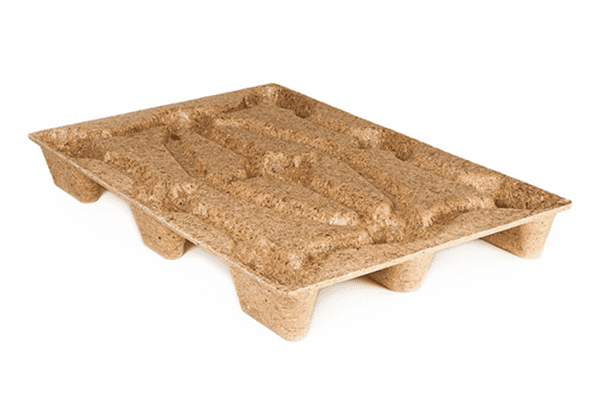 What Is A Presswood Pallet?
Presswood pallets are moulded pallets made from waste wood. They are the ultimate recycled, and recyclable pallet. In fact, some of the most worn out wooden pallets that can no longer be repaired or reused are chipped to help create presswood pallets.
Other waste woods such as shavings and even saw dust can be used to make presswood pallets – making them the mose eco-friendly option on the market at this time!
Advantages And Disadvantages Of Presswood Pallets
There are some really fantastic advantages to using presswood pallets:
Lightweight

Durable

Stiffer than plastic or wood pallets – leading to less packaging and product damage

Can manage high load capacity

Ecofriendly

ISPM15 exempt

Nestable, stackable and space-saving
There are a few disadvantages:
Shower-proof, but not totally waterproof – so must be kept indoors

You may need to update warehouse processes to make best use of these pallets
Presswood Pallets Are ISPM15 Exempt!
Presswood pallets are made using the same processes as used to make particle board; waste wood products are chipped, dried and combined with resin before being compression moulded into shape. The process of manufacture means that these pallets are, sort of, heat treated as they're made, and the resulting material is so har that it prevents pest infestations. This means that all presswood pallets are ISPM15 exempt, and suitable for shipping worldwide without any furter treatment.
Best Uses For Presswood Pallets
Presswood pallets can often be a suitable alternative to plastic pallets, where plastic is chosen for its ease of sanitisation, for example: pharma and food. Plastic pallets are easy to clean and won't harbour pests, but they are certainly not eco-friendly to produce, and once they break they can't be repaired. 
Presswood pallets may be a suitable replacement for plastic pallets and offer better value, are lighter and, as already mentioned, much more environmentally friendly.
Another area where presswood pallets excel is airfreight shipping. They are much lighter than wooden or plastic, and able to carry heavy loads, so if freight cost is based on weight you may want to consider a presswood pallet.
Buy Presswood Pallets Online Now
We stock two sizes of presswood pallets: 1200mmx800mm and 1000mmx800mm in packs of 50, you can buy these online from our shop.