In March 2020 we were heading into our first lockdown due to the coronavirus pandemic. It was a surreal time of uncertainty; panic buying and marked the beginning of what would become our new normal. If we can take one positive away from this unprecedented experience, for me, it would be the community spirit that we have rediscovered in ourselves.
That same spirit prompted Iain Withers to take action for his local community. He owns  Narrowboat Farm in Linlithgow and quickly realised the part he could play to help people through this difficult time.
"There were queues and queues of people worried about getting fresh food here at my wee farm. We grow seasonal produce so we couldn't really offer them everything they were asking for, so we just came up with the idea that we'd teach folk how to grow their own vegetables in their gardens. Since they were all likely to be locked at home for a while, we thought they might as well make the most of it."
And that's where Universal Pallets came into the equation. Iain had the great idea to recommend pallet collars to his new army of mini farmers. They are so easy to install in gardens, can be stacked to make a raised bed to just about any height, and create an instant vegetable patch ideal for growing your own. And should mini farmers want to move their patch, that's easy to do too!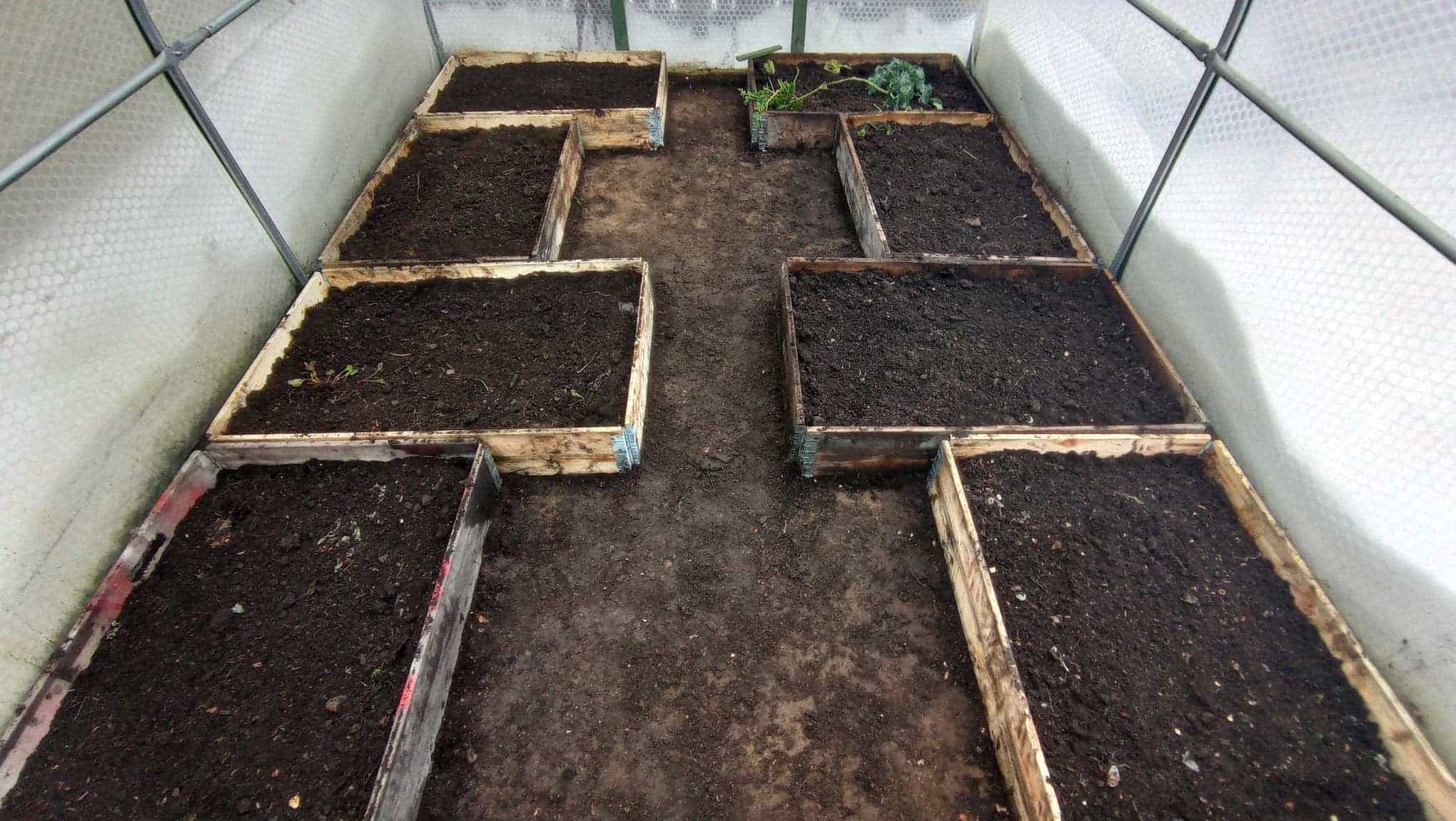 "Flat-Pack Raised Beds (AKA Pallet Collars)" Image Credit: Iain Withers
The project quickly became popular locally, with mini farmers contributing their progress and tips to a Facebook group, where Iain and his fellow experienced farmers could offer advice.
"Our most recent batch of pallet collars, at least 100, have already been snapped up by locals for their garden mini farms. And 8 of them are even going to a local nursery school where the children have already started growing their beans and salads ready for planting in the new nursery mini farm."
"Linlithgow Bridge Early Learning and Childcare ready to grow" Photo Credit: Jill Wark
The 20th March 2021 marked the first year anniversary of their Mini Farms project. In this time we've delivered 3 truck loads of pallet collars to the project, and well over 300 mini farms have been started in gardens in and around Linlithgow, under Iain's supervision from afar.
"We have a group of experts in our little Farmily; farmers, horticultural professionals and the like. And we regularly post how-to tutorial videos, we talk about what to grow, so there's peer support as well as some expert advice"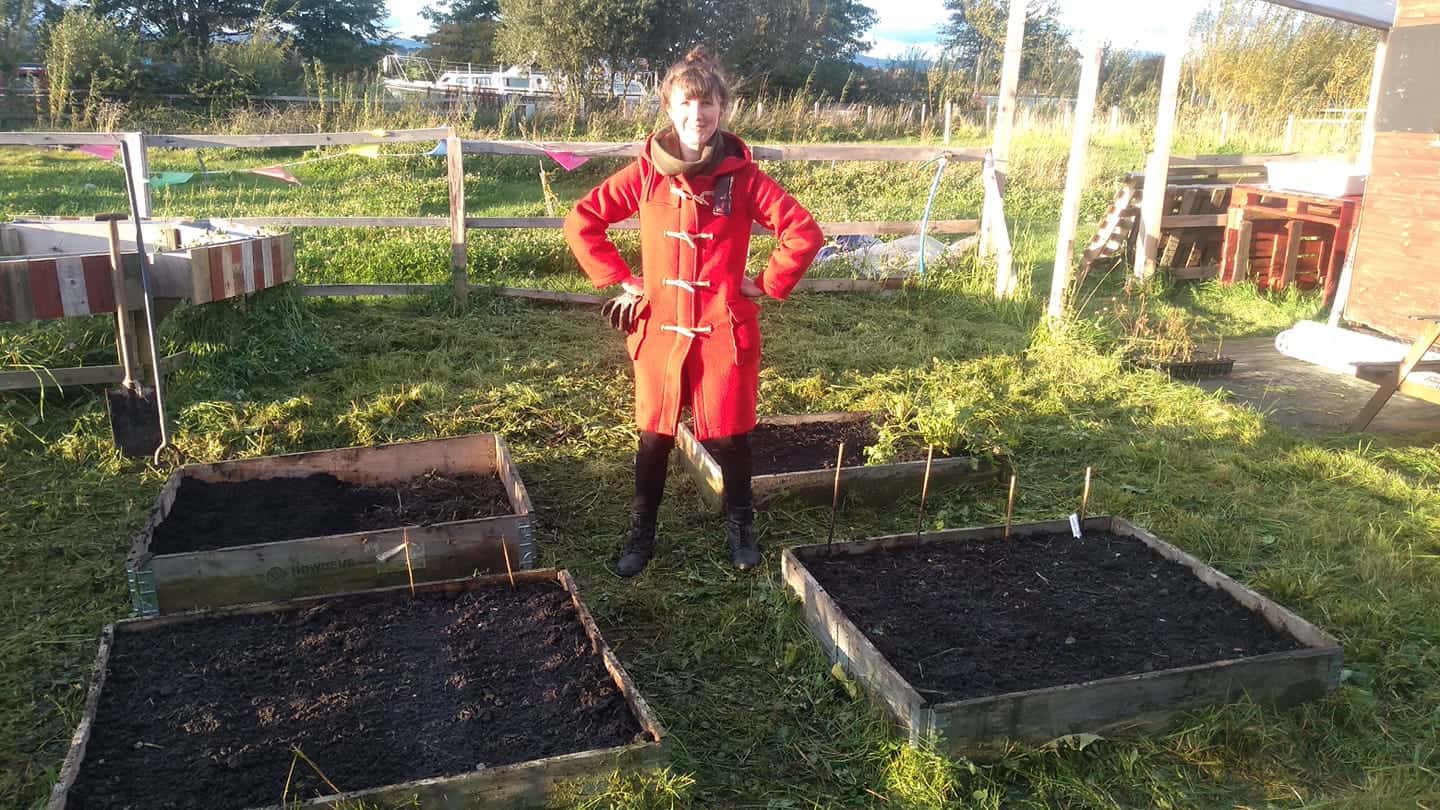 "Good news 🙂 Jennifer from the group has taken on four raised beds in the Farmily zone at NBF and has just planted up some overwintering garlic, broad beans and hopefully onions too thanks to a generous offer in this group." Image credit: Iain Withers
Narrowboat Farm has found a great niche in supplying start-up packs, with and without pallet collars, to the local community. Members of the 'Farmily' on the Narrowboat Farm website can order a start-up pack and choose what to pay for it. a fantastically generous offer for those hard-hit by the pandemic, but also a great way for others to give back and put more funds into the project. Mini farmers are told what the cost of the materials is, but then how much they choose to pay is up to them.
"What we say to the members is 'here's what it cost us to buy the materials in', and we ask people to pay what they want, which hopefully removes the barrier for people who don't have much cash right now, so they can join in too. What we've found is that it all evens out beautifully, we generally end up with the right amount because we;ve found some folk are so happy they'll pay extra, and others are struggling and will pay less. And some folk will get freebies because some of our materials are distributed to local community groups and charities, like the local food bank."
Any surplus funds are re-used by the project to make more start-up packs, or to donate to the local community.
"In an odd way it's kind of a way for people to control something when the world feels out of control. They can do something proactive, it's good for the environment, you can join in with local folk and learn a new skill. Our feedback is that folk really appreciate it."
If you're in the Linlitgow area or surroundings, then you can join the Farmily by following the Facebook group and getting involved.
A collection of the fruit and veg grown on the Farmily Mini Farms
If you're elsewhere you can still set up your own mini farm at home to grow your own by setting up your own palette collar garden, you can get your own pallet collar here on our website. And you can always check in with the RHS on what to plant at any point in the year.
Iain Withers' Top Tips For Starting Your Own Mini Farm
Start by thinking about what you like to eat! It's best to grow what you like to eat, or you may not enjoy the fruits of your labours.
Don't worry about how much space you have. If you don't have a big garden. A small pallet collar is a great starting place, and even if you don't have a garden you can grow loads on your windowsill, balcony or doorstep.
A quick win is growing salad leaves, which you can grow in a pallet collar, a pot or anywhere really. The great thing about salad leaves is they can be ready from seed in about 3 or 4 weeks and you can chop them down to harvest and they will magically regenerate after a couple of weeks and may even do this a second time if you're lucky. Spicy leaves like golden frills, giant red mustard and mizuna are super-tasty.
 Don't stress too much about your plants. Give them the basics: water, light, warmth and a bit of protection from the elements and they will try their hardest to survive.
Grow things that are a lot tastier than supermarket versions and grow things that are really 'special' to you. Once you've tasted a super-sweet carrot you've grown yourself you'll never want to eat a bland supermarket one again! And if you can get a wee greenhouse on the go, you cannot beat your own Cherry Tomatoes off your own plant. Simply delish!