The UK leaves the EU on 1st January 2021 when the transition period ends. And while we still don't know exactly what our import export relationship with the EU will be, what we know is that it's highly likely that Great Britain will be treated the same way as current non-EU countries are in regards to wood packaging materials (WPM) which includes pallets.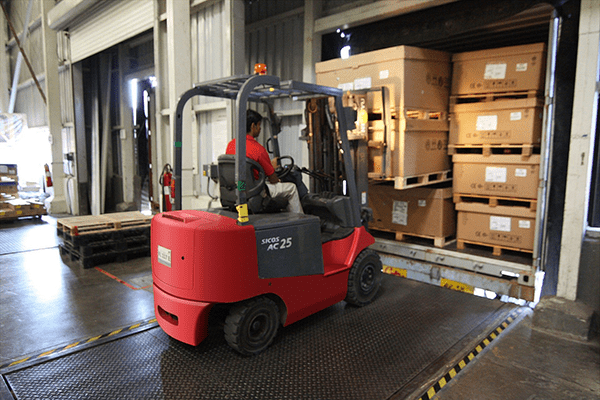 As such, all WPM moving between Great Britain and EU must meet ISPM15 international standards by undergoing heat treatment to eliminate any possible parasites, and must be stamped to confirm this treatment.
What is ISPM 15?
The International Standard for Phytosanitary Measures 15 is the standard for the treatment of pests which may be present in wooden packaging materials. As part of the EU, pallets from the UK were not required to comply with ISPM 15, but after we leave the EU the UK will be considered 'international' and therefore will need to comply.
The ISPM 15 was developed by the International Plant Protection Convention (IPPC) to prevent the spread of disease and insects internationally which could alter foreign ecosystems. It required all WMPs thicker than 6mm to be either heat treated, or treated with methyl bromide (banned in the UK), and so all GB pallets moving into the EU will now require heat treatment and a stamp to show this process has been undertaken.
Of course, the risk has not changed, and many of the pests that exist in the UK exist all over Europe, so we understand your frustration that this unnecessary hurdle is going ahead.
You can read more about ISPM 15 here.
What do we need to do to comply?
To comply you must ensure that any pallets transporting goods from the UK into the EU meet the ISPM 15 standard by being recently heat treated and stamped. If your company imports from EU into GB these pallets will also be required to meet ISPM 15.
You will not be required to provide any other certification in regards to ISPM 15, the stamp on the pallet acts like a passport confirming the necessary treatment.
Are secondhand heat treated pallets compliant?
Yes, once a pallet has been heat treated and stamped it is considered compliant, unless it is repaired and new wood is added. If the pallet has any new wood added to it it must be re-treated and re-stamped.
Will heat treatment and stamping delay my pallet order?
The industry has been hard at work to increase our processing capacity ahead of Brexit. As there is expected to be significant demand for heat treatment where there was less previously we do anticipate there may be a slower turnaround between order and receipt. As such, we advise customers to forecast, order early, and keep good communication lines with us. We will do everything possible to reduce friction and keep your business running smoothly and we are confident that we can meet demand.
Do heat treated pallets cost more?
Unfortunately there is an additional cost required to heat treat virgin pallets, however this is minimal and we will work with you to ensure you understand the costs involved. Second hand previously treated pallets may not require additional heat treatment.
I have pallets on-site that are intended for EU shipments, how can I get them heat treated and stamped?
Call our team asap and arrange a heat treatment service. We can collect your pallets, treat and stamp them for ISPM 15 compliance, then return them to you. Please contact us asap if you'd like to use this service.
What are the penalties for non-compliance?
Since the pandemic has resulted in an unprecedentedly busy time for our industry, TIMCON requested a 6 month grace period to allow us to respond before penalties are to be introduced. This request, however, has not been approved.
Inspections for WPM coming into Great Britain will take a risk-based approach, inspection plans at the EU border are yet to be confirmed but we hope they will take a similar approach.
Nevertheless, this means your pallets must be compliant. Non-compliance could result in a financial penalty, refusal to allow a shipment into the country, or even destruction of the pallet and shipment which it is carrying.
The legal burden of ISPM 15 compliance is the end pallet user; the company who selects the shipping destination. Please ensure you understand the heat treatment process and recognise the necessary stamp. You can read more about pallet markings in our guide here.
Will Northern Ireland import/export be treated differently?
Pallets imported to Northern Ireland will need to comply, but pallets moving from Northern Ireland to GB will not. Pallets moving between Ireland and Northern Ireland will not require heat treatment or additional checks.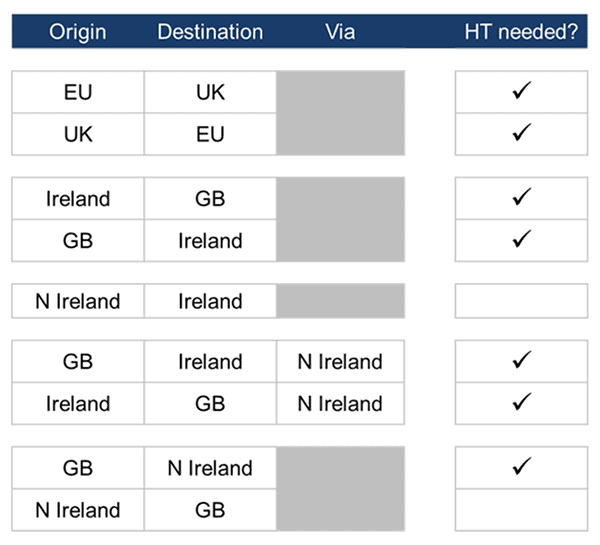 (Table credit: TIMCON)
Will imported pallets be subject to WPM checks at the border in Great Britain and vice versa?
Inspections will remain as-is, if WPM is coming from a high risk area it will be checked. We do not anticipate additional checks on imported WPM in the UK from Europe. We do not yet have all the details on the checks deemed necessary for WPM moving from GB into the EU, but we hope they will take a similarly measured approach and increase checks if they perceive increased risk. Since there has been no need for this level of biosecurity in previous years it stands to reason that there is currently no risk of pest migration.
However, this does not mean it is not important to ensure compliance with ISPM 15, we strongly urge you to ensure your shipments are compliant by 1st Jan 2021.
Will this still be the case if the UK leaves with a deal?
While our industry has worked hard to send the message that disruption – especially in light of the pandemic – to logistics is important to avoid, we are not anticipating any measures to be put in-place in a 'Deal' scenario that would not make ISPM 15 compliance a necessity.
Will Brexit affect pallet supply levels in the UK?
It is possible that Brexit regulations will have an impact on imported wood used to make the majority of pallets in the UK. Brexit will also mean there are some additional requirements for imported timber. We are working with industry partners to ensure that wood supply is as streamlined as possible and we are confident we can meet demand at this point.