From 1st January 2021, pallets travelling between the UK and the EU will need to meet ISPM15 international standards. So what does this mean and how can you prepare?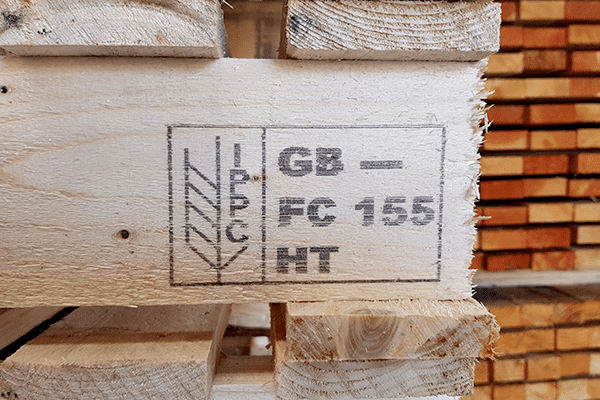 A heat treated pallet with an IPPC stamp
What's Changing
ISPM15 is the regulation that requires wood packaging material (WPM) to be heat treated and stamped when travelling between the EU and the rest of the world, as a means of pest prevention and control. WPM includes pallets, crates, boxes, cable drums, spools and dunnage.
Up to this point, pallets travelling between the UK and the EU have not needed to be heat treated to comply with ISPM15 but this will change from 1st January 2021:
"From 1 January 2021 all WPM moving between the UK and the EU must meet ISPM15 international standards by undergoing heat treatment and marking. All WPM may be subject to official checks either upon or after entry to the EU. 
"Checks on WPM will continue to be carried out in the UK on a risk-targeted basis only. The plant health risk from WPM imported from the EU is not expected to change from 1 January 2021."
Source: gov.uk 
What This Means For You
All pallets going between the UK and the EU will now need to be heat treated and stamped, as they'll be subject to EU checks.
Preparation is key, so call the Universal Pallets team (0161 223 4427) for a review of your EU-bound pallets. We can advise you on the additional investment you will need to make to use pallets that meet the ISPM15 standards, and importantly, the time you will need to create in your schedule in order to ensure a continuous supply. We can provide heat treated pallets, but an efficient process is key to keeping your operation running smoothly.
There is also generalised worry at the moment that the UK does not have the infrastructure in place to heat treat enough pallets by 1st January 2021 to meet demand – so there may be delays. For further clarification on what the industry is doing as a whole to meet demand and represent UK trade, see the latest joint statement from TIMCON and DEFRA.
Visit the International Plant Protection Convention (IPPC) website for the full regulatory document for ISPM15, available to download.
And if you still have questions, please do not hesitate to get in touch.