Tom White, Finance Manager at Universal Pallets, shows us how useful pallet collars can be as garden planters, shares his tips for new pallet crafters, and tells us more about his role at Universal Pallets.
What does your average day look like at Universal Pallets?
I know it's a cliché but it really is varied and changes from day to day. There's my core responsibilities which need to happen every day – drafting reports, paying suppliers, issuing invoices, reconciliation etc…- but being a family-run business we're always jumping into help each other out. Recently I've started taking the lead in our bespoke built-to-order service and championing our customers who buy pallets for craft and furniture building purposes.
You recently made some beautiful planters and a pizza oven stand for your own garden from pallet collars – what inspired you to get crafting?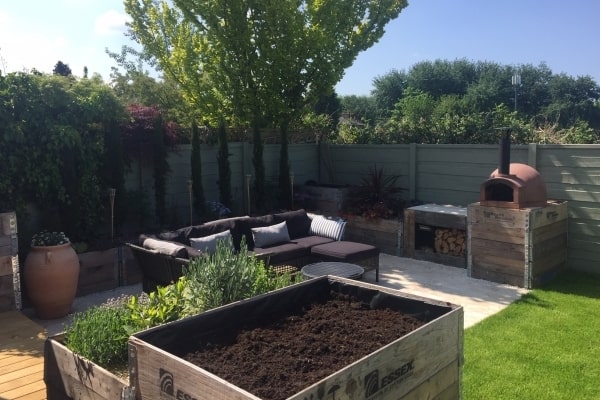 We had just bought our first home in South Manchester and it needed gutting. Everything from the ground to the roof was repaired, replaced or knocked-out and after 10 months of hard graft it was finally finished. It was time to face sprucing up the garden which contained a dilapidated shed, broken concrete flags and a ramshackle home pub made out of old decking boards. Despite the temptation to keep the 'Chorlton Arms' in situ, we whipped it all out and laid a new lawn, deck and patio. 
Unfortunately the ground was left undernourished and hard as rock so our chances of growing anything substantial were slim – we were in desperate need of raised planters that we could fill with rich compost and soil. That, and an empty wallet from the house renovation, was where the idea of pallet collars came from. I searched high and low and there is nothing else on the market that works as well (and costs so little) for instantly creating an impactful and easy to use raised bed. Stack them as high as you need, fill with whatever substrate you like then get green-fingered in a matter of minutes. We liked the industrial look so left them in their natural state but they would be easy to paint to fit in with any colour scheme too. See more pallet collars as garden planters here.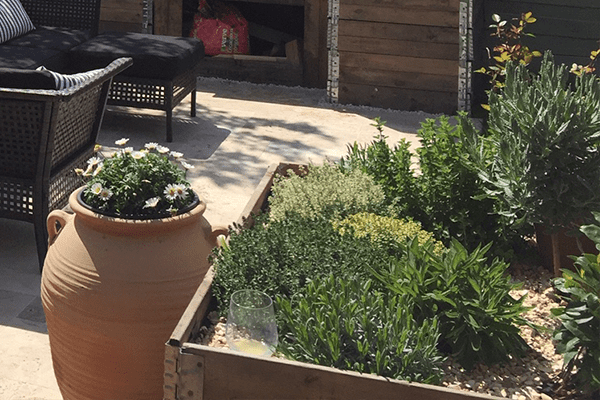 Interestingly, I noticed that one of the major DIY retailers started selling pallet collars this summer and branding them as fast-fold plant beds so the idea is catching on. We sell them at half the price and can offer nationwide next-day delivery. #justsaying
Do you have any tips for wannabe pallet crafters who are perhaps nervous to get started?
Pallets are such a great craft material – yes they are big and bulky but that's part of their charm. They can be transformed completely into a new fully functioning 'product' with little more than some basic tools and an hour to spare. I can imagine that anyone thinking of using pallets for the first time has two major hurdles; 1) where do I get them from, and 2) how will I know they are safe to use?
Long gone are the days of finding abandoned pallets in the street (and if you do then steer clear as there must be a good reason it hasn't been snapped up by a pallet dealer such as ourselves). Our website is really easy to use and has an extensive selection of pallets to choose from – pop on the kettle, put your feet up and with just a few clicks your pallets will be on the way to your door. Easy.
If you are in any doubt about which pallets are most suitable and safest for your project then feel free to give us a call or check out our more detailed FAQs on using pallets for furniture. As a general rule of thumb – crafters need to remember that pallets are industrial products and will be rough to the touch so, depending on the intended use, they will probably need sanding and a coat of stain/varnish. If using them indoors (and particularly for bed frames) then I would always recommend using heat-treated pallets to protect your home from wood-boring insects which might be hiding out in un-treated pallets. We offer a heat-treatment service so can re-treat any pallet, old or new, for that extra piece of mind.
So whether it's for a wedding table plan, photo stand, home bar, living garden wall, coffee table, dog house, bed frame or even raised planters, like mine, have a browse through our online products and let your imagination run free.
And lastly, Halloween is just around the corner… will you be making any pallet pumpkins?! 
Halloween is a big event in our house and pallets will certainly be making an appearance at this year's spooktacular party – last year we used pallets to create a sarcophagus to house a bandaged mummy! Now we've moved house and don't have any immediate neighbours we're toying with turning the garden into a graveyard filled with pallet headstones and pumpkins – pass me the hammer.
Thanks Tom!