As October 2019 draws nearer, a no-deal Brexit is looking ever more likely. This will obviously severely impact the logistics industry, as most of our goods are imported from the EU. So we're sharing here some key information to help you prepare.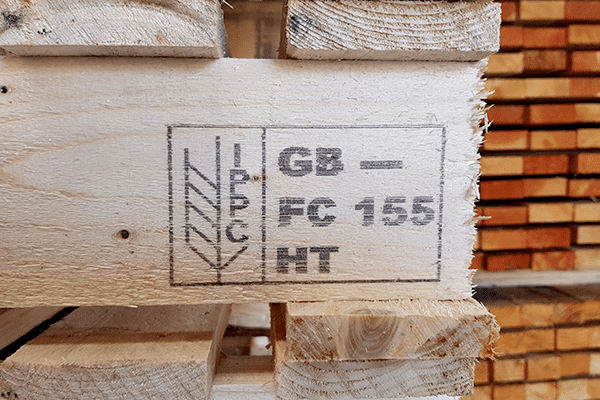 Becoming A Third Party Country
Currently wooden packaging materials can travel throughout Europe without heat treatment, but if moving outside the EU must be heat treated and stamped. So a no-deal Brexit scenario would be hugely disruptive, as we would become a third party country.
This would mean that all freight going into the EU from the UK will need to be on a heat treated pallet and vice versa.
The problem here is that we don't have the capacity, as a country, to heat treat the current volume of pallets that we send over the channel. So this is a challenge. If you think this applies to you, speak to your pallet partner and plan ahead to minimise delays where possible.
ISPM15 Explained
ISPM15 is the regulation that requires wood pest control (heat treatment) on freight between the EU and the rest of the world. ISPM15 applies to all pallet wood and wooden collars or boxes, but not packaging made from processed wood such as MDF. The full regulatory document can be accessed here.
Currently, UK pallets travelling into the EU do not require heat treatment to comply with ISPM15 and vice versa (apart from pallets travelling from certain locations in Portugal and Spain). Pallets travelling from the EU (including the UK) to a non EU destination are subject to ISPM15 and official checks on a risk-targeted basis.
Once we leave the EU, assuming we leave with no deal, we will have to meet ISPM15 international standards for every pallet going into the EU, as stated in the latest government guidance:
"All WPM moving between the UK and the EU must meet ISPM15 international standards by undergoing heat treatment and marking if there's a no deal Brexit. All WPM may be subject to official checks either upon or after entry to the EU. Checks on WPM will continue to be carried out in the UK on a risk-targeted basis only. The plant health risk from WPM imported from the EU is not expected to change as a result of Brexit."
This means that our pallets all need to be:
Heat Treated

Stamped

Subject to EU checks
The expected plant health and pest contamination risk from the EU to the UK and vice versa will remain low, so checks will be on a risk-targeted basis only as confirmed above and by DEFRA and Timcon. 
What You Need To Do
Preparation is key – contact us now for a review of your EU-bound pallets. We can advise you on the additional investment you will need to make to use pallets that meet the ISPM15 standards, and importantly, the time you will need to create in your schedule in order to ensure a continuous supply.
We can provide heat treated pallets, but an efficient process is key to keeping your operation running smoothly. Don't leave it until October to call our team.