As if you didn't know, it's ROASTING here in the UK at the moment. This week we're due to see temperatures as high as 37 degrees in some areas!
While other, hotter, countries sit back and laugh, not realising our homes and workplaces are built to stay warm rather than cool, we've been busy thinking up ways to keep the heat at bay.
Now you'd be forgiven for not thinking of pallets when you're trying to come up with ways to keep cool, but as you'll know by now, we have pallets-on-the-brain! So in this blog we'd like to show you the inventive ways that our good old pal, the humble wooden pallet, can be used to help you stay cool.
Pallet Pergola!
Pallets are actually ideal as sun and heat shelters in the garden. They're economical, light and full of ventilating gaps for the breeze to whip through. They provide shade without creating a stuffy atmosphere.
A pallet pergola could be just perfect. To make one, you'll need a little wood-working know-how, perhaps some gorgeous fabric if you want to create curtains, and your favourite outdoor cushions. Optional daybed made from pallets too!
Here's a selection of our favourites to inspire you.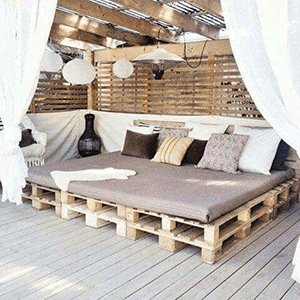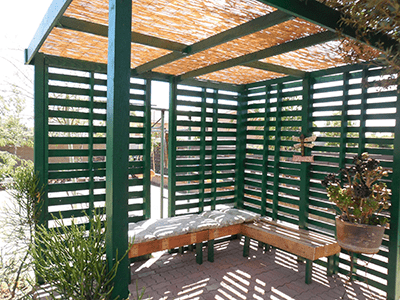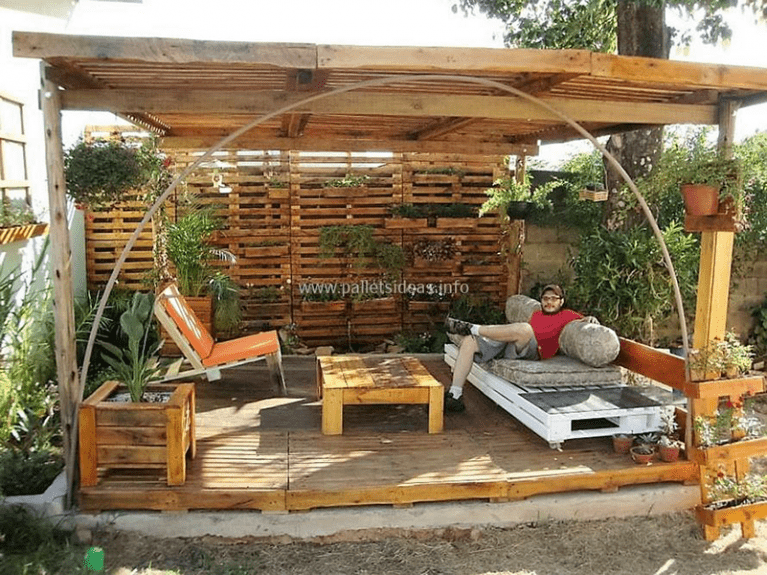 Bonus Tip: Paint your pallets white to deflect the heat!
Bonus Tip: Let creeping plants grow up around your pallet pergola for extra shade.
Bonus Tip: Adding sheets of MDF in the spring, autumn or winter can turn your pergola into a sheltered spot to read, entertain or dine.
DIY Air Conditioner
This is a great way to cool down and re-use any plastic bottles you might have in the recycling bin.
We don't have a photo of this one, so instead we'll have to describe it to you.
Take a pallet plus some extra

loose boards

.

Board up the underside of the pallet to match the top side.

Fill your empty plastic bottles with water and leave them in the freezer overnight.

Slot the frozen bottles into the pallet and place the pallet behind a fan. (Be sure to leave a towel under the pallet incase you get condensation from your frozen bottles!)

Voila, your fan is now pulling in the cooler air from the frozen bottles and sending it your way, ahhhh…
Remember to recycle those bottles after the heatwave!
Pallet Drinks Cooler
Hot weather indoors is forcing more of us into the garden, especially when you first get home from work and realise your house has been warming up in the sun all day like the world's most efficient greenhouse!
But it's still hot outside and you deserve a lovely cold beer/wine/soft drink, so instead of running in and out to the fridge all evening, you need a mobile fridge outside. That's where the pallet drinks cooler comes in…
There are many variations of this ingenious idea; you could incorporate your pallet drinks cooler into a pallet table, or a pallet bar, or you can simply make a pallet box to store your ice and drinks in. All you really need is pallet wood and a lot of ice, there's a lot of room to play with this idea!
Here are some of our favourites: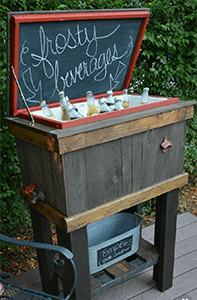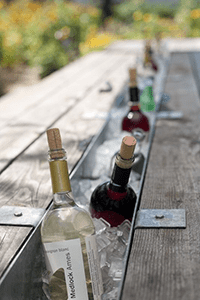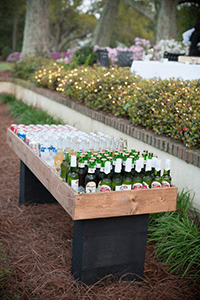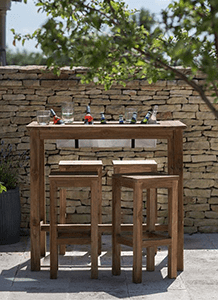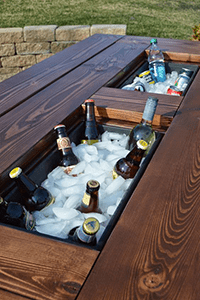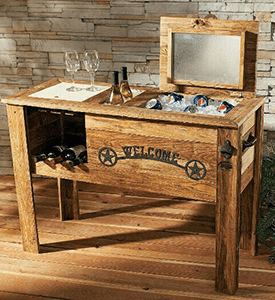 And if you'd really like to show off at an upcoming BBQ party, why not try your hand at this one?
(video: http://www.instructables.com/id/Beer-Dispensing-Rustic-Cooler-Box-Made-Out-of-Pall/)
Pallet Swing Chair
One of our favourite hot weather pastimes is chilling in a pallet swing chair in the shade. I can hear that breeze calling me right now…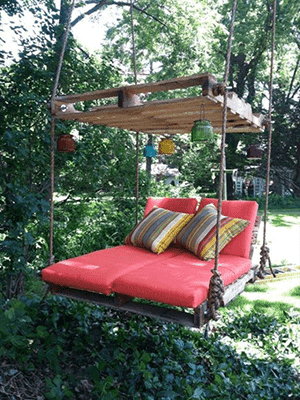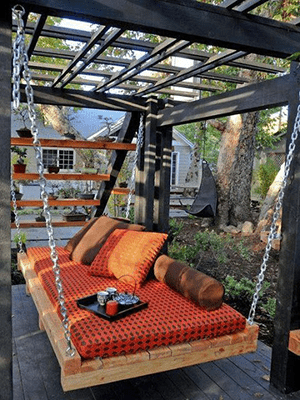 To make your pallet swing chair you'll need a few good strong pallets (the bigger the better) and to add outdoor sun lounger cushions to provide the ideal level of comfort!
Pallet Pool
Last but certainly not least, the pallet pool. The pool is the ideal place to relax in this Californian style weather, but 99.9% (just guessing) of people in the UK don't have their own pool, unsurprisingly!!
So if you've been seeking refuge in the kids' paddling pool, feeling like a giant and not nearly as refreshed as you wish to be, maybe it's time for a pallet pool!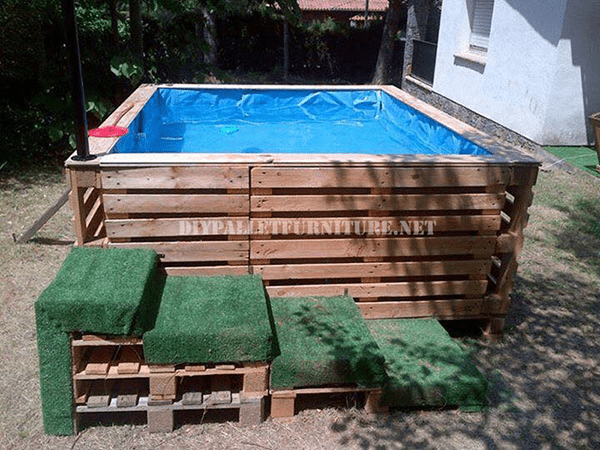 The instructions to make this pool can be found here: http://www.aworldofintriguingideas.com/?p=4574
As with all pallet projects, please please be sure to use a safe pallet! Discarded pallets are just that; discarded. You have no idea why, they may have had dangerous chemicals spilled on them and been dumped. The only safe pallet is the pallet that you know the full history of, and Universal Pallets can help you with that. Shop for your pallets online now or get in touch to discuss your next pallet project with us.