Rachel Hardcastle, Managing Director of Universal Pallets, shares her journey into the pallet world and offers some words of wisdom for other women seeking leadership roles within logistics.
Can you briefly tell us about your history with Universal Pallets?
"From school, I went straight to university to study Law. Armed with my degree, I went to the College of Law, Chester, and then took a 2 year traineeship in Wilmslow. I eventually ended up as a partner at Keoghs Nicholls Lindsell & Harris LLP, Altrincham and I absolutely loved my time there.
"My dad founded Universal Pallets in 1976. I'd always had an interest in the family business and I'd always wanted to work with him; anyone who knew him would agree that he was a really inspirational person. So I joined the team, initially to give in-house legal assistance. My role grew from there and it's great to be continuing my dad's legacy."
What makes Universal Pallets different?
"We are truly independent, and we've always been willing to innovate and take risks. We were the first to sell nationwide and online, and even today our national capability is run entirely by us, completely independent of anyone else. This means we can react to small, urgent next day orders anywhere in the UK, for example – nobody else does this independently.
"We're also committed to sustainability, and we have been championing green business practices for a long time. We have a zero to landfill policy, which means that we'll never send a pallet to landfill. The vast majority of our pallets are repaired and reused, and when pallets are beyond repair we responsibly recycle them or donate them to good causes (such as the annual charity bonfire in Poynton)."
From your time so far as Managing Director, what are you most proud of?
"I'm most proud of the fact that, against the backdrop of a worldwide financial crisis, we have managed to double the company's turnover over the last few years, without losing any staff. Universal Pallets has a very low staff turnover – perhaps because of our family run spirit and the way in which we look after our people. They are what make us special."
What's the most challenging aspect of running your own business?
"All pallet companies will understand the feast or famine situation with pallet supply! It's very difficult constantly ensuring that you have enough pallets coming in and out , balancing those two aspects of the business against one another."
As one of the only female MDs in the pallet world, do you have any advice for other women in logistics who want to reach for the top?
"Just be yourself! You don't need to change who you are to run a business or to be successful in this industry – your products and service levels will speak for themselves. Be comfortable with your own unique abilities. As Oscar Wilde said, 'Be yourself; everyone else is taken'."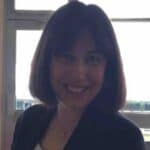 Connect with Rachel on LinkedIn to keep in touch and be among the first to hear about new innovations from Universal Pallets. You can also read more from Rachel in her latest LinkedIn article, Pain Free Pallet Disposal.