Here at Universal Pallets we love seeing people getting creative with pallets in their gardens. But there's an even easier option for those who want to create wooden planters or raised beds without spending a lot of time or money… pallet collars!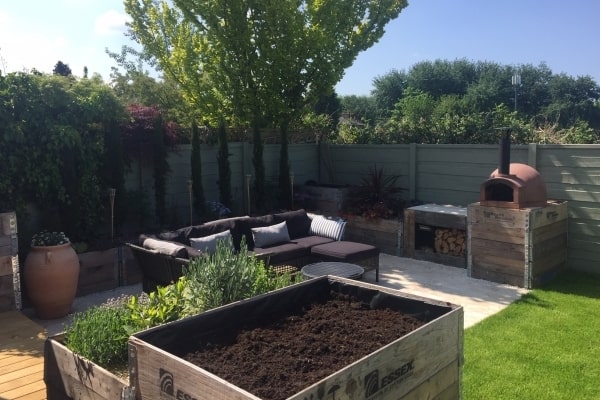 What is a pallet collar?
A pallet collar is essentially a four-hinged bracket that fits onto a pallet, creating a frame for whatever is being stored on that pallet. Pallet collars can be stacked to create a more secure frame, as shown in the images below.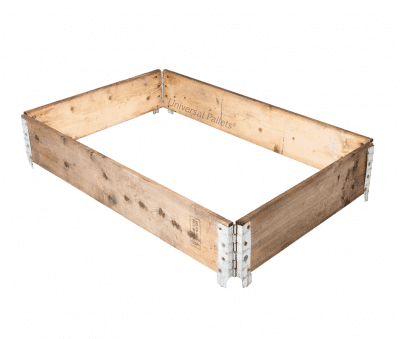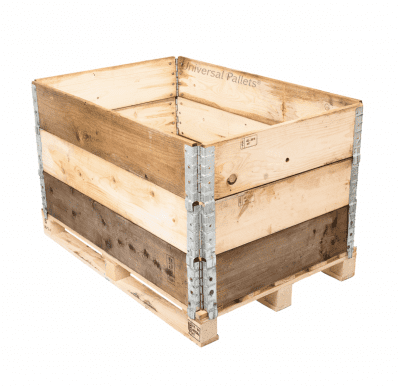 Why are people using pallet collars as planters or raised beds?
There are many advantages to using pallet collars in your garden as raised beds and planters.
They're inexpensive for one thing, in comparison to tailor-made wooden planters (although garden centres and homeware stores are cottoning on to this trend now, selling pallet collars at elevated prices and calling them 'rustic wooden raised beds' and such).
Pallet collars are also quick and simple to use – they're essentially ready-made, so you don't need to build a garden box from scratch and you don't need any assembly. Just embed them in the ground and pack them with soil. Easy!
If you've got limited mobility, or if you get back ache when gardening, using pallet collars means that you can raise the height of your plants to whatever you need, reducing the amount that you need to bend down. You can stack them on top of one another and/or add a pallet underneath to create as tall a planter as you need.
Using raised beds is also a great solution for herbs such as mint and chives that would take over your garden if left uncontained! You'll get fewer weeds in this sort of contained space too, and you'll need to do less watering as the wooden pallet collar locks in moisture to the soil.
They really do look beautiful in a vegetable or flower garden. Here are some examples we love:
.
Dark stain set against bright flowers
These pallet collars have been treated with a dark wood stain and then stacked on top of one another to create different heights: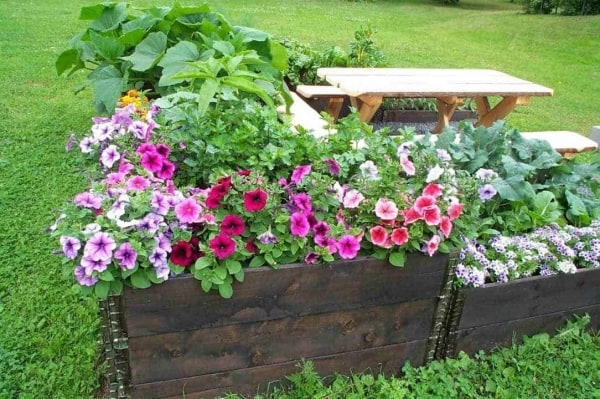 .
Unpainted in an Italian-style garden
These rustic looking pallet collars came directly from Universal Pallets for this beautiful Italian-style garden: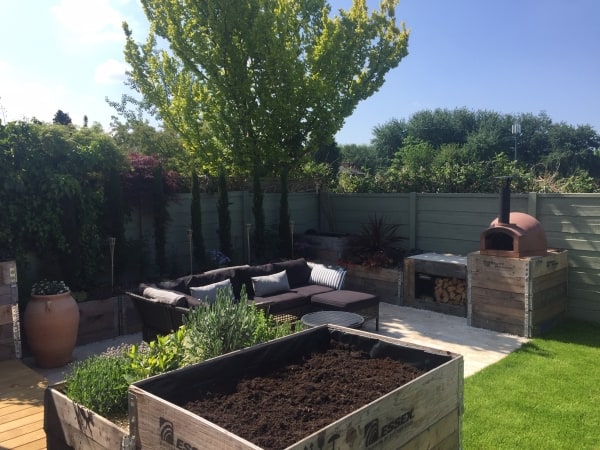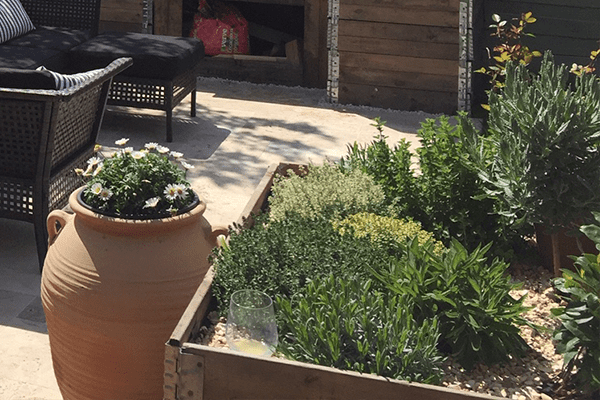 .
Self contained mini vegetable gardens
Interestingly, you will see pallet collars in almost every vegetable garden in Sweden, they're really popular over there. Here's a great example of how pallet collars can be used to grow vegetables (video in Swedish with English subtitles):
Can I use any old pallet collar I find?
We really don't recommend it. If you don't know the history of your pallet collar, you're putting yourself at risk – it could have been used to transport hazardous materials, or could have come into contact with chemicals that will make it dangerous to have in your garden.
There are plenty of ways to make newer, safer pallet collars look aged and rustic without risking your health. So to make sure they're safe, buy your pallet collars from a trusted source. All the pallet collars available from the Universal Pallets online shop are reconditioned, so you're being environmentally friendly too.
There's no need to spend a fortune either. You may have seen the 'rustic wooden raised beds' in garden centres recently… this are quite simply overpriced pallet collars! Ours cost just £7.50 each and measure 1200 x 800 mm. We offer national next day delivery, and we're always happy to advise – call us on 0161 223 4427 if you still have questions, or head over to the online shop to browse pallet collars.