We share an outline of the GM Clean Air Zone and how it could impact local businesses.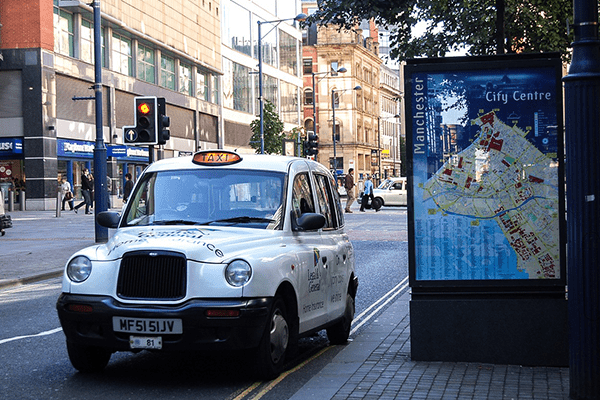 Why has the Greater Manchester Clean Air Zone been introduced?
Poor air quality is the largest environmental risk to public health in the UK. Pollution from road transport, particularly nitrogen dioxide, forms a huge part of the problem.
In 2016, Greater Manchester missed national objectives for nitrogen dioxide emissions, making it a priority area for change. The government has instructed Greater Manchester to develop a Clean Air Plan that reduces roadside nitrogen dioxide levels to within legal limits as soon as possible.
There are many different areas of focus within the proposed Clean Air Plan, ranging from vehicle renewal schemes to electric vehicle infrastructure and promotion (you can read all about these here). But the proposed Greater Manchester Clean Air Zone is arguably the headline change, and it is attracting a lot of attention in its own right. So what exactly is it, and what will it mean for businesses?
What is the Clean Air Zone exactly?
Clean Air Zones are areas where targeted action is taken to improve air quality, by discouraging the most polluting vehicles from entering the zone. No vehicle is banned from travelling in a Clean Air Zone, but vehicles that don't have clean enough engines need to pay a daily penalty if they travel in the area.
For Manchester, the proposal is to introduce a Greater Manchester wide Clean Air Zone that does not affect cars. So it will be businesses, rather than individuals, who will be most impacted – see Class C below:
For the Greater Manchester Clean Air Zone, the daily penalty would apply from 2021 for non-compliant HGVs, buses, taxis and private hire vehicles, and from 2023 for LGVs (vans and minibuses).
If you're wondering why cars are excluded, GM Green City Region Lead Sir Alex Ganotis explains that the targets can be met on time without targeting private vehicles:
http://www.youtube.com/watch?v=B4Teu6lkA3k&feature=youtu.be
Which vehicles are compliant?
As well as cars, the following vehicles wouldn't be liable for a penalty payment as their engines are cleaner:
Bus/HGV – Diesel Euro 6 engine (from 2013)

Van and minibus – Diesel Euro 6 (from 2016)

Motorbike/moped – Petrol Euro 3 (from 2007)

Taxis and private hire vehicles – Diesel Euro 6 (2015 onwards)

Taxis and private hire vehicles – Petrol Euro 4 (2005 onwards)
There's a handy Clean Air Zone vehicle checker available online too, if you're not sure.
What will the penalties look like?
The penalties aren't yet confirmed, so these are estimates only:
HGVs, buses and coaches – £100 daily penalty from 2021

Taxis and private hire vehicles – £7.50 daily penalty from 2021

Vans and minibuses – £7.50 daily penalty from 2023
So it goes without saying that local businesses will need to ensure that they are compliant before 2021 or face huge financial consequences. That's where the local authorities' support schemes come in, to help get everyone ready and minimise future penalties.
What support will be available for businesses?
The authorities are clear that the Clean Air Zone will only go ahead if the appropriate funding is put in place to help businesses become compliant in time and avoid penalties wherever possible.
A Clean Freight Fund is proposed, offering discounts for local small businesses, sole traders and non-profits when purchasing compliant vehicles from approved suppliers, or when retrofitting to make compliant. There's a similar fund for buses, and one for taxis.
There's also a proposed Greater Manchester loan scheme that will offer FSA-regulated loans at preferential rates for those who are taking advantage of the clean vehicle funds.
Other measures being taken to support cleaner travel choices include an Electric Vehicle charging network expansion and behaviour change activity around Sustainable Journeys.
What happens next?
The outline business plan is currently with the government. There will be a public conversation in late spring to allow people to give feedback and help shape the detail of the proposals. After that, there will also be a statutory consultation, before the proposals are resubmitted to local authorities for approval.
The final business case needs to be submitted by the end of 2019, with measures introduced by 2021 (subject to government funding).
In the meantime, you can share your feedback on the Clean Air GM site.
Update 16th May 2019
The RHA has provided a map of the areas that are proposed for the Clean Air Zone, as you can see, it covers far more than just the city centre, so the number of businesses that could be effected is much larger than previously thought.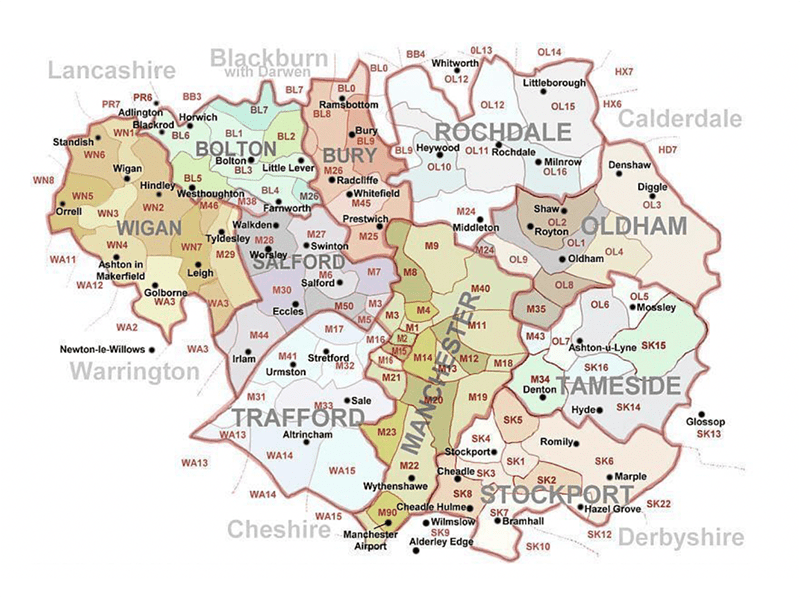 Clean Air Greater Manchester have also launched a public and business-targeted survey which is requesting opinions on the proposed Clean Air Zone, we would encourage all businesses to join to the conversation and make sure that your opinions are well represented. The survey is open until the 30th June, so there's not a lot of time, we would encourage all Manchester businesses to take 15-20 minutes to participate.