Decorating a wedding venue can not only seem a little overwhelming but it can also be a very expensive exercise, especially if you are looking to fill a large tent or building. With more couples now looking to save money and get creative with the decor for their big day, it is no surprise that DIY wedding decorating is on the rise, and in particular the demand for using pallets. In this blog we're going to show you some quirky and creative ideas for decorating your wedding with pallets that are easy to make and are guaranteed to blow your guests away!
Credit for the featured image goes to this beautiful blog from Southbound Bride.
Flower walls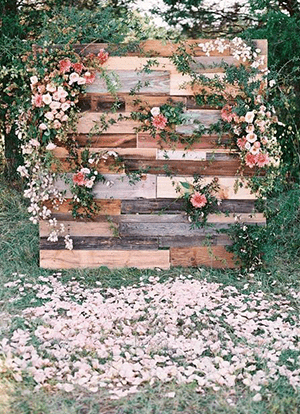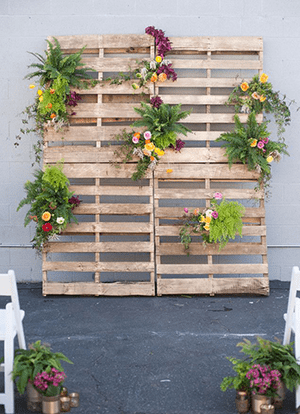 This is one of the more popular ways to decorate a venue, as it guarantees the wow-factor for your guests. Covering a pallet with flowers is relatively simple and has a real impact on anyone that sees it for the first time. To attach the flowers to your pallets, you will need some gardening wire and gardening gloves to protect your hands. Depending on the size of the 'flower wall' you want, these can either be displayed on a table or on the floor as the pallets are sturdy enough to stand on their own. The trick with ensuring you have enough flowers to cover your pallet, is to invest in some greens too! The more leafy and green plants you add, the more coverage you will achieve on your pallet.
Any of our pallets work well for flower walls. If you're looking to make a row of flower wall pallets please ensure you pick out something like our Euro pallets, guaranteed to be the same exact size!
Order of the day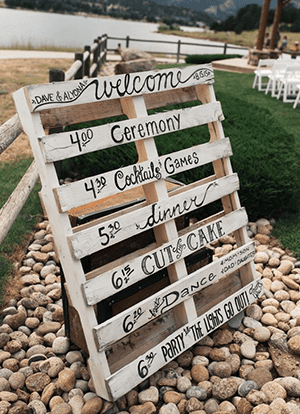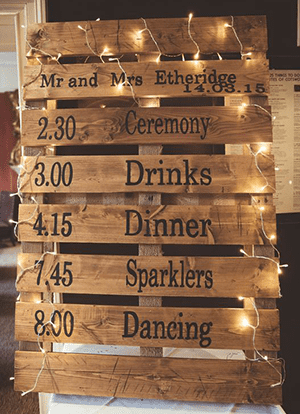 Take the stress out of your special day by having an 'Order Of The Day' board where your guests can clearly see what's happening when. Having a time frame for events, throughout your special day, will help structure your wedding and give your guests some steer on where they need to be at what time. This is particularly handy for larger venues where guests are spread out over a field or in several buildings, as it will ensure they keep an eye on the time!
There are a few different ways to customise your pallet for an 'Order Of The Day', including painting the whole pallet a different colour, or you can keep it simple with the wooden look and painting on the wording. Add a string of battery powered fairy lights to catch your guests' attention, leaving no excuses for anyone to miss out on the big moments of the day!
For your pallet 'Order Of The Day' you'll want to pick quite a gappy pallet, and as luck would have it, gappier pallets are often cheaper! Check out our Lightweight or our Grade Three pallets.
Floral hanging backdrops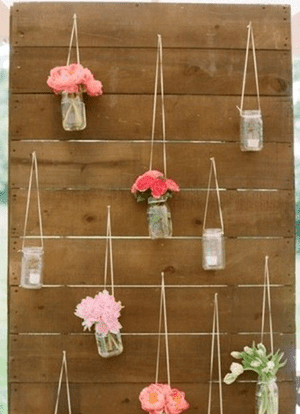 An alternative to the flower wall above, is a hanging floral feature. It still has the wow-factor and uses buckets or jars to hold the flowers instead. If you want to recreate this look, lay your pallet lengthways. If you are feeling confident, why not attach two pallets together to gain height.
We recommend using a drill to secure them together. If you are using pots that already have hooks, simply hook them onto the planks of wood running along, making sure they are each secure before adding your flowers. If you decide the hanging jars are more your thing, start by hammering extra long nails into your pallets, making sure to leave enough hanging space between them. Tie ribbon or string around the neck of the jar or bottle, leaving enough length to then tie onto the nails on the pallets. The hanging jar should then be tied securely and strongly enough to hold some water in each jar before adding flowers of choice! This is a really great way to fill space, especially if there's a less than beautiful wall you'd rather cover up!
Again, for your backdrop, you'll want to use the EURO pallets so that the even sizes make for an easy fit.
Doughnut walls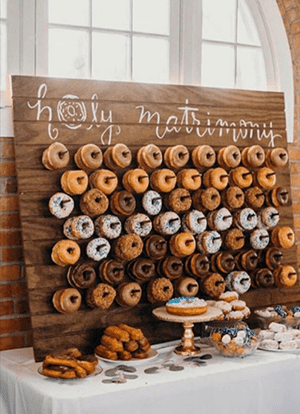 This is definitely one for couples who are looking to buck the trend of a traditional wedding cake, opting instead for a more contemporary sharing dessert. A doughnut wall will allow your guests to help themselves, throughout the day, as well as being a great centrepiece in your venue.
Buying a new pallet will be essential for this, as a recycled or reused pallet may be unhygienic. Start by securing two pallets together, upright so they are able to stand tall on a table. Buy a good quantity of wooden pegs, available at most DIY shops, to hang your doughnuts on. For best results, drill peg-sized holes in your pallet and glue the pegs into the drilled holes to secure them. Remember to leave enough space between each peg to allow for a doughnut!
Allow plenty of time before your big day for the glue to dry before resting the doughnuts on. This is a great look without having to further paint or decorate your pallet. If you're feeling extra creative, why not paint a few words above your doughnut wall, to give it a personal touch. This is a great way to ensure your guests enjoy their dessert and leave your wedding with long lasting memories!
For your doughnut wall, you'll need a brand new pallet, call our team on 0161 223 4427 to ensure we can give you the most suitable pallet for your feature!
Memory board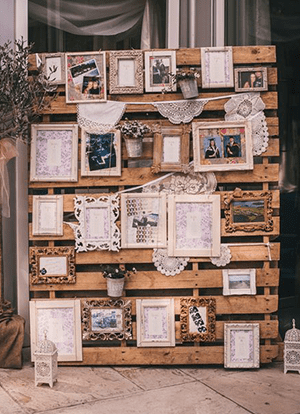 This is a personal and loving way to display memories of you and your partner, and your families, for your guests to see. Having a memory board will give you the opportunity to share precious memories with baby and wedding photos from your families, as well as remember those family members that are no longer with you.
Creating a memory board from pallets is easy and shows your guests your sensitive side. Collect second hand photo frames, or buy a few different sized photo frames that you won't mind nailing to the pallet. Arrange them in an order you like, adding bunting or flowers as additional decoration will make your memory board stand out. We would recommend also making copies of your favourite photos as they may get lost or tidied away at the end of the night.
Almost any of our pallets will be suitable for this project, but we think the larger pallets will look especially lovely, allowing for more space to hang your photos and keepsakes on. Try out the large square pallets.

So whether you're going for the rustic, crafty look, or a contemporary stylish theme, pallets can provide a beautiful, cost effective solution. Paint them up, sand them down or varnish them, they're so versatile!
Here at Universal Pallets, we ensure that all the pallets we recommend for crafts are of the highest quality. We always recommend buying new pallets when using them for decoration, as disused or discarded pallets are often already damaged and can be unsafe to use. Browse through our range of pallets to find the perfect solution for your wedding.