We've made it everyone, Spring has officially SPRUNG! But those lighter mornings and evenings have us looking out on our gardens and sighing – we're not ready for Spring/Summer, are we?
Well fret not, we have some amazing garden inspiration for you in this month's blog! Making your garden look fabulous doesn't have to cost and arm and a leg, so before you head down to the garden centre, consider these brilliant cost-saving pallet garden ideas!
Pallet Pansy Planters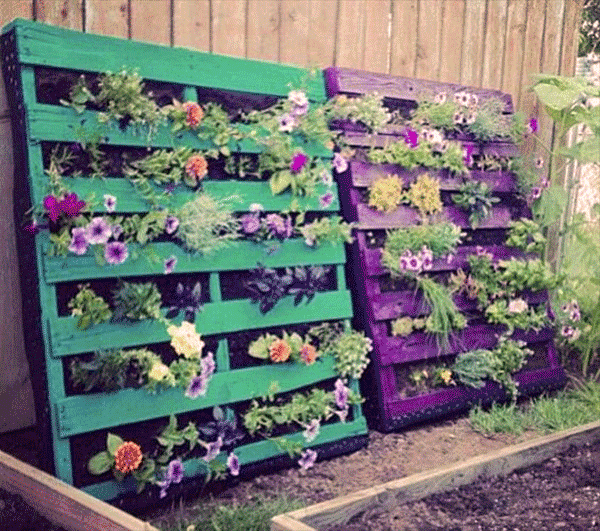 We know not everyone is a whizz with the circular saw, so we love spotting easy-to-make pallet projects like this one.
Making a pallet pansy planter is so easy, all you really need is a bit of superglue! Glue your pre-planted pots carefully to the back of the pallet, lean the pallet against a wall and let the plants grow through toward the light. You can add a lick of paint in this season's hottest colour, or any colour you like to match your garden.
You'll want to use a pallet with nice large gaps for this pallet project, so these grade 3 pallets are perfect, and only £5 each!
Pallet Fire Pit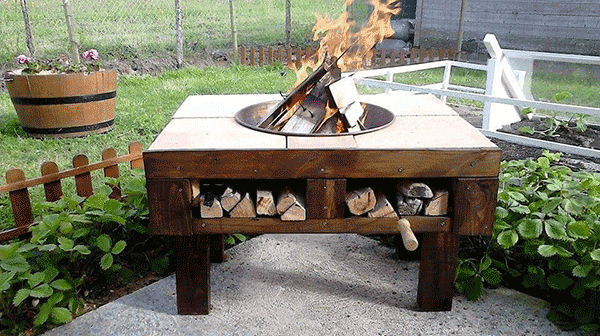 If you're feeling more adventurous and you'd not unfamiliar with a little woodworking you might want to attempt a pallet fire pit! We love a good fire pit, because as all Brits know, the summer doesn't necessarily mean it'll be warm in the evening when you'd like to sit back and enjoy your garden.
This design is our favourite because it incorporates stone, steel and pallets – plus wood storage! The stone top means it's safer and will last longer too. Of course with any project like this, be doubly sure that the pallet wood you're using is safe and chemical free! See the comment at the bottom of this blog for our advice.
Pallet Decking
Do your eyes water at the cost of garden decking? If so, check this out, pallet garden decking! At a fraction of the cost and really easy to DIY too!
You'll want strong pallets for this project, so we recommend these Grade two EURO pallets for the base because they're strong, guaranteed to be identical and a good size.
And for the top, as much as we love pallets, we'd recommend using grooved decking boards. We've seen so many examples like this one where pallet boards have been used for the top of the decking, but they can be slippery when wet and won't have the best grip. So best to go pro on this one and invest in good-quality decking boards for the top.
Pallet Sandbox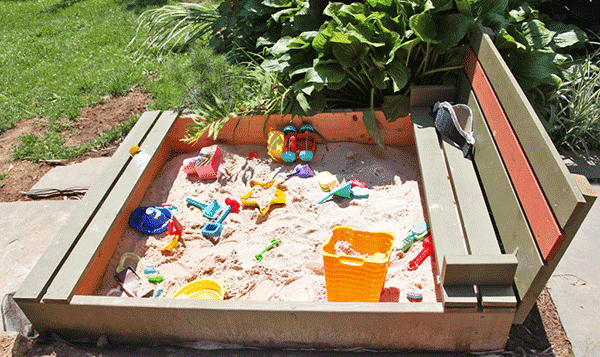 We love this pallet sandbox plan. This pallet sandbox cover opens into seating, freeing up space in the sandbox for play! You can either construct this to cover a pre-existing sandbox, or you can also make the sandbox out of pallets and then add this on top to complete the look.
For this project we recommend using these large square pallets to give maximum sandpit size!
Pallet Patio Furniture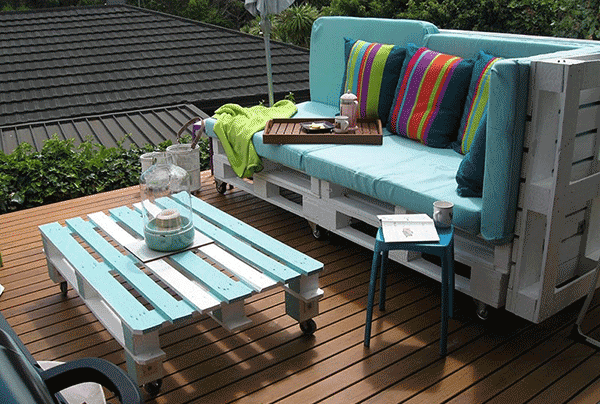 We love how easy-to-make these pallet projects are! You'll need minimal tools and a quick trip to the DIY store… plus plenty of trendy cushions and a lick of paint. Here's a great selection of pallet patio furniture examples with links to plans so you'll know exactly what you need.
For all patio furniture projects, we recommend EURO pallets. They're guaranteed to be identically sized meaning they're easy to work with, no nasty surprises.
Pallet Strawberry Planter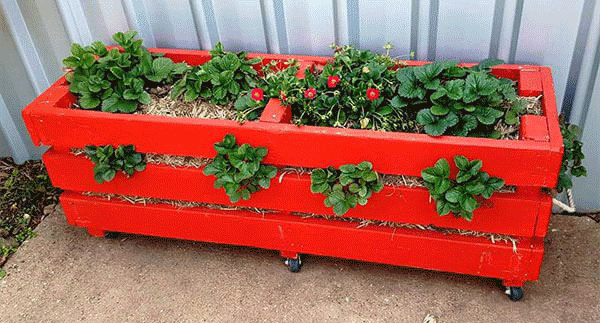 Get ready for summer (and Wimbledon!) by creating your own pallet strawberry planters! These large UK-sized pallets are ideal for this project because they can be equally cut into three pieces!
Follow the instructions and video on this blog from Lovely Greens, and send us a photo of the result! And remember, late spring is the best time to plant your cold runners for your strawberries – so it's time to get crafting!
Important: Use the right pallet!
Please, please remember, the safest pallet is the pallet you know the full history of! We can't stress this enough. If you're going to plant your strawberries or herbs, let the kids play on the new pallet furniture or make a fire pit, it's imperative that you're using the safest pallet.
Though it's been outlawed in the UK for quite some time, pallets treated with chemicals like bromide still exist. Plus some discarded pallets may have had chemicals leaked onto them. Read out blog on Pallet Markings here to know what to avoid, but the only safe pallet is one with a complete history.
Call our friendly team who will be best placed to help you find a safe and suitable pallet for your project: 0161 223 4427.