Currently the UK produces just under half of the timber used domestically, with the majority of the rest being imported from Latvia. But this is set to change due to several economic factors. In this blog we'll explore the reasons for the current 'timber crisis', what that means for your business and how you can best manage any cost increases on your end.
The Timber Packaging and Pallet Confederation (TIMCON) warned in a press release on Friday 16th Feb, "shortages in the supply of small logs have reached an unprecedented level due to ongoing combination of high global demand and supply scarcities." They have arranged an industry-wide meeting in Manchester on the 14th March, which the Universal Pallet team will be attending.
Why Is The Price Of Timber Set To Rise In The UK?
Unfortunately it looks like timber prices are on the rise in the UK, and that's on top of 2017's price rise of over 20%. Rising timber prices are not unheard of in the UK, timber has been on the rise for over a decade, however the latest information indicates that several factors impacting the industry will contribute to further sharp price rises.
Here are some of the key factors;
UK logging is exceeding UK planting, we're now replanting about half as many trees as we did a decade ago

Private ownership

of forests is on the rise, and owners are selling less timber, driving up the demand and the price

The UK's major supplier, Latvia, has experienced difficulty delivering timber due to challenging weather conditions this year

The UK relies on imported timber to meet demands but exporting to the UK is becoming less attractive

Exporters are being paid more for their timber when selling to countries other than the UK, eg: emerging markets in Asia and recovering markets in Europe

Other import options from European countries are priced significantly higher than current Latvian imports

Timber has become a more popular construction material, driving up demand and price

Brexit has impacted the strength of the pound and the economy is less stable than in recent years

Logistics costs are on the rise again which has affected imported timber prices as well as domestic delivery or timber
Pallet Prices Are On The Rise Across Europe
The factors mentioned above are not only having an impact on the UK, but the whole of Europe with new pallet prices rising by as much 25% for suppliers. This is having a knock-on effect on used pallets due to increased demand coming from buyers who have had to choose to switch to used pallets.
So what does this mean for you? Are pallet prices going to double over night? No, absolutely not, but you will likely see a small price rise. We're doing everything we can to protect our customers from a sharp price rise and we'll be fighting for your business' best interests as always.
Why Stick With Wooden Pallets If The Cost Is Rising?
Wooden pallets are still the smart business choice and the most environmentally-friendly solution on the market, they're also still the most cost-effective! They can typically be re-used for many years, they come from a renewable, sustainable choice, and they can be recycled responsibly at the end of their life.
Stuart Hex, TIMCON general secretary, said:
"We have monitored the escalating demand and supply issues for many months and our industry now faces a perfect storm of reduced inputs and higher prices for manufacturers and our customers.

"It is crucial that our industry stays well organised and that we communicate with one another and with our customers to mitigate the effects of this situation. The meeting on Manchester on March 14th will be an essential part of this process.

"In the meantime, it's important not to lose sight of the fact that timber still remains the most economical choice of raw material for manufacturing pallets and packaging. It is also the most environmentally friendly: it is reusable, repairable and recyclable and is a vital part of the circular economy."
Will The Timber Price Come Back Down?
The good news is that the Government have taken notice of the timber crisis, and are working on ways to manage and release more home-grown timber. And planting of new trees is set to increase in the near future. However this doesn't necessarily mean there will be an immediate benefit to the market.
How Can You Lessen The Impact Of Increasing Timber Prices For Your Business?
If you really need new pallets, then call us and we will price up your required order as economically as possible. Otherwise, consider used pallets, we supply used pallets in very good condition.
You should also invest in training your pallet operatives in the correct techniques to ensure your pallets are properly cared for, stored and moved. Your pallets represent an investment, though they're often not considered as such, but they're a major component of your business, so protecting them makes good business sense. And if you think your pallets aren't lasting as long as they should, why not ask us to perform a site visit? Our team can offer advice and may be able to pinpoint where your pallet problems are coming from.
Being in the logistics business, budgeting for fluctuating oil prices is common practice, but when working out your advanced budgets, consider the fluctuating costs of other materials you rely on such as pallets. Planning ahead can mean the difference between breaking and breaking even.
And if you have spare pallets on-site, make the smart business choice and call us for a quote on your unwanted pallets, we pay very well for used pallets, so it's always worth a call to see what price we can offer you. Plus we can usually pickup / clear your site in 48 hours. The difference in the price you're getting for your unwanted pallets and what we can pay you could go some way to negating the increased cost of supply down the line. Here's more information about our Pallet Disposal Programme.
And finally, take advantage of our repair services. If you have a pile of broken pallets that have seen better days, we can often repair these and get them fully functional for you again. So don't call for a skip, call our team and we'll do our best to restore and return them to you in fully operative capacity.
26th March Update
Following this month's TIMCON timber crisis meeting in Manchester, TIMCON have announced that timber prices have increased for 17 consecutive months and "Our industry has absorbed many of these successive hikes, and the TIMCON reported at the end of last year that these input cost increases have now unfortunately worked their way through to push the price of pallets and packaging to our customers up. Pallets, packaging and nails are all up in price."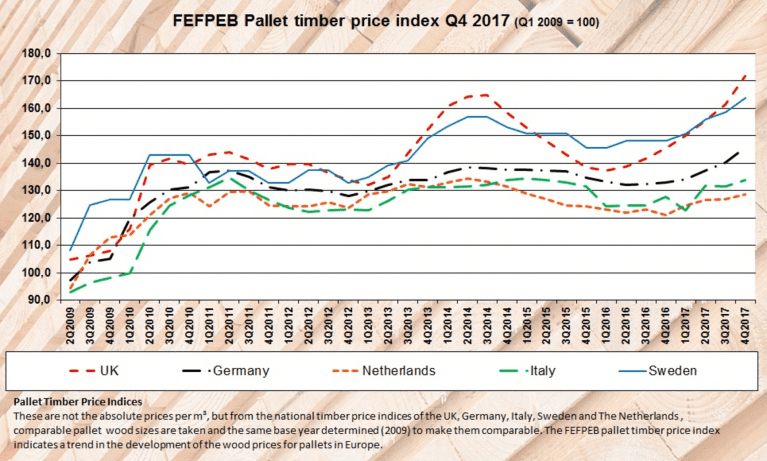 Sadly this confirms our fears, pallet prices will have to rise as a result.
Details of these talks have confirmed a few distressing points regarding the current timber crisis. Mostly that availability is currently good, but prices have never been so high. So demand for timber seems to be the biggest problem at this stage.
So this is a great indication to the Universal Pallets team to ensure we encourage customers to consider repairing pallets and using second-hand pallets that have been carefully restored by our experienced team. If you absolutely must use new pallets, you'll likely see a significant price-rise.
But follow the advice in this blog and ensure you keep in close touch with the Universal Pallets team so that we can help advise you on the best way to manage your individual circumstances. Now might be a very good time to book in a site visit with one of our directors who can advise you on proper pallet use, care, repair, pickup and supply.