Let's face it, is there anyone who doesn't love dressing up the house for Christmas? Over at Universal Pallets, we frequently have to be reminded it's 'Only November!' and that means we can't start to decorate the office… yet.
But that's not to say we can't get our thinking caps on and our sanding paper out ready to get a little crafty with our favourite medium, does it?
Whatever look you're going for this year, pallets can add a rustic charm to your festive display without costing an arm and a leg. And in this blog, we're going to show you how. Here are our favourite examples of pallets being used in Christmas decoration, just in time for you to schedule in a weekend of woodworking ahead of December.
Alternative Christmas Trees
Christmas just isn't Christmas without a tree, but perhaps you don't need to be hoovering up loose needles for 3 months if you fancy an alternative Christmas tree?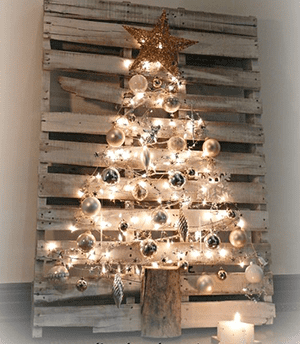 This tree idea looks amazing and is simply perfect if you don't have all the tools necessary for doing something more complicated. Tidy up a large used pallet with sand paper, give it a lick of paint and then sand back again for a shabby chic look, add lights and decorations in the shape of a tree and you're done!
If you're feeling like you're ready for a bigger project, why not try making a selection of outdoor trees for the front or back garden? Select a variety of sizes of pallet from our online shop, mark up your tree shapes, carefully saw the pallets into shape and finish with paint and fairy lights.
Signs, Art and More
We do love a quote or artwork on pallet boards, there's something rustically charming about reusing and recycling to create something so special and heartfelt. Here are some of our favourite Christmas quotes on pallets to inspire you…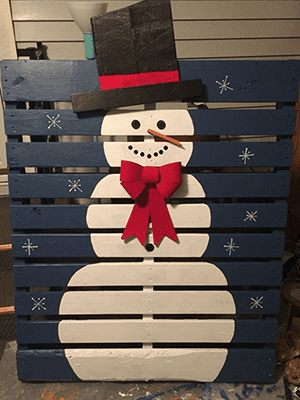 Again, this is a lovely, easy pallet christmas project for you. You don't need any special equipment, just some sandpaper, paint and accessories for your snowman. You can paint anything you like, but we do think this snowman is rather charming.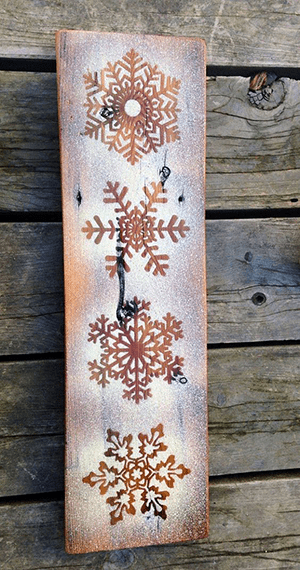 Another simple but effective idea, all you need for this one is some loose pallet wood, white spray paint and a few snowflake templates!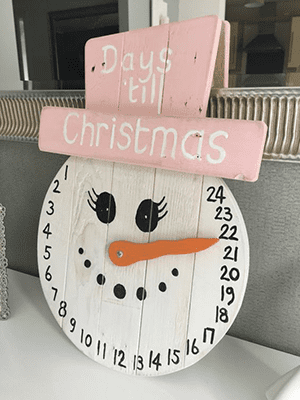 This one is a little more tricky, you'll want to have access to a few more tools such as a hand saw, a clamp and some strong wood glue to piece it all together. But we love the idea of a Christmas countdown piece.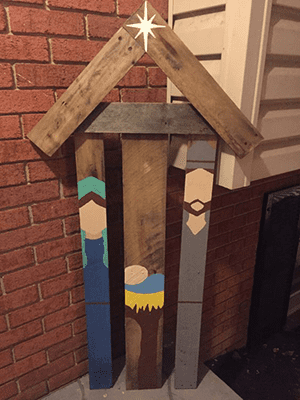 If your family usually has a nativity scene, this is a lovely contemporary alternative that can be brought out every year. It's not too tricky to make either, you'll need to break a pallet apart, or order some of our loose boards here,  glue them together and paint your characters on.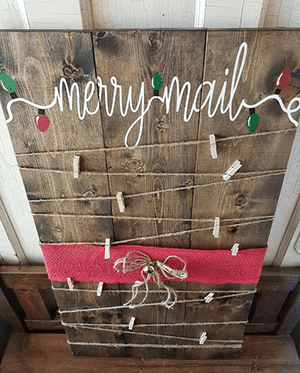 If you're always running out of space to display your Christmas cards, this is the project for you. In this example the pallet boards have been removed and replaced so that no gaps are showing, but you could even achieve a similar look just from dressing up a pallet as it comes. Add some decorations in paint then secure twine around your pallet with staples in the back, add pegs and voilá!
And if You're a Jigsaw Pro…
Why not give something like this a go? Be sure to pick a festive design, but something equally at home throughout the year, like this reindeer. Fabulous if you have a Scandinavian style going on at home already. Dress your design up in fairy lights and you're sure to feel like you've come home to a rustic winter wonderland.
At Universal Pallets we sell new or refurbished pallets. If you're looking to add a little rustic charm this Christmas, our loose boards start from £0.50 each and pallets from £2.50. We deliver UK-wide with a fast turnaround. Shop online here.